In this guide, we're going to share with you our suggestions for how to spend two days in Chicago.
As the third largest city in the USA, there is a lot to do in Chicago. There are world-class museums, a great selection of attractions, and some foods you just have to try.
There are also cultural sights, from first-class performance venues through to architectural history. Those of you visiting Chicago with family are also going to find plenty to keep you all entertained.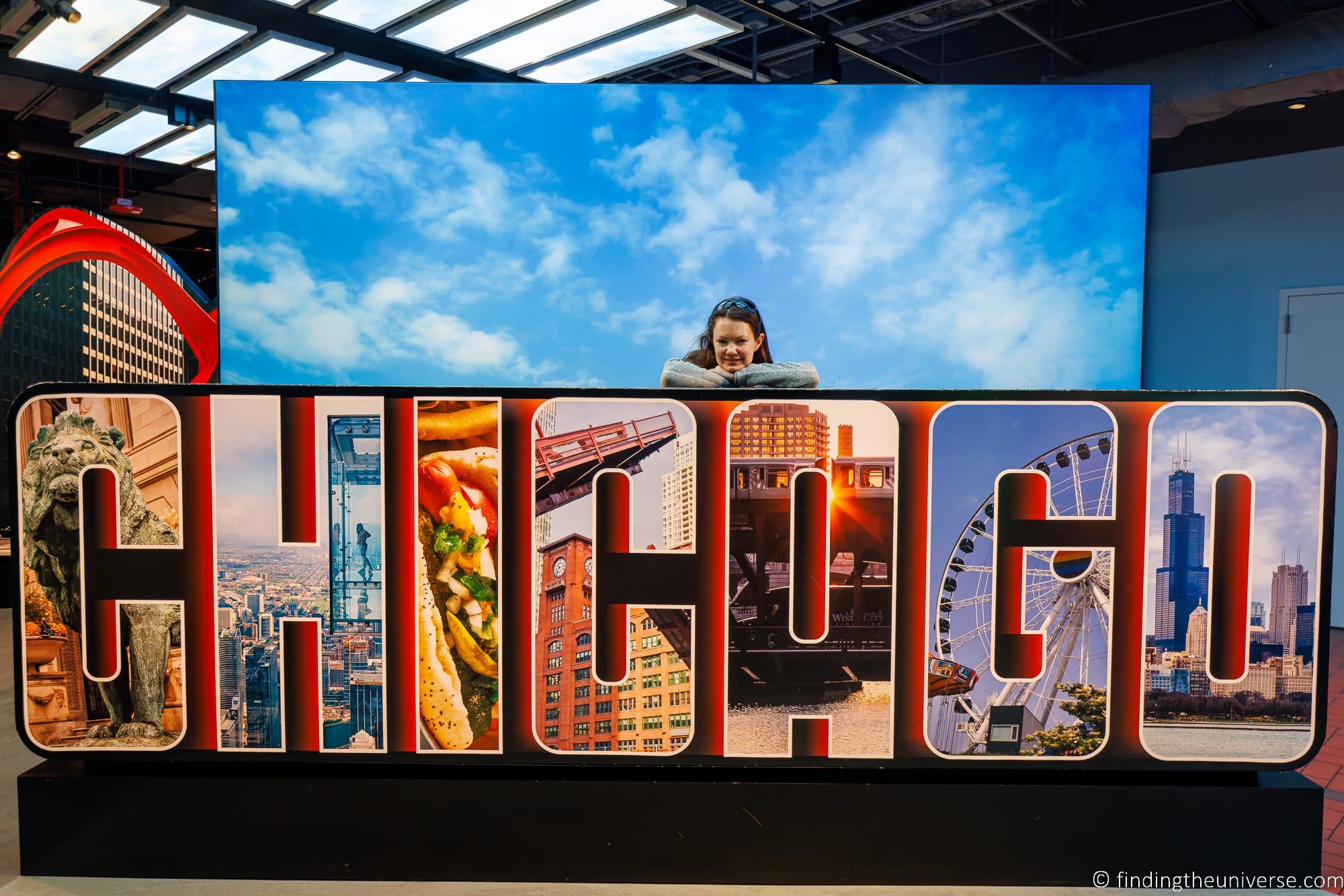 We have visited Chicago a number of times and always enjoyed our visits. Some of the museums in particular are absolutely world class, and of course we love the food!
As well as a detailed two-day itinerary for Chicago, this guide will also contain tips on where to stay, how to get around, how to save money when you're in Chicago, tips on when to visit, and lots more. Let's get started!
2 Day Chicago Itinerary
Our suggested two-day Chicago itinerary has you visiting the city's top sights and attractions. This will have you seeing the main highlights of the city and visiting its most famous attractions and museums.
It's a busy couple of days, and as with all our itineraries, we recommend you use it as the starting point for your planning. Feel free to add and remove items depending on your own interests and travel style.
Chicago Day 1
Your first day in Chicago has you going to the top of one of the world's tallest buildings, learning about architecture, seeing a Chicago icon, and taking in some stunning art.
To get around, most of the sights on today's part of the itinerary are within around 20 minutes' walk of each other.
Of course, if you'd prefer not to walk, there's a range of public transport options available, as well as a Hop on Hop off bus (included on the GoCity Chicago Pass).
You can see more about getting around Chicago in a later section of this guide. Let's get going with day 1!
Skydeck Chicago at Willis Tower
When we visit a city, I always love to get a bird's eye view of it if I can to get a feel for the layout. One of the best places to do that in Chicago is at the Willis Tower (formerly known as the Sears Tower).
This massive 108 floor skyscraper dominates the Chicago skyline. When it was completed in 1974 it was the world's tallest building, a title it held for almost 25 years.
It was originally known as the Sears Tower and the lower part of the tower was the headquarters of the retail company Sears. It was renamed in 2009 to the Willis Tower by the current lease of the building by British insurance broker Willis Group Holdings; however, many people continue to refer to it as the Sears Tower.
These days of course there are quite a few taller skyscrapers around the world. However, once you get to these sorts of heights, exactly where you are on the list doesn't matter so much. What does matter is the view, and the Willis Tower definitely offers a good one from its Skydeck observation deck.
Found on the 103rd floor of the building, this is the highest observation deck in the United States. From here you can see all of downtown Chicago. On a clear day, you can actually see four states from here, although we've never had a day that clear when we've visited.
There is more to do than the views though. On your way to the elevators, you'll pass through a series of exhibits which tell a brief story and history of Chicago. These are a lot of fun and there are some good photo opportunities as you pass through, so plan to spend around 30 minutes doing this.
At the Skydeck itself you'll also find "The Ledge". This is a collection of glass floored viewing areas which jut out from the main building, to give the feeling that you are floating right above the city. They make for an excellent (if slightly terrifying) photo opportunity, and access is included as part of your ticket.
The Skydeck is open year-round, and you can see opening times here. It gets quite busy, so we recommend visiting earlier in the day and booking a timed ticket in advance. A ticket is required, you can book this online in advance here.
The Willis Skydeck is included on the GoCity Chicago Pass and Chicago CityPASS.
There are a number of restaurants and shops located in the lower part of the building, known as the Catalog. So if you need a coffee or a bite to eat, you can definitely do that here.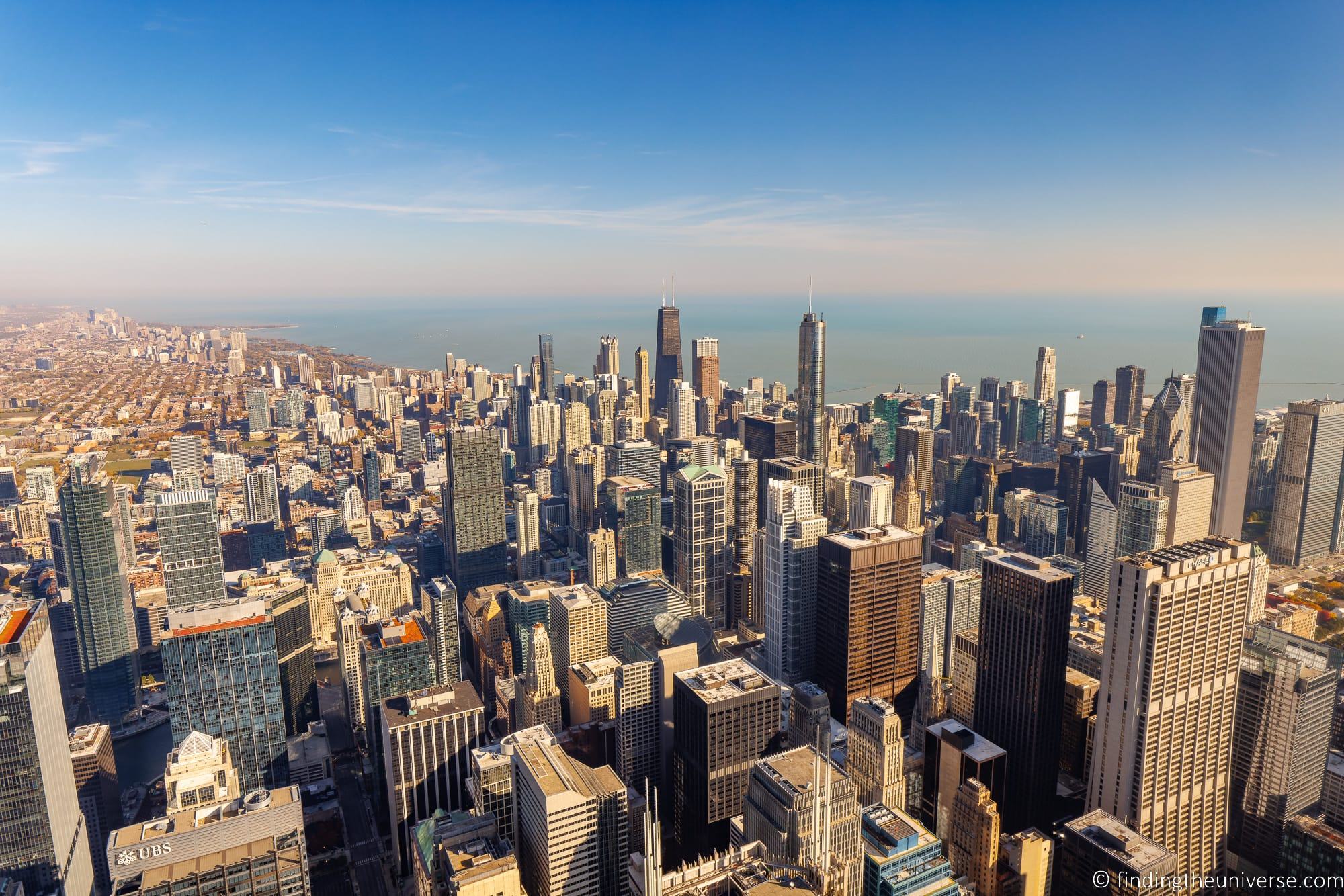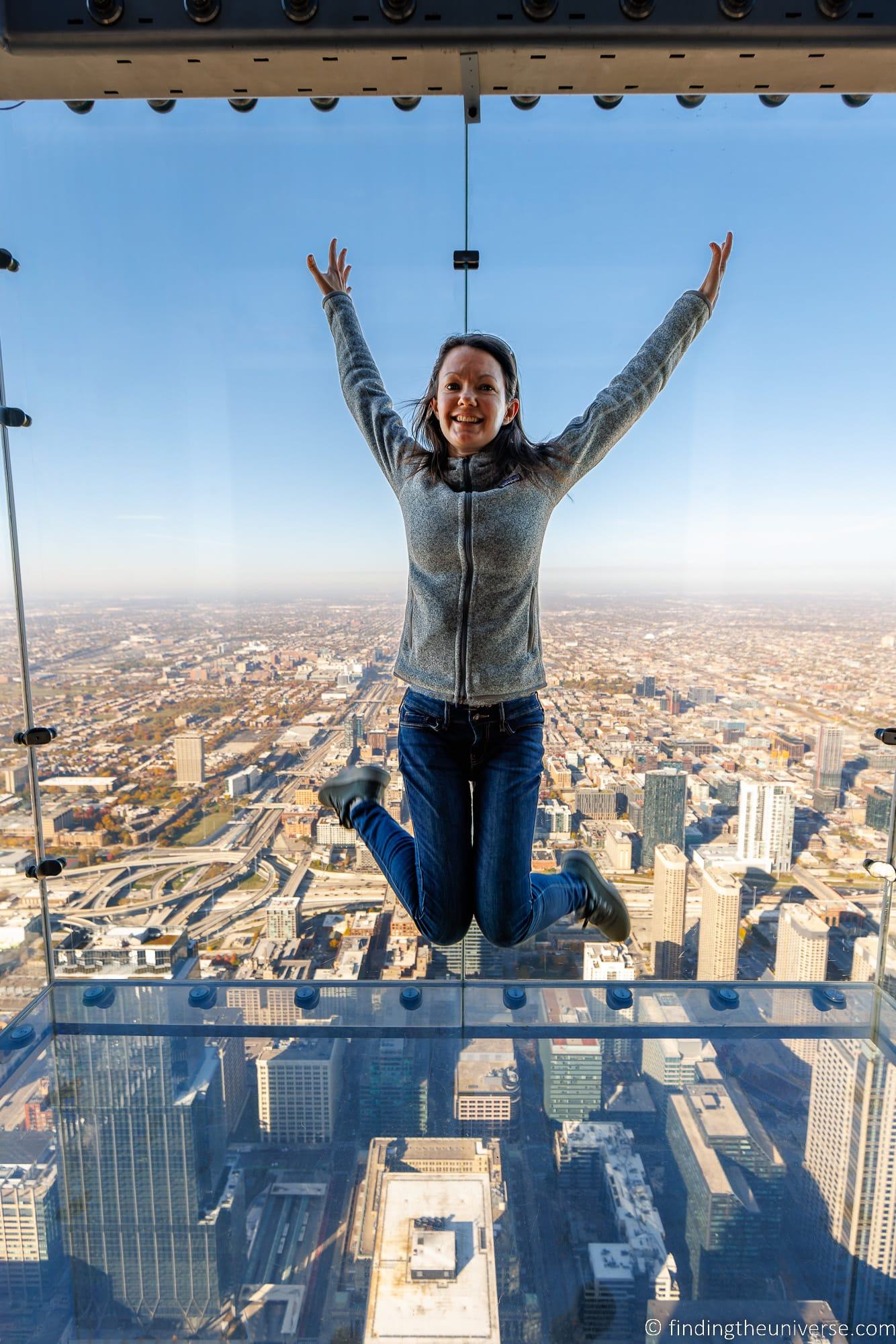 Historic Buildings
Chicago is home to some iconic buildings and impressive architecture. Many of the buildings in the city are free to visit, and a number of these are within easy walking distance of the Willis Tower as you head towards your next stop. We think this can make for a nice way to stretch your legs.
There are of course many architectural highlights to choose from, but a couple of our favourites include the Rookery Building which features a Frank Lloyd Wright designed lobby and the Palmer House Hilton Hotel which has a gorgeous reception area.
Other interesting buildings in the area include the Chicago Board of Trade Building, Chicago Federal Reserve Building, the Monadnock Building (once the largest office building in the world), the Sullivan Centre, the Chicago Cultural Centre, and the Marshall Field and Company building (now a Macy's).
You can also take a walking tour which includes a number of architectural highlights in this area, such as this one with the Chicago Architecture Centre, or this one with Take Walks.
A tour can be a good way to learn about what you are seeing, although of course you might need to tweak this itinerary to ensure they fit into your sightseeing schedule depending on when they run.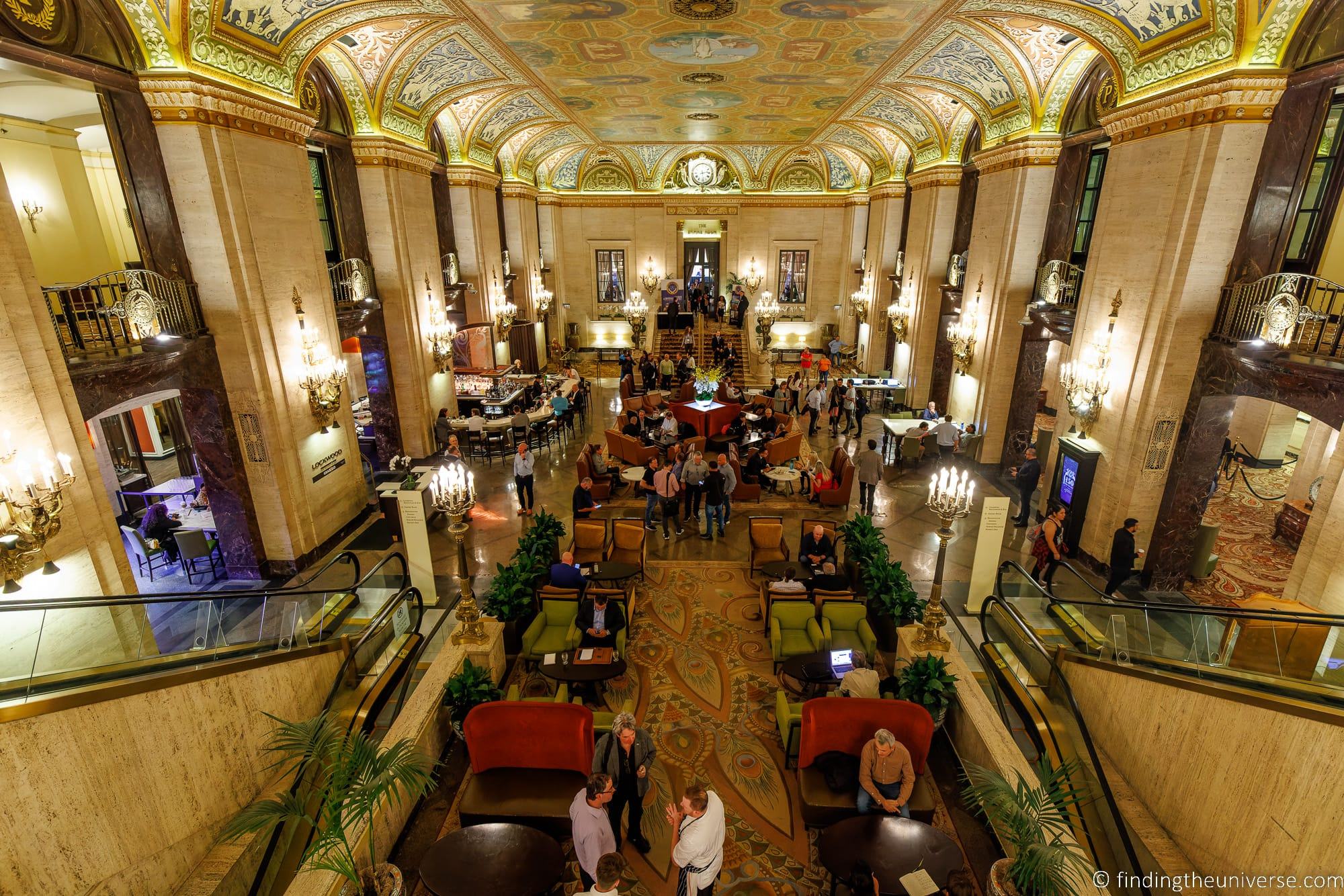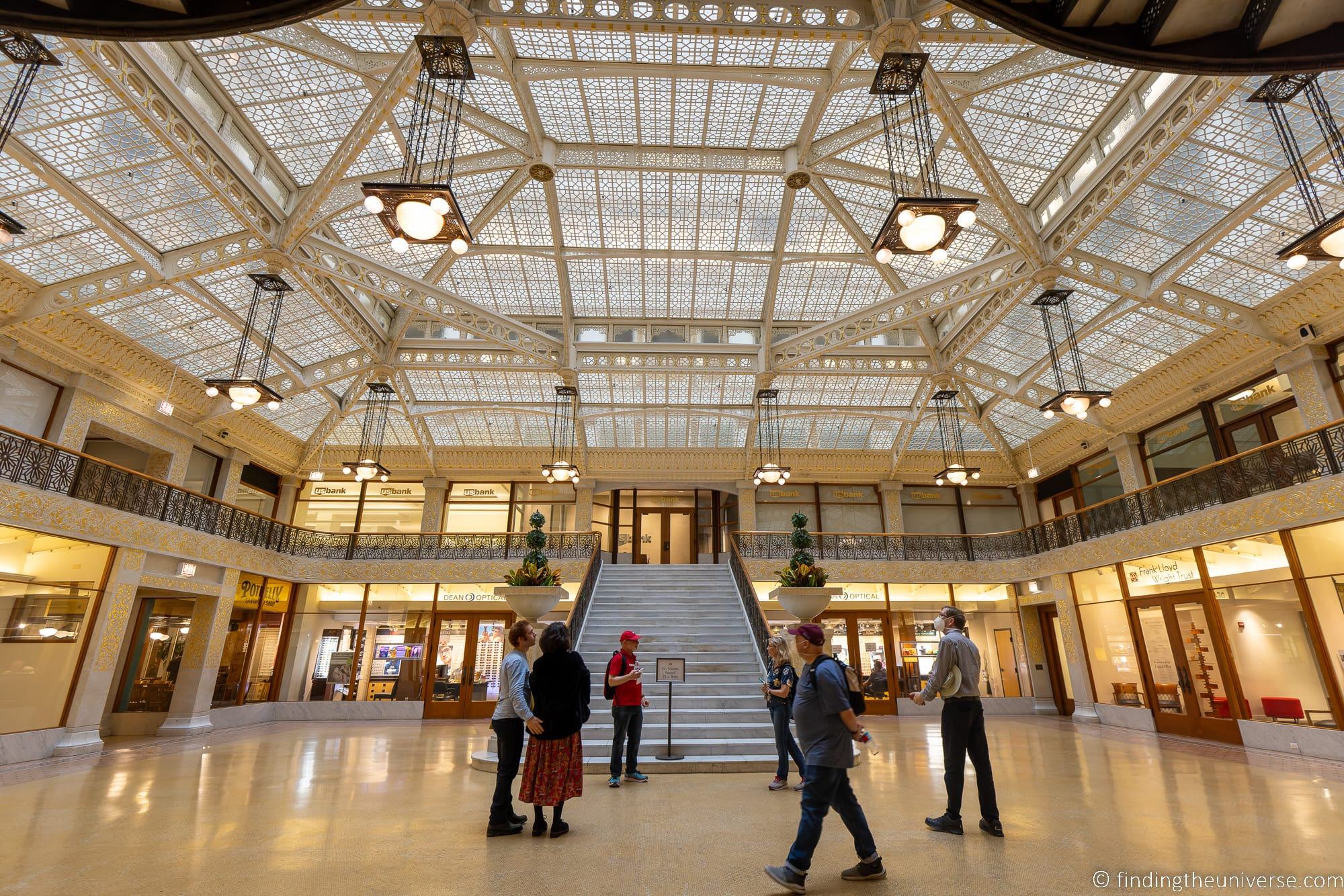 Millennium Park and Cloud Gate
If you walk from the Willis Tower via the buildings we recommend, you will find yourself on Michigan Avenue near Millenium Park.
Also, just for fun, if you walk down either E Adams St or E Jackson Blvd to where they meet Michigan Avenue, you'll pass the start or end signs for historic Route 66, which starts in Chicago and runs all the way to Los Angeles.
Ok, back to Millennium Park. This public park was opened in 2004 as a celebration of the third millennium. It's home to a number of attractions, perhaps most famous of which is the Cloud Gate sculpture.
Nicknamed "The Bean" for its shape, this is a massive reflective stainless-steel sculpture by artist Anish Kapoor. It is a very popular location for photography, and is one of Chicago's most recognisable icons.
You can walk all around and even under the sculpture, and the reflective surface makes for some fun photographic opportunities.
Millennium Park is free to visit and is open year-round. You can see more information about visiting on the official website here.
Note that the "Bean" is quite a popular attraction, so if you want to get photos without too many other people in you'll want to come early in the day, ideally around sunrise.
There are other attractions in Millenium Park, including the Crown Fountain, Jay Pritzker Pavilion performance space, and the Lurie Garden. So you could easily spend quite a bit of time here. If you want to take in more green space, Millenium Park is found within Grant Park, which totals 319 acres.
However, our suggestion is instead to visit the Art Institute of Chicago, which is just south of Millenium Park.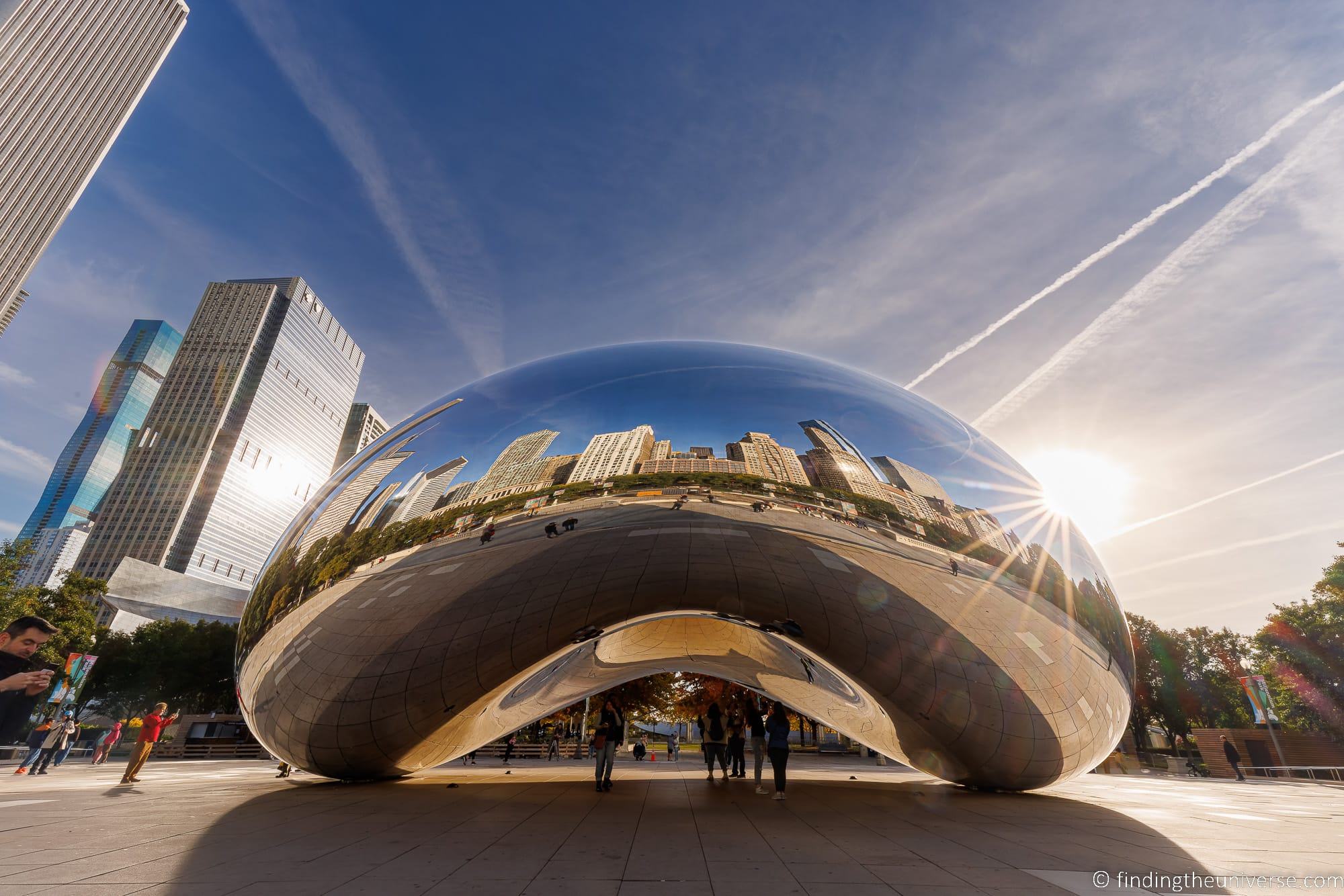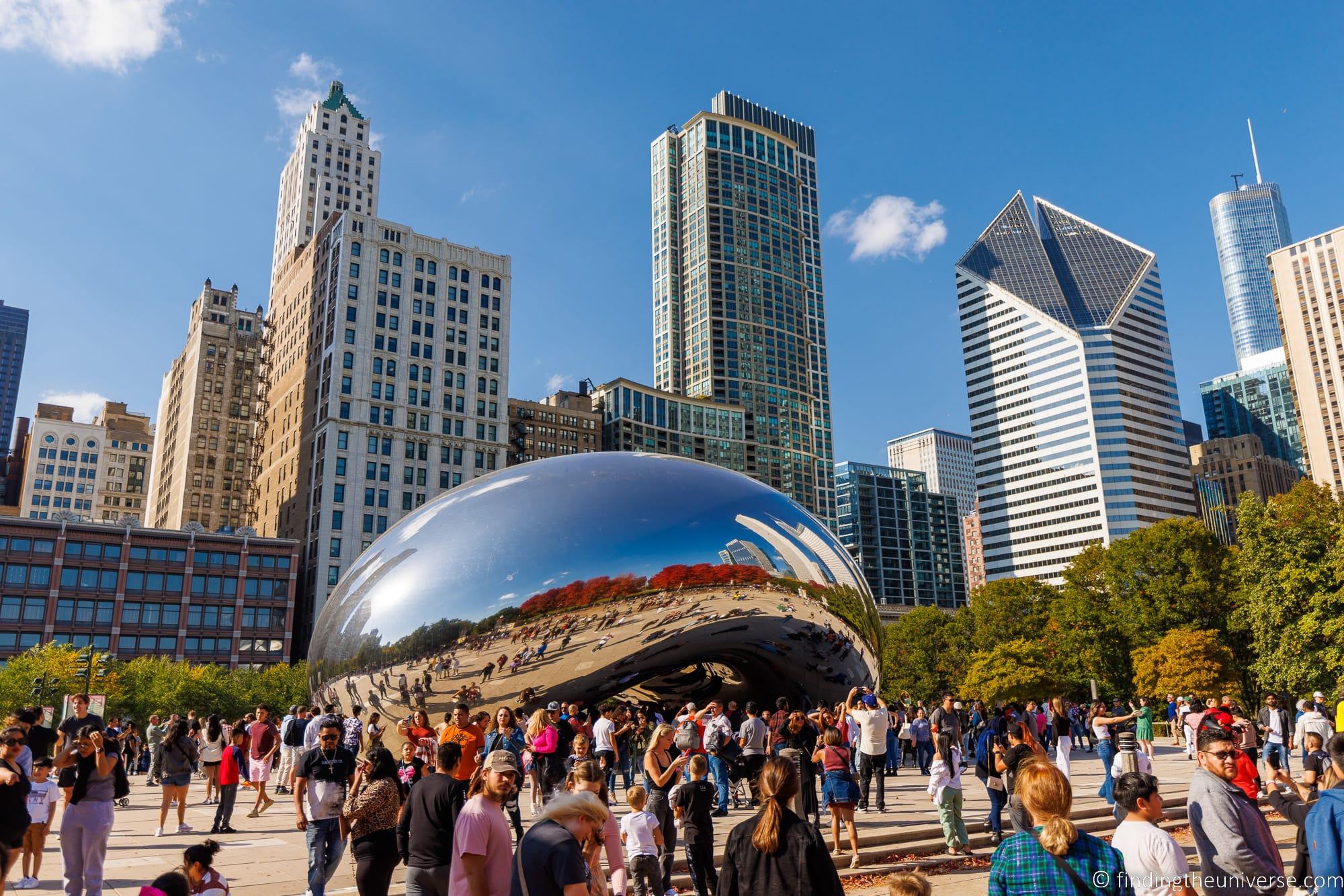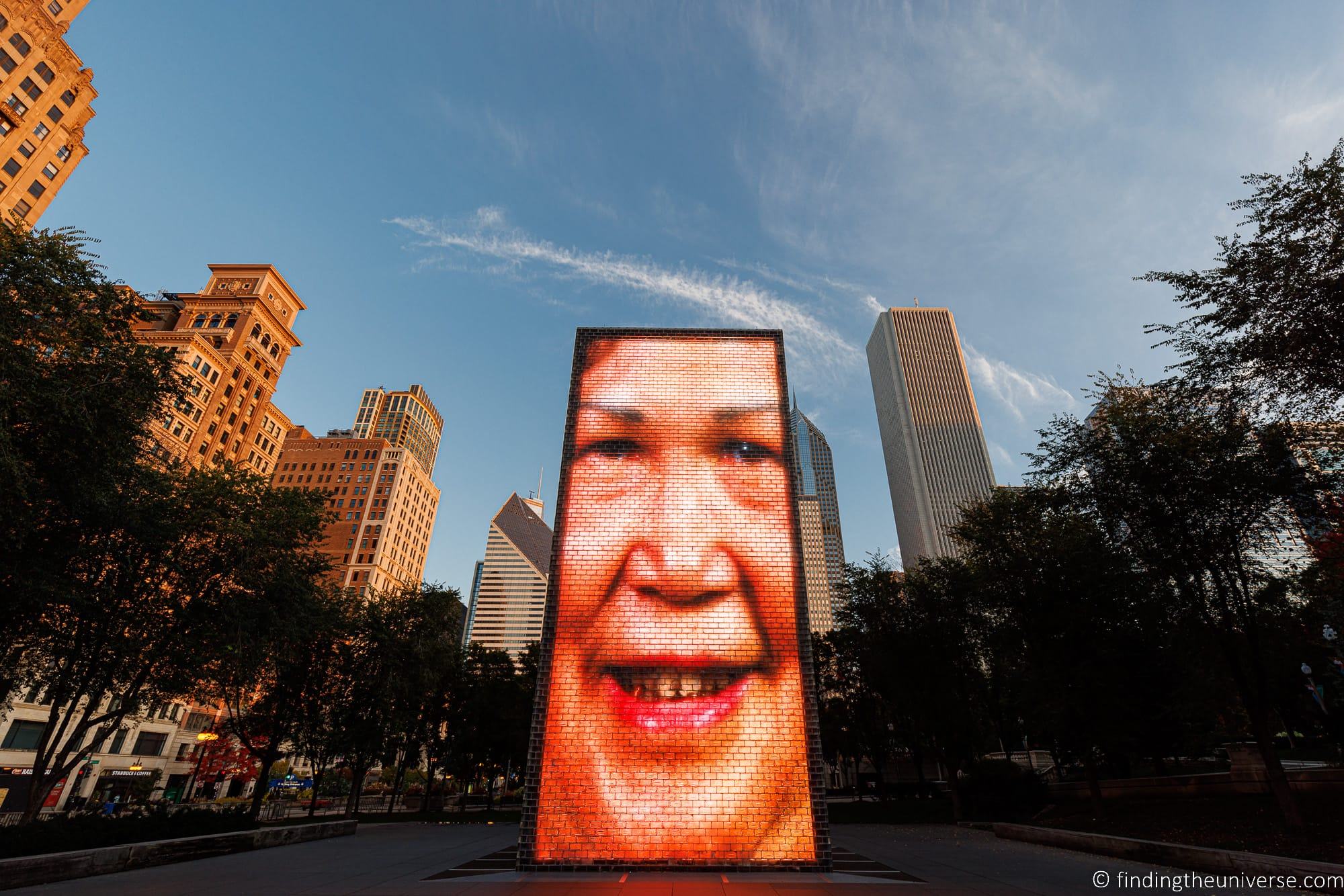 Art Institute of Chicago
The Art Institute of Chicago is an epic art museum. We have visited a number of art museums all over the world, and this is definitely one of our favourites.
It's a museum that will present you with a lot of "wow" moments. Whether that's walking into a room with a whole wall full of Monet's Haystacks, coming face to face with Grant Wood's American Gothic, or seeing the evolution of Picasso's style, we are sure you are going to have your breath taken away at some point during your visit as you realise you are looking at the original version of a recognisable classic.
Let's talk some numbers and history. The museum was founded in 1879, and has a permanent collection of some 300,000 pieces. With a million square feet of space, it's one of the world's largest art museums, and second only to New York's Met in the USA.
The collection, as already alluded to, covers a lot. In fact, there are around 4,000 years of art to explore, from Ancient and Byzantine through to Modern and Contemporary art. Almost every region of the world has some of its art represented.
Honestly, there are too many highlights to list them all. Suffice to say, even Ferris Bueller visited the museum on his day off, and we think it is a very worthwhile addition to your Chicago itinerary. Just be sure not to miss the Throne Miniature Rooms when you visit.
You can see opening times for The Art Institute of Chicago here. There's a fee to visit, and it's included on the Chicago CityPASS.
We actually visited on this tour with Take Walks, which was an excellent way to see the main highlights and get more of an appreciation for what we were seeing. Highly recommended if you would prefer a guided tour.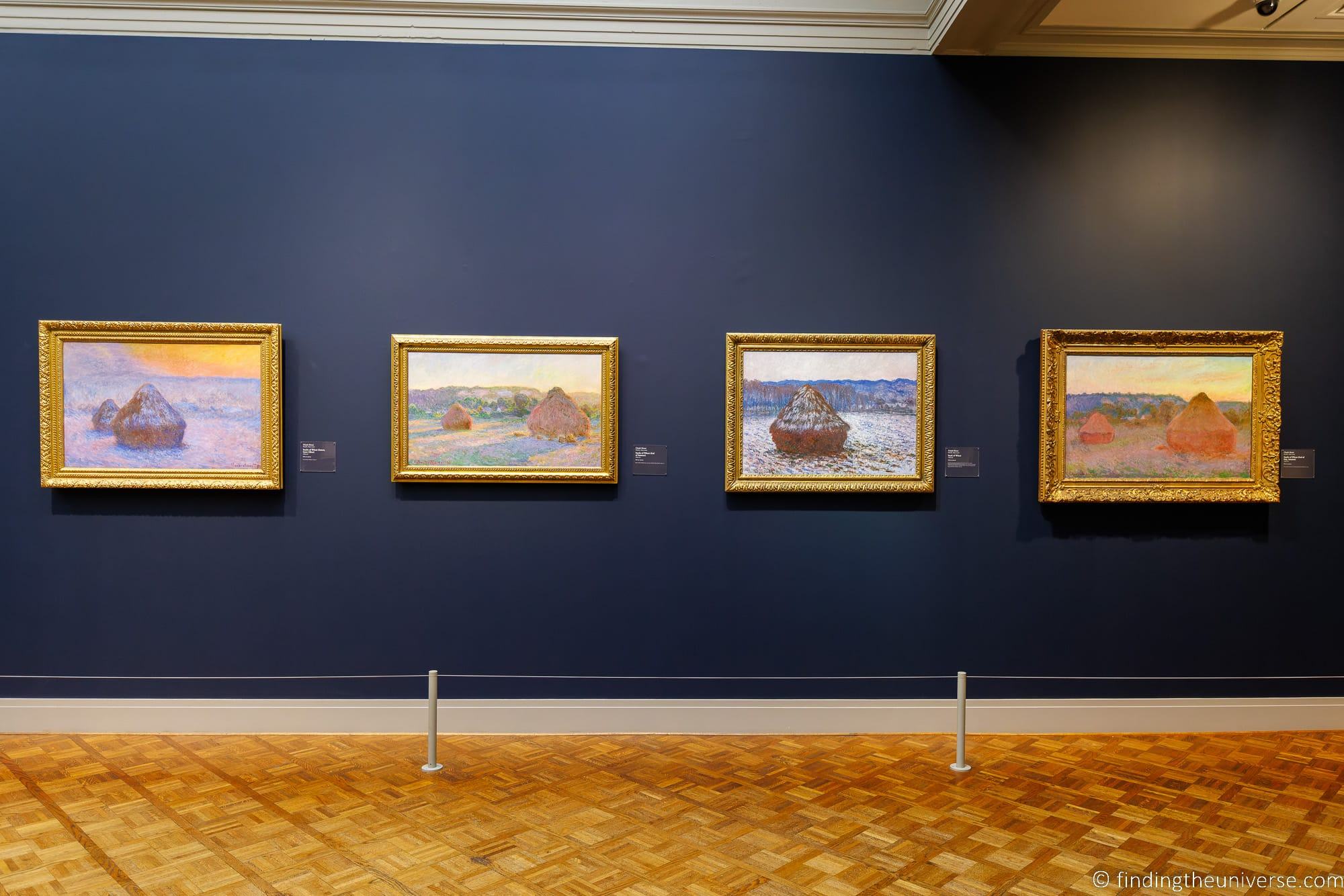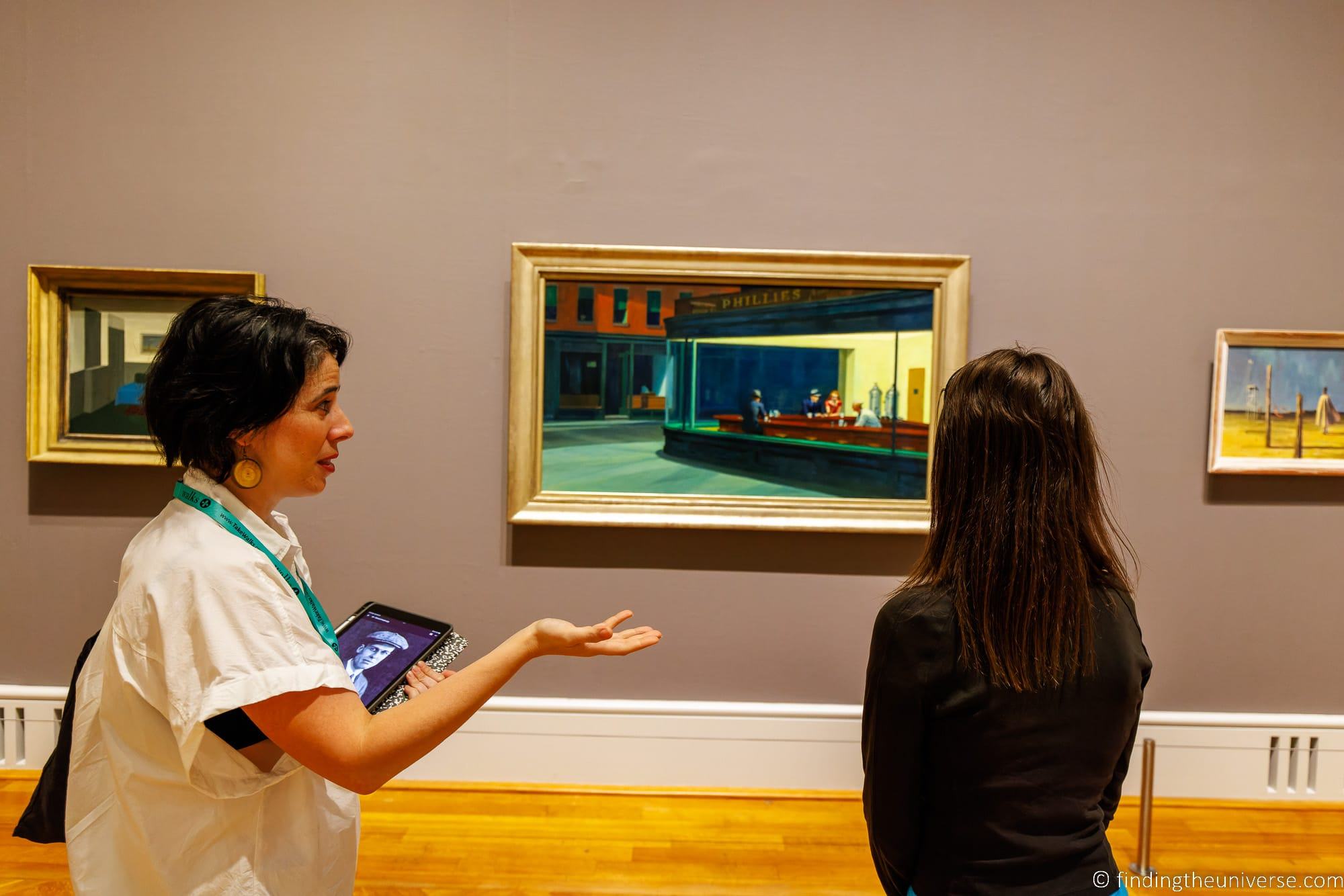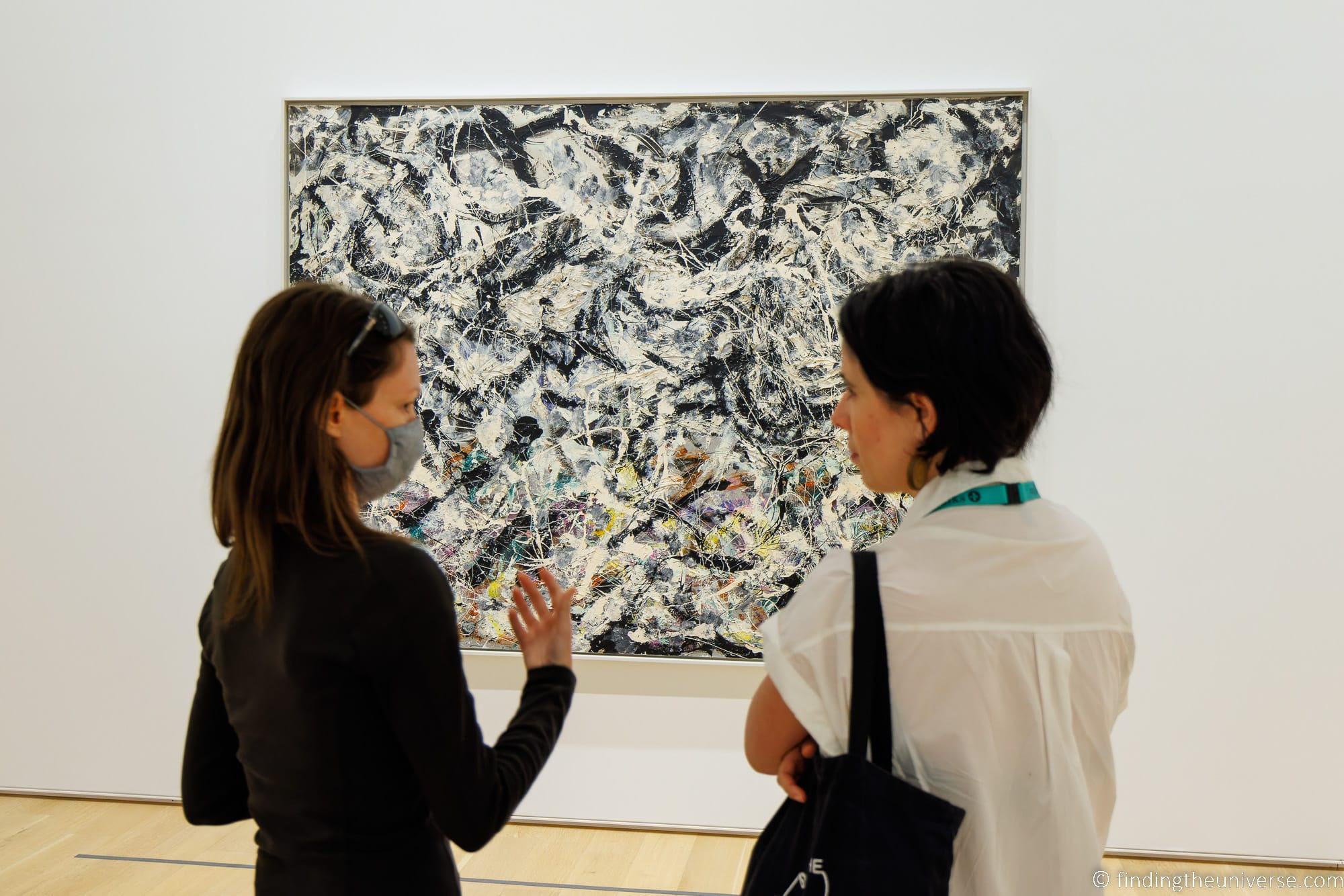 Chicago Architecture Cruise
On a recent visit to Chicago we asked our newsletter subscribers what they would recommend we do in the city. We got a lot of great suggestions but by far the most popular was to take an architecture cruise on the river.
Naturally, we followed this suggestion, and we can highly recommend that you do too. By this point your feet will probably want a break anyway, and spending around 90 minutes relaxing as the Chicago scenery winds by is an excellent way to relax.
There are a number of companies offering boat tours of the Chicago river. The majority of these are architecture cruises that last from 70 – 90 minutes.
Cruises generally have live narration, and as well as learning about some of the architecture that makes up the city skyline you will also learn a bit about the history of the city. Most cruises also have a full-service bar on board as well as restrooms.
We took this Chicago Architecture Cruise which was included on the GoCity Chicago Pass. Some other options to consider include:
As you can see, there's a wide range of options when it comes to cruising the river in Chicago.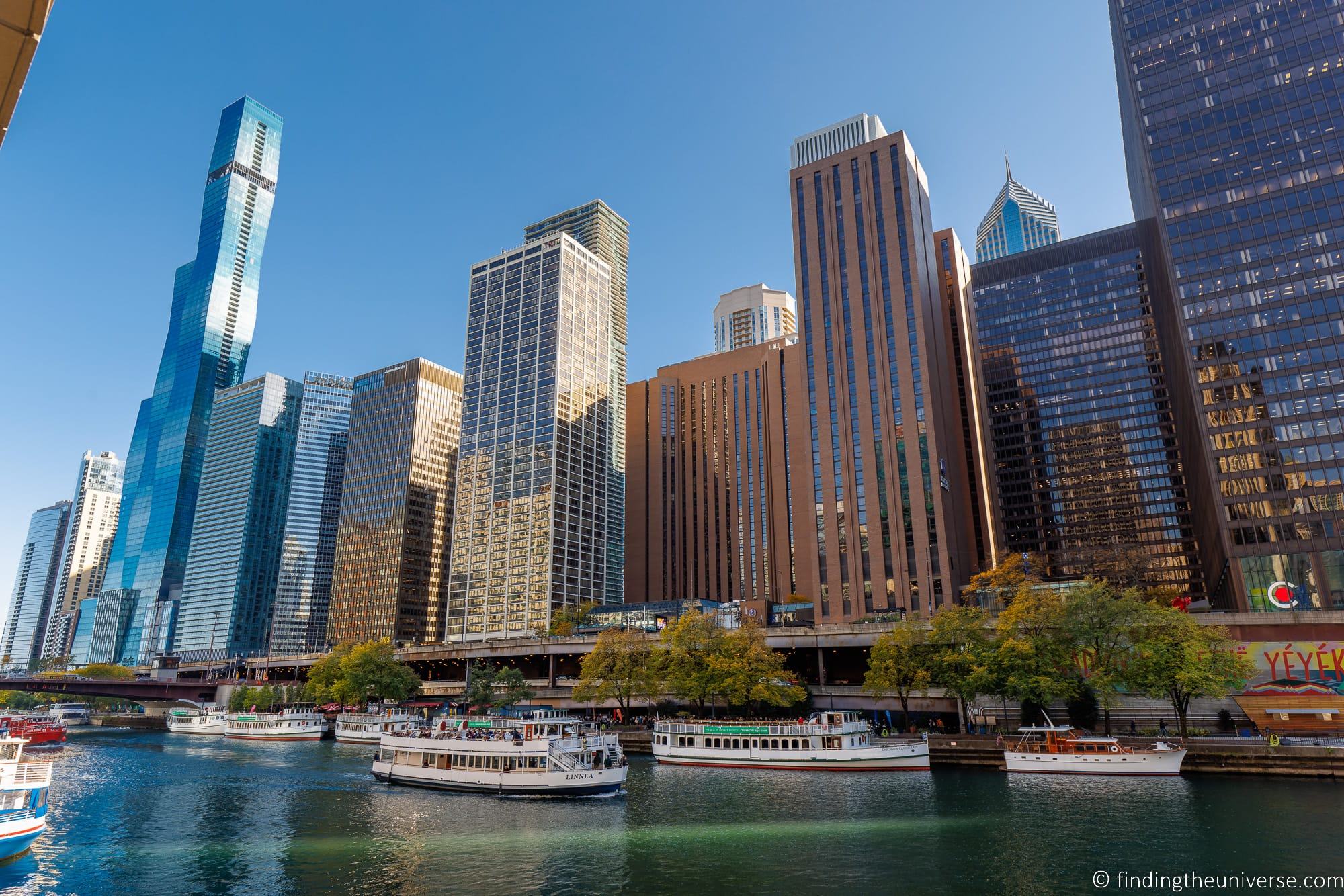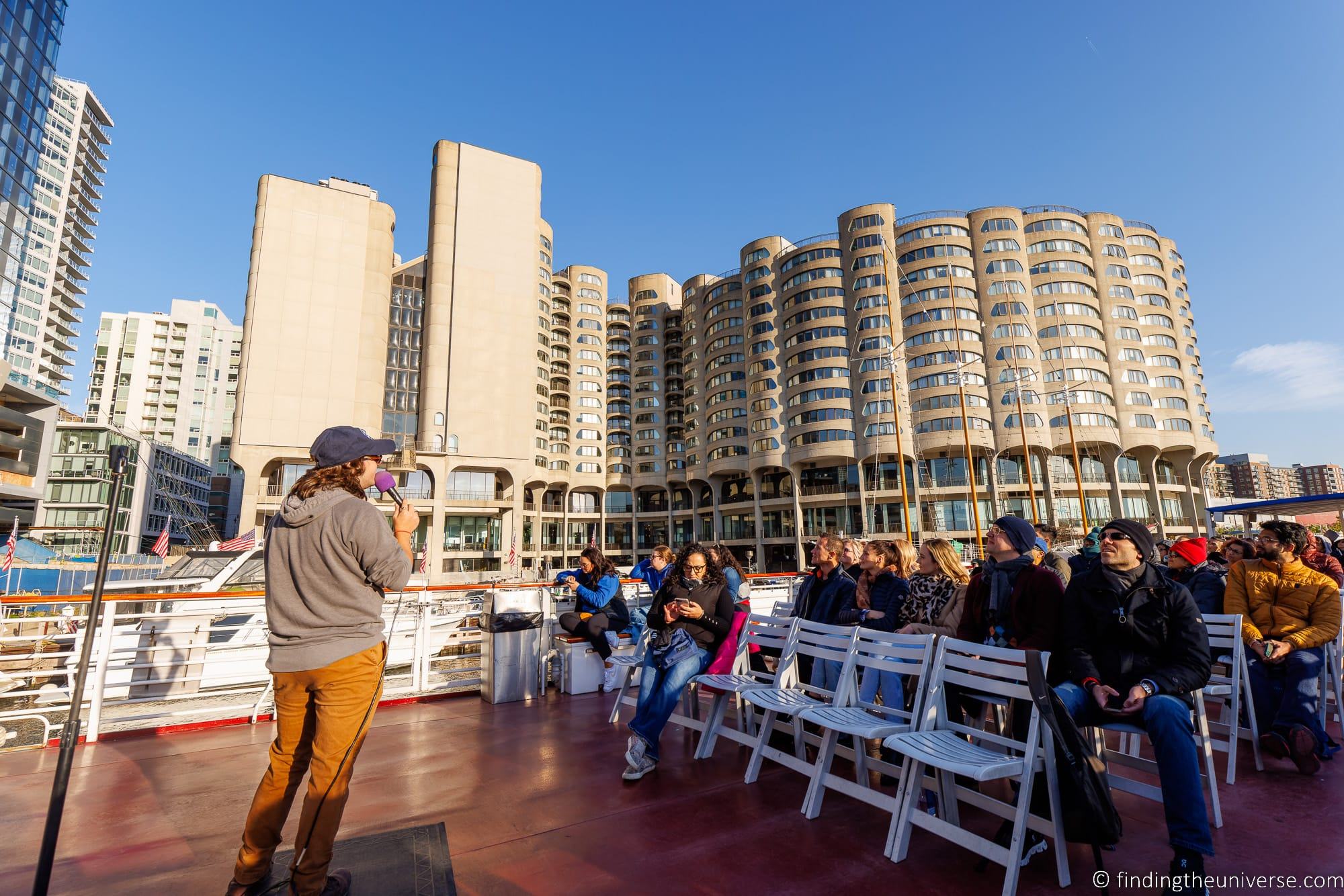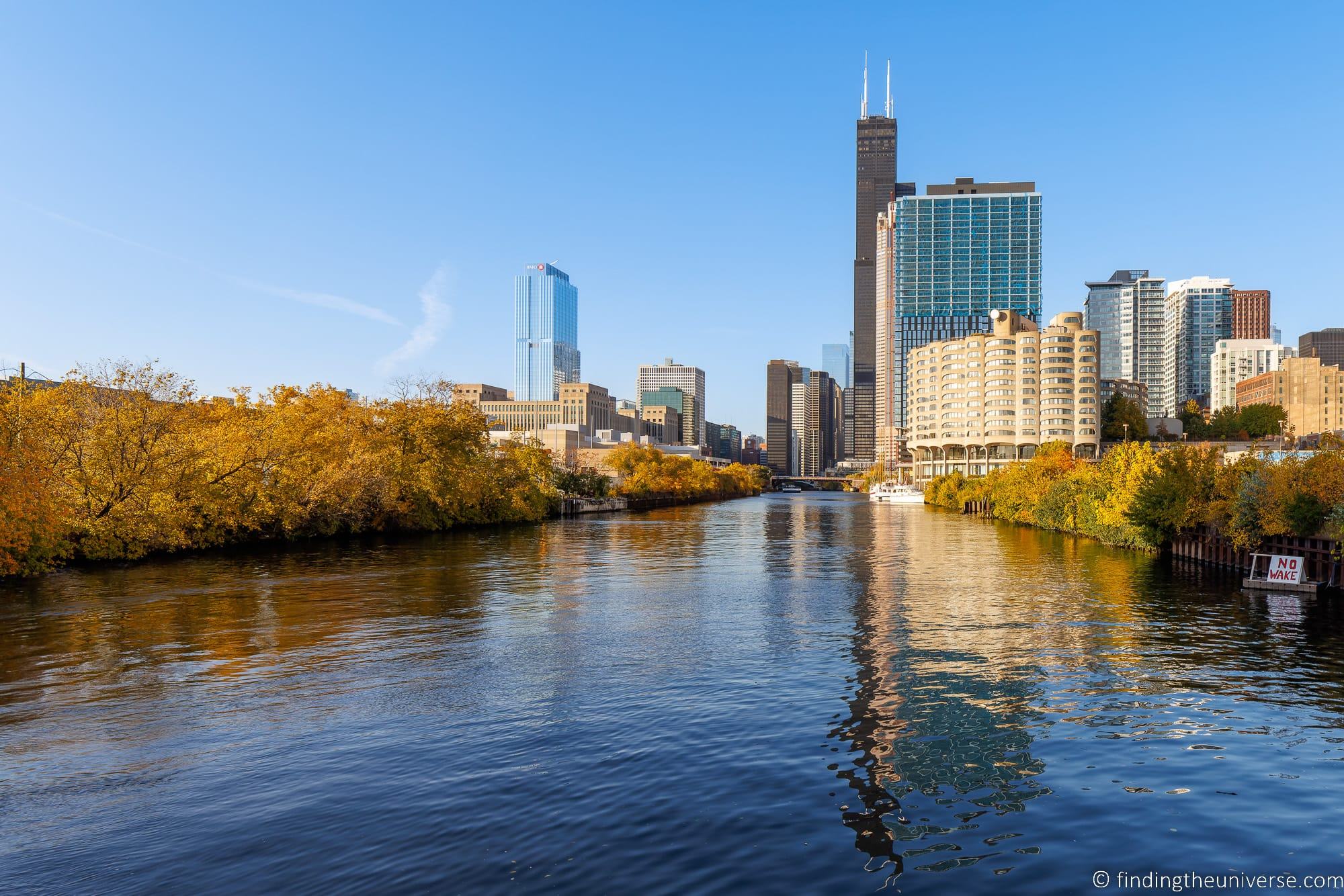 Navy Pier
To wrap up your first day in Chicago, we recommend you head out to Navy Pier. This 50-acre pier is just a few blocks east of the downtown Chicago area, jutting out into Lake Michigan.
Here you'll find parks, gardens, shops, restaurants and rides. Our favourite ride to do here is the Centennial Wheel Ferris wheel, which sweeps you up into the sky above the pier and offers lovely views of the surrounding area and lake.
Other attractions include a carousel, the Chicago Children's Museum, a huge funhouse maze and much more. There are also plenty of dining and drinking opportunities, as well as park space and public art.
We think Navy Pier makes for a fun end to a full first day in Chicago. It's free to visit, but the rides and activities do have entry fees. The GoCity Chicago Pass includes some rides, including the Centennial Wheel. It also includes the Children's Museum. Just be aware that many rides are seasonal and don't run in the colder months of the year.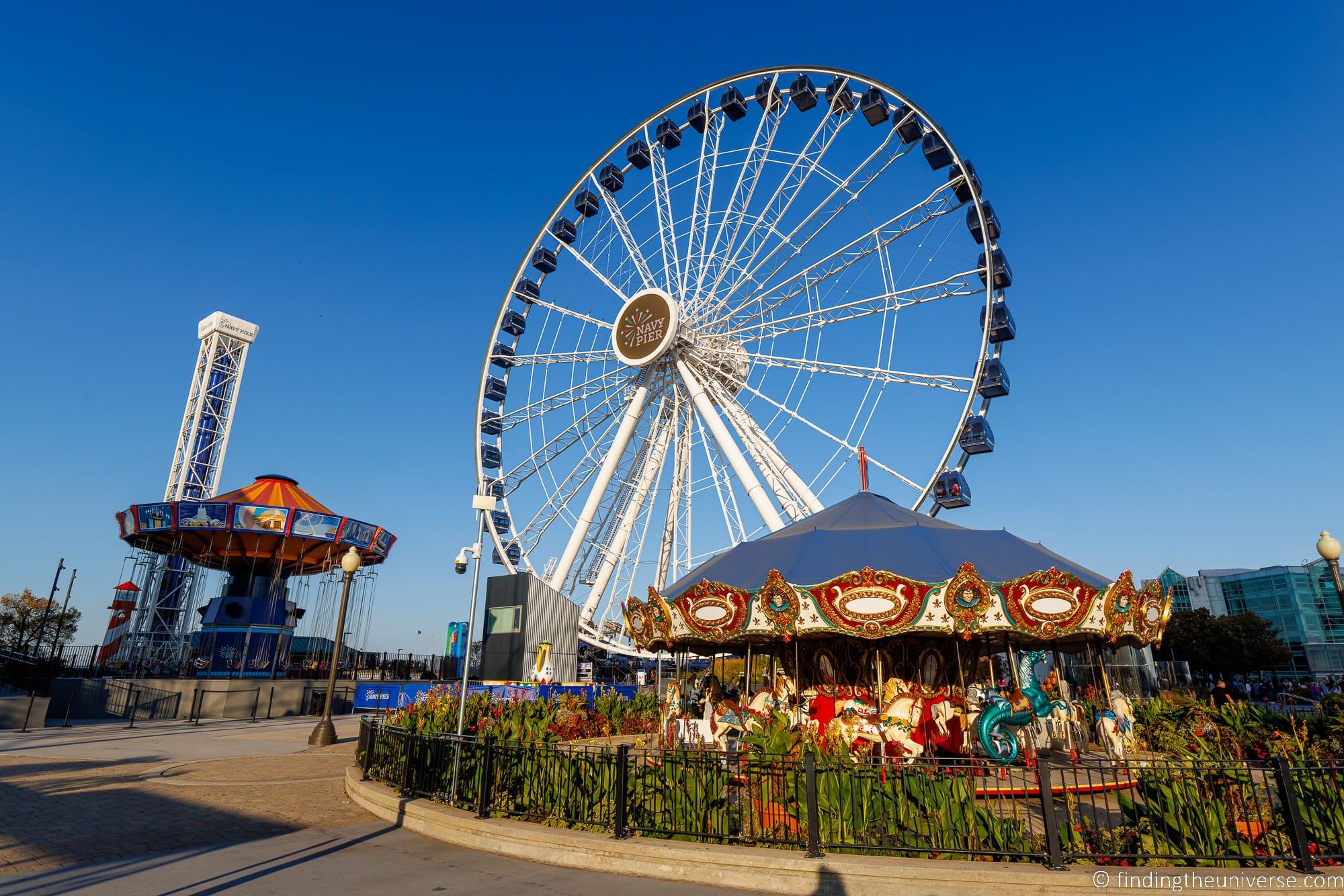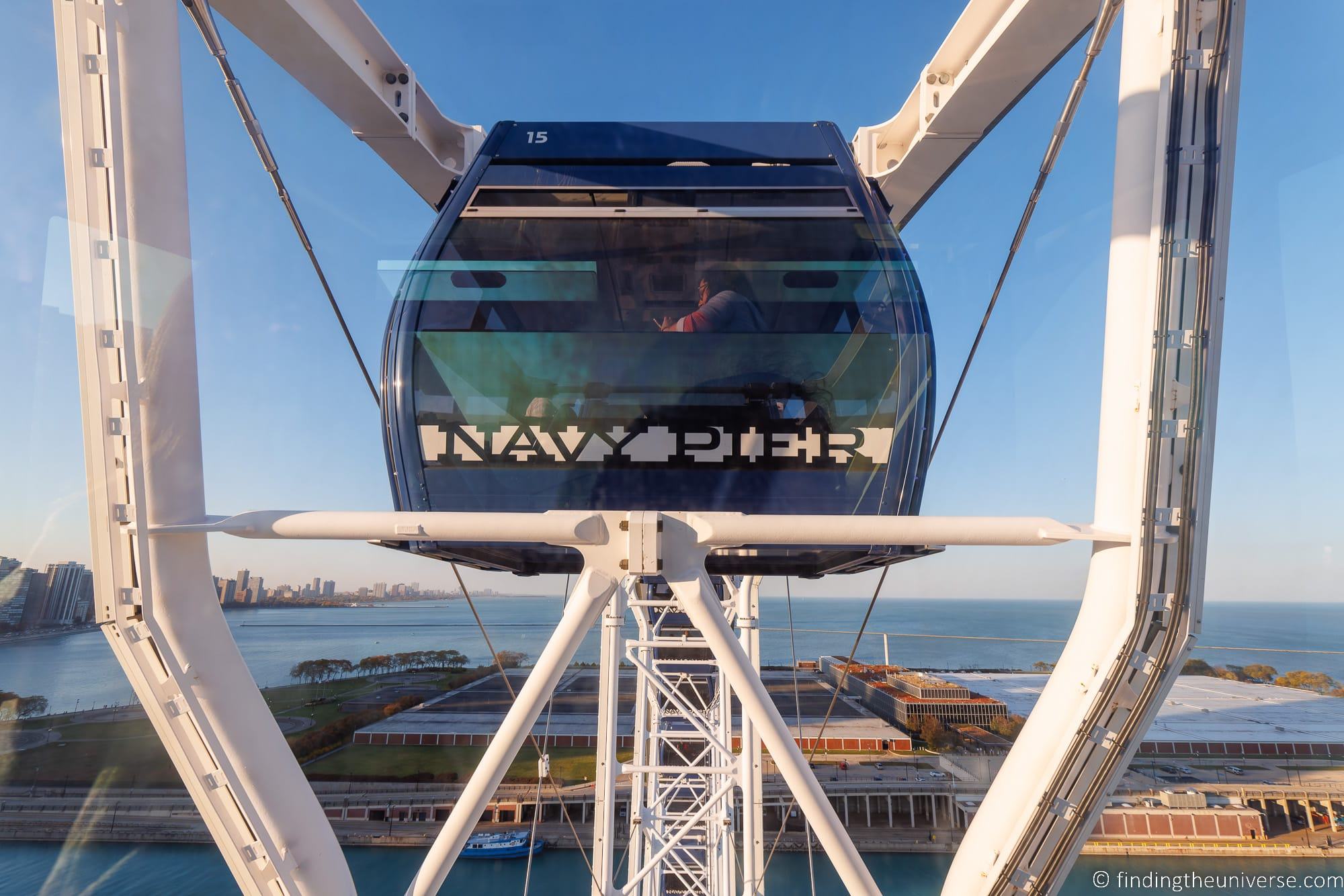 Chicago Day 2
It's time for your second day in Chicago! Today we're going to take in some more museums and sights around the city. Again, feel free to adjust the itinerary to your interests.
Today's attractions are grouped in two areas of the city, one just south of the centre at Museum Campus, and one just to the north near Lincoln Park. Today you might choose to get around by Hop on Hop off bus (included on the GoCity Chicago Pass).
Alternatively, public transit or taxis will get you between the main stops relatively easily. See the section of the post on getting around Chicago for some tips.
Museum Campus Attractions
Museum Campus is a 57-acre park which has a number of attractions. We would recommend picking one or two to visit as each is quite large and will probably take at least 2-3 hours of time to explore.
Of course, if you want to fit more in feel free to adjust this day to suit. Here are the three attractions on the Museum Campus we suggest you consider for your second day in Chicago.
Shedd Aquarium
If you are visiting Chicago as a family then the Shedd Aquarium should definitely be on your to-do list.
Opened all the way back in 1930, at the time this was the largest indoor aquarium in the world. Today, whilst it no longer has that title, it still has an impressive collection of 32,000 animals.
These range from fish and marine mammals through to birds, snakes, insects and amphibians. Basically, something for everyone. The upstairs area has a wide range of exhibits covering different habitats, whilst the lower levels are primarily devoted to the massive Oceanarium.
This is the largest indoor marine mammal facility in the world, with 3 million gallons of water. It's home to beluga whales, pacific white-sided dolphins, sea otters and California sea lions.
There is a lot to see and do here, with a number of interactive exhibits as well as a 4D Theatre. There are also usually a number of special exhibits. You could easily spend more than half a day here if you wished!
The Shedd Aquarium is open year-round, and you can see opening times and a calendar of events on their website here. A ticket is required for entry, when we visited this had to be booked in advance. You can book on the official website here.
The Shedd Aquarium is available on the GoCity Chicago All Inclusive Pass as well as the Chicago CityPASS.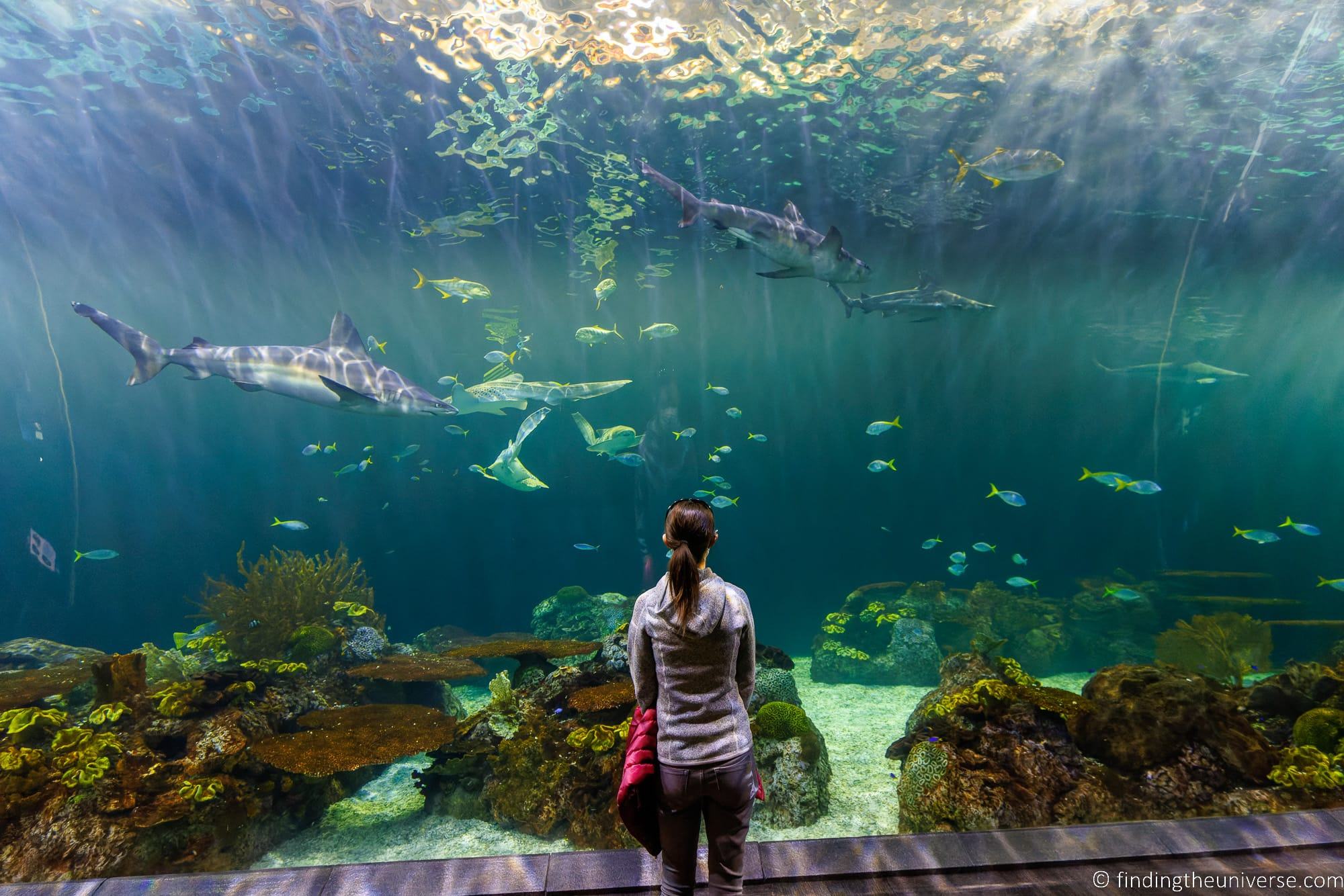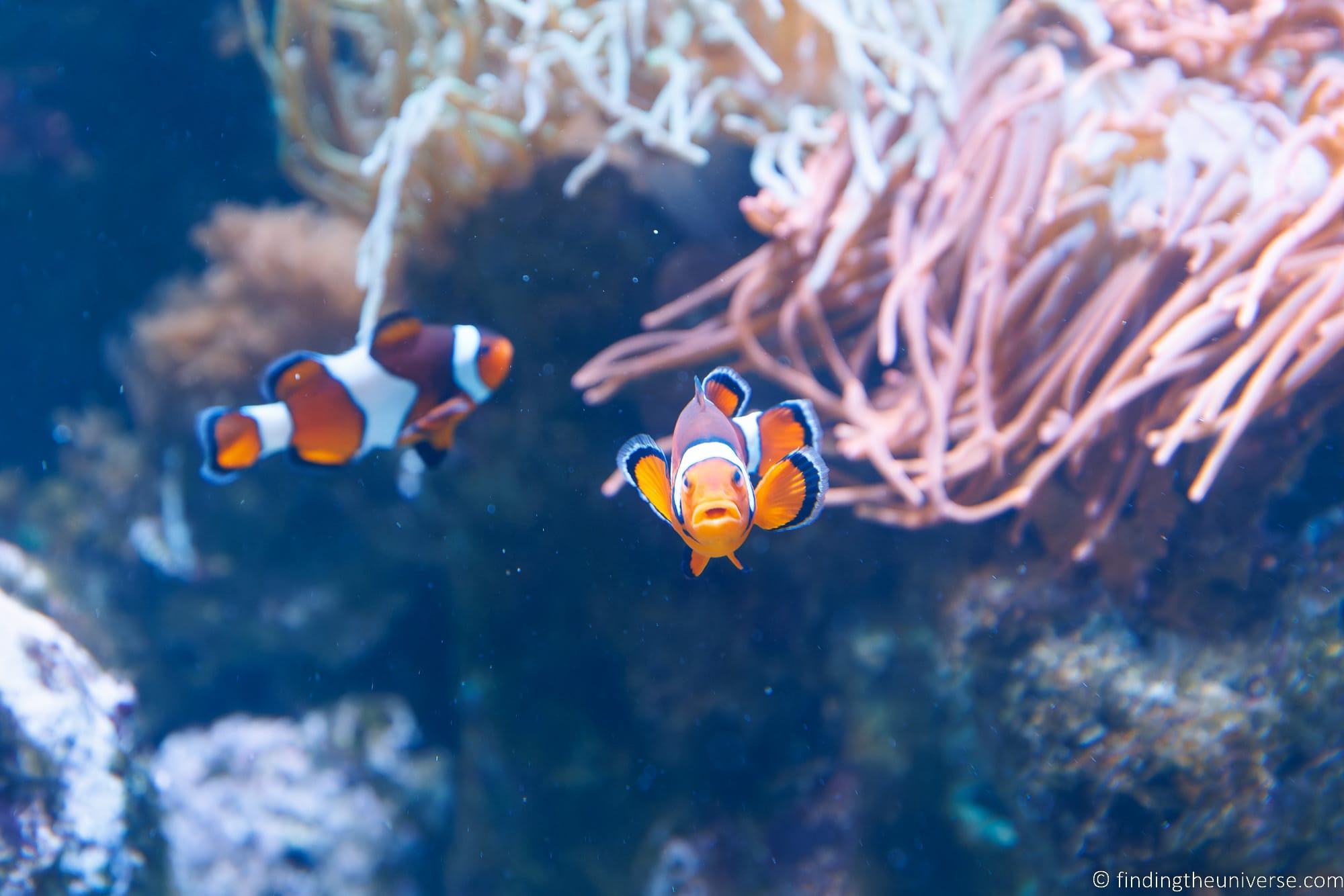 Adler Planetarium
A five-minute walk from the Shedd Aquarium will bring you to the Adler Planetarium, which is a must-visit for lovers of astronomy and space in general.
Like the Shedd Aquarium, the Adler Planetarium was opened in 1930. It was the first planetarium in the USA and is also a National Historic Landmark.
Of course, having a good history isn't relevant if it can't live up to modern day expectations. Thankfully, the Adler Planetarium has plenty to offer.
It has three theatres with a variety of programming, a variety of exhibitions which are dedicated to space science, an original Gemini program capsule, and a collection of antique scientific instruments.
All in all, there is plenty to see and do here to make it a worthwhile stop. The only thing to note is that it has more limited opening hours than some of the other locations on our list, so you will want to be sure to check when it is open prior to your visit, which you can do on the official website here.
Tickets can be purchased on the official website here. It is also included on the GoCity Chicago Passes as well as the Chicago CityPASS.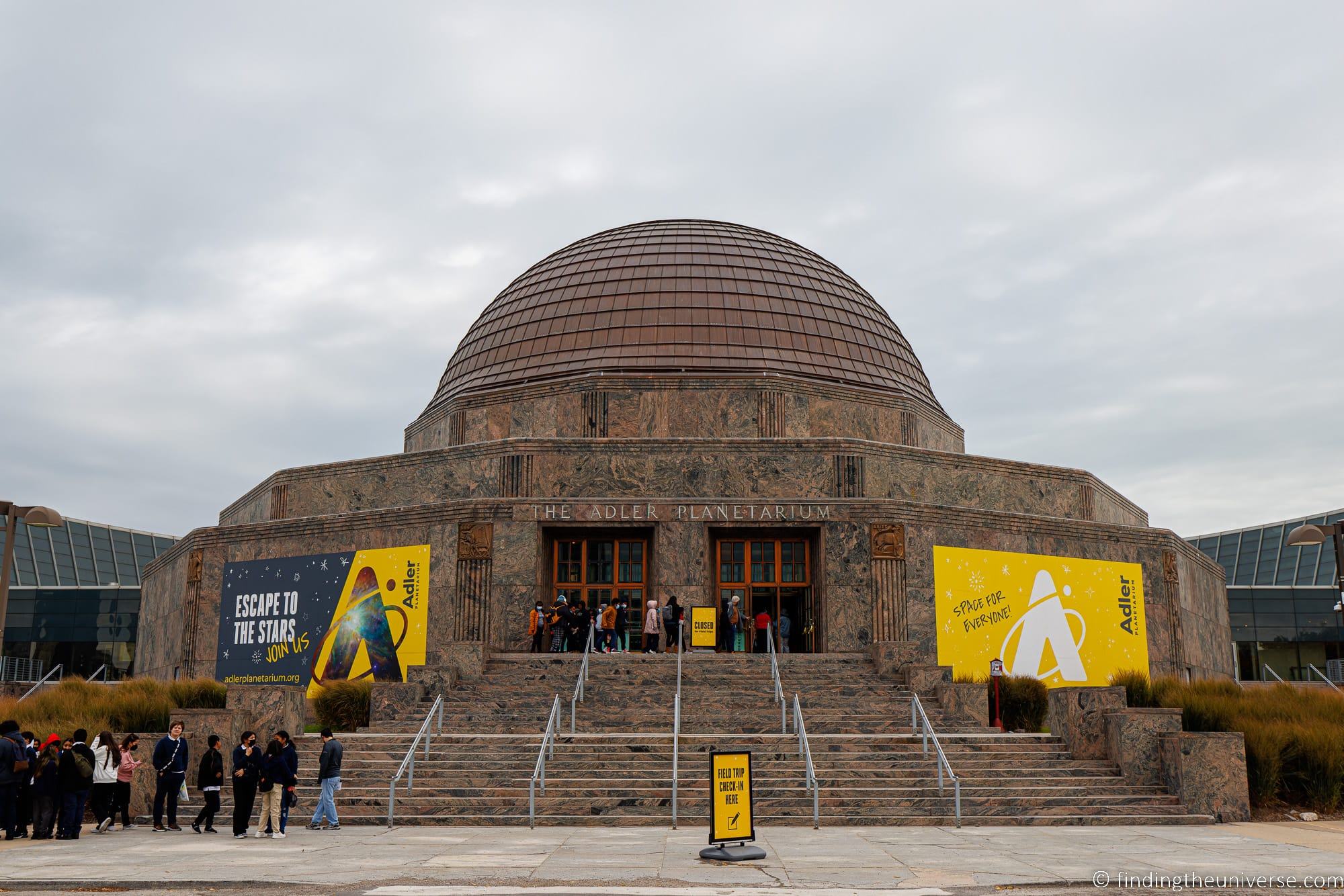 Field Museum
The third attraction we suggest you consider visiting at Museum Campus is the Field Museum.
This is one of the world's largest natural history museums, and it has a huge collection of exhibits covering the natural world.
These naturally include a lot of dinosaurs, with Sue the T-Rex being a particularly popular attraction. You'll also find exhibits covering animal, bird and plant life from around the world, geology exhibits, exhibits on the Ancient Americas and Ancient Egypt, as well as lots more.
A highlight for us was seeing the Tsavo Man-Eaters on display. This pair of lions gained notoriety for their killing spree on construction workers in Tsavo, Kenya, a part of the world we have been lucky enough to visit. Their story was told in the movie the Ghost and the Darkness, and it was interesting to see them at their final resting place.
Of course, there is a huge amount to see and do here, and like the Shedd Aquarium you could easily spend at least half a day here. It's another popular place to visit as a family, so if you are in Chicago with kids then this should definitely be on your to-do list.
The Field Museum has an entry fee, and you can buy tickets online in advance here. It is also included on the GoCity Chicago Passes as well as the Chicago CityPASS.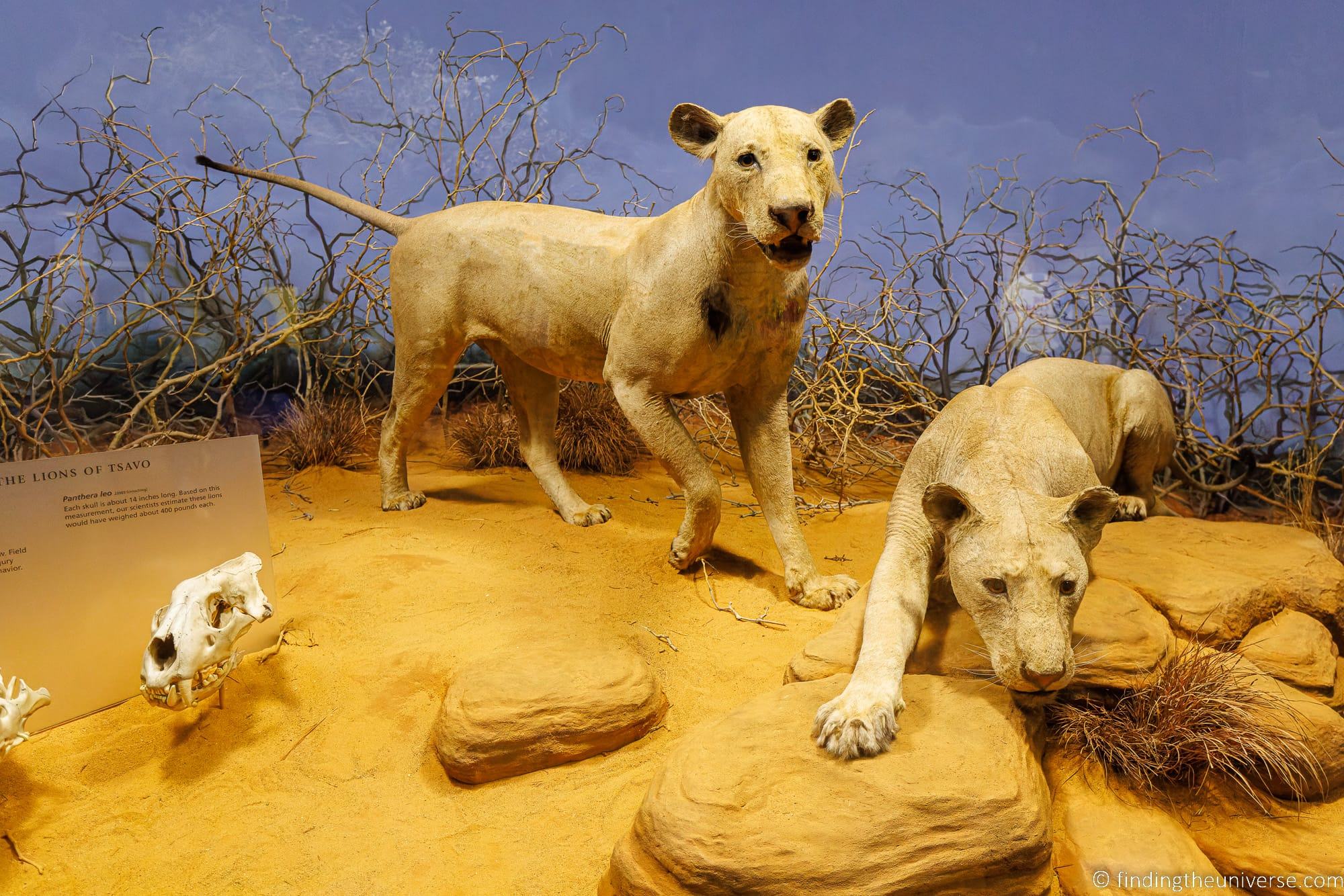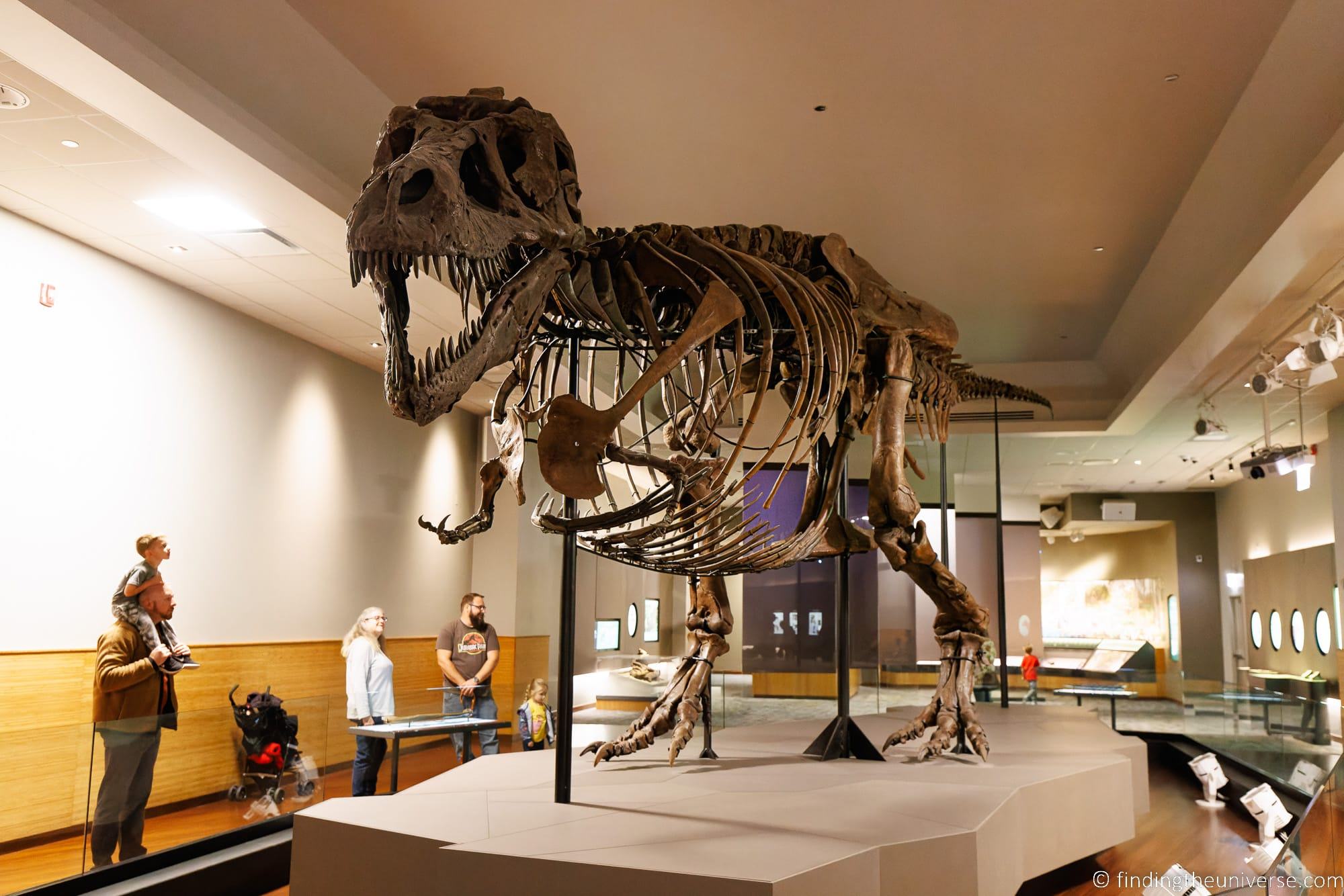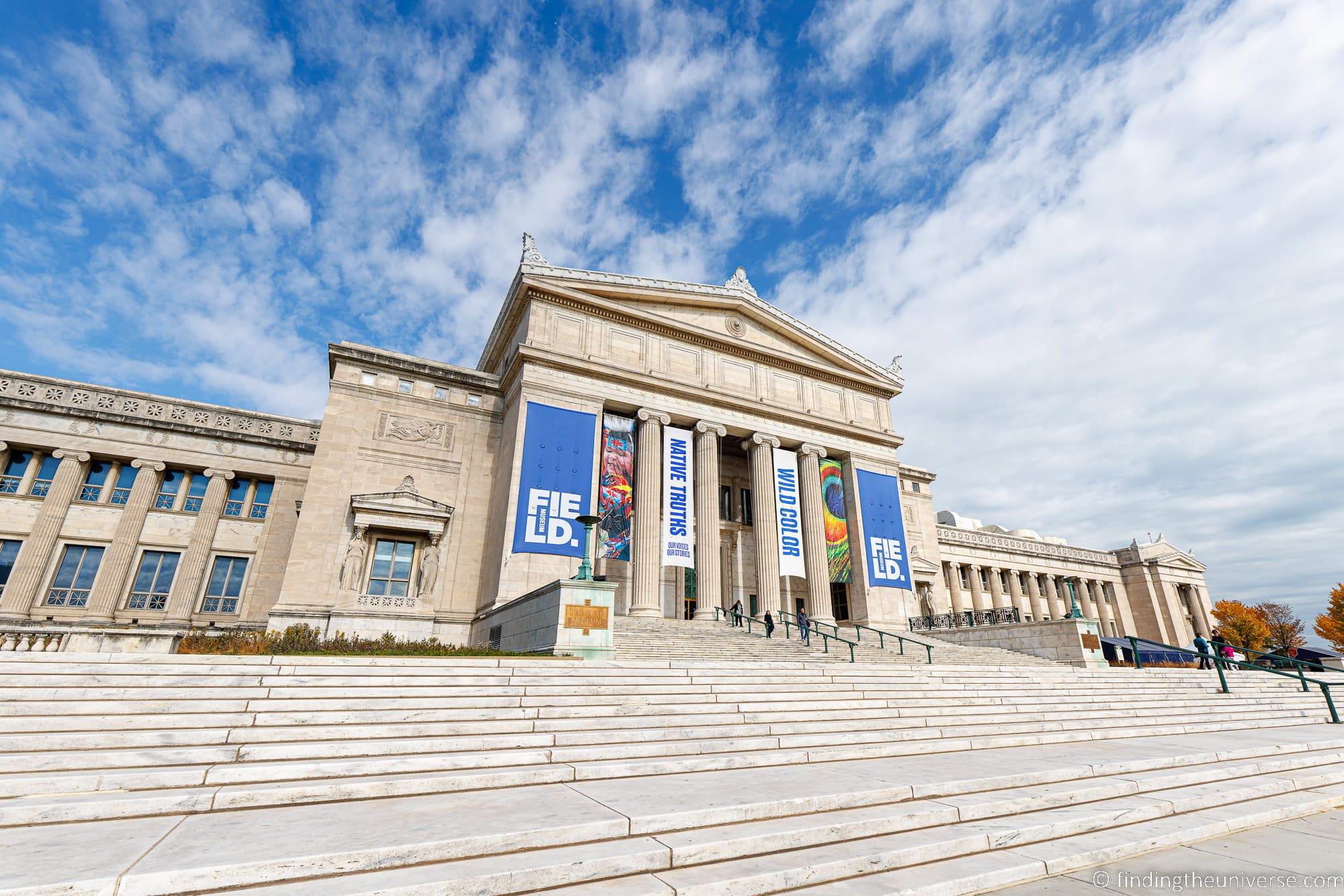 Chicago History Museum
If you are interested in history, and haven't already filled your day with museums, then we definitely recommend a visit to the Chicago History Museum.
This is found in the Old Town area of Chicago, where you will also be close to the free Lincoln Park Zoo.
If you are using the Hop on Hop off bus today this will get you most of the way, although you will have to walk the last few minutes. Alternatively, you can take public transport or a taxi.
This museum dates all the way back to 1856, when it was founded to study and document Chicago's history.
By this point on your visit to Chicago you will likely have picked up some of the things that the museum covers, and here you will be able to get a more in-depth understanding of what made Chicago the city it is today.
From the Great Fire of 1871, to the civil rights movement, to the history of crime, industry and transportation in the city, the museum covers a great deal of both Chicago specific history as well as American history in general.
We really enjoyed visiting this museum, and think it is very much worth the visit. There's a fee to visit, and you can book tickets online here. It is also included on the GoCity Chicago Passes.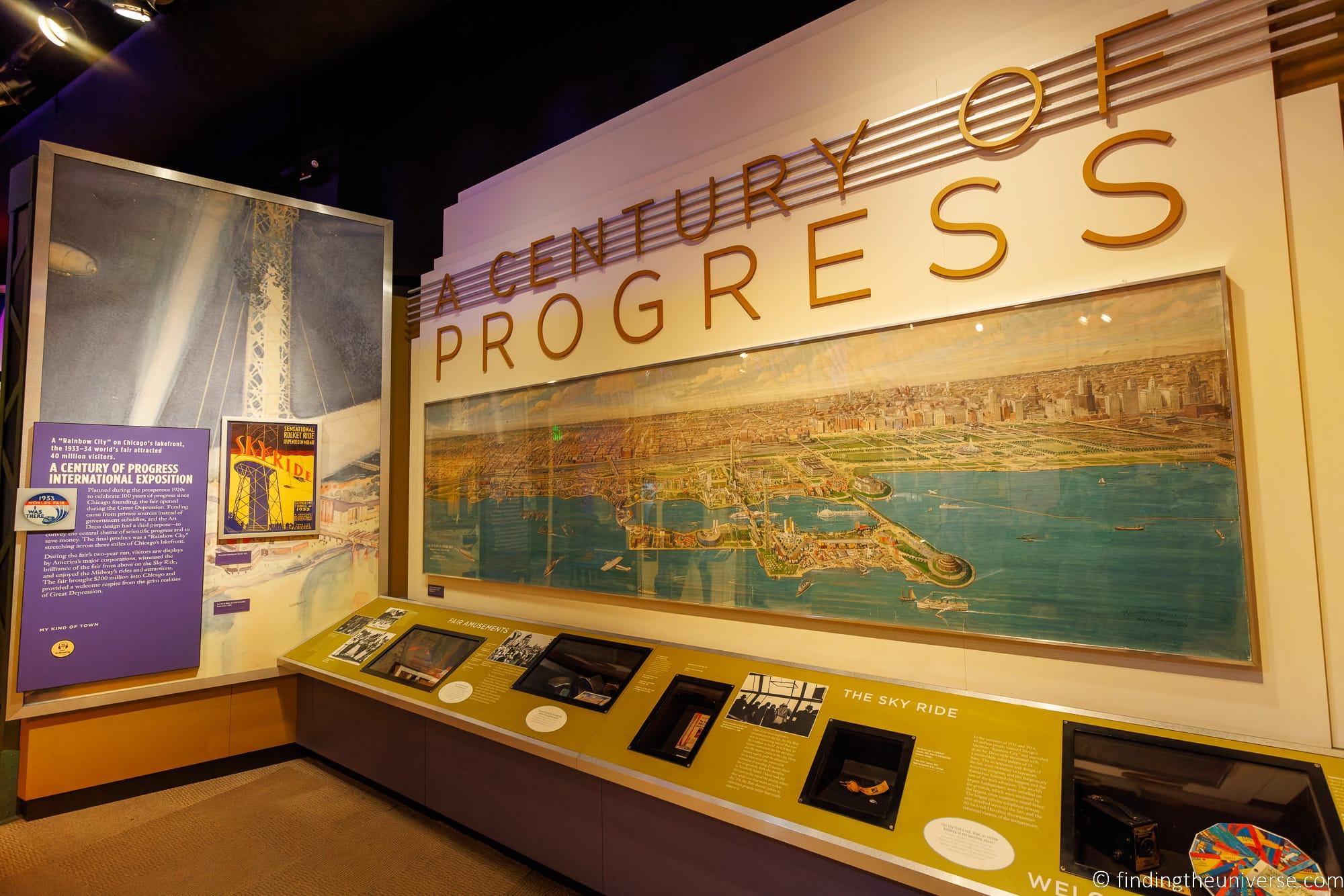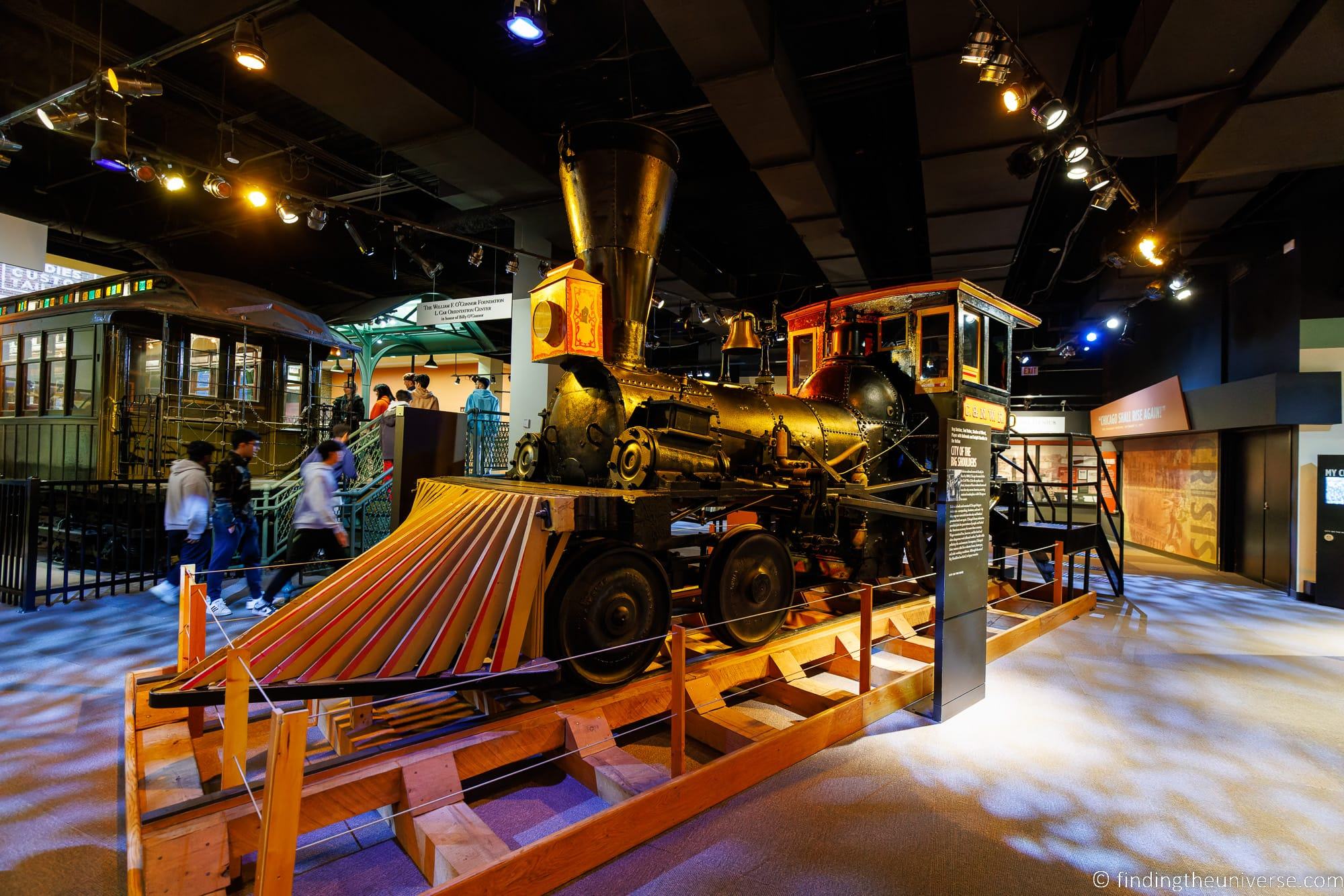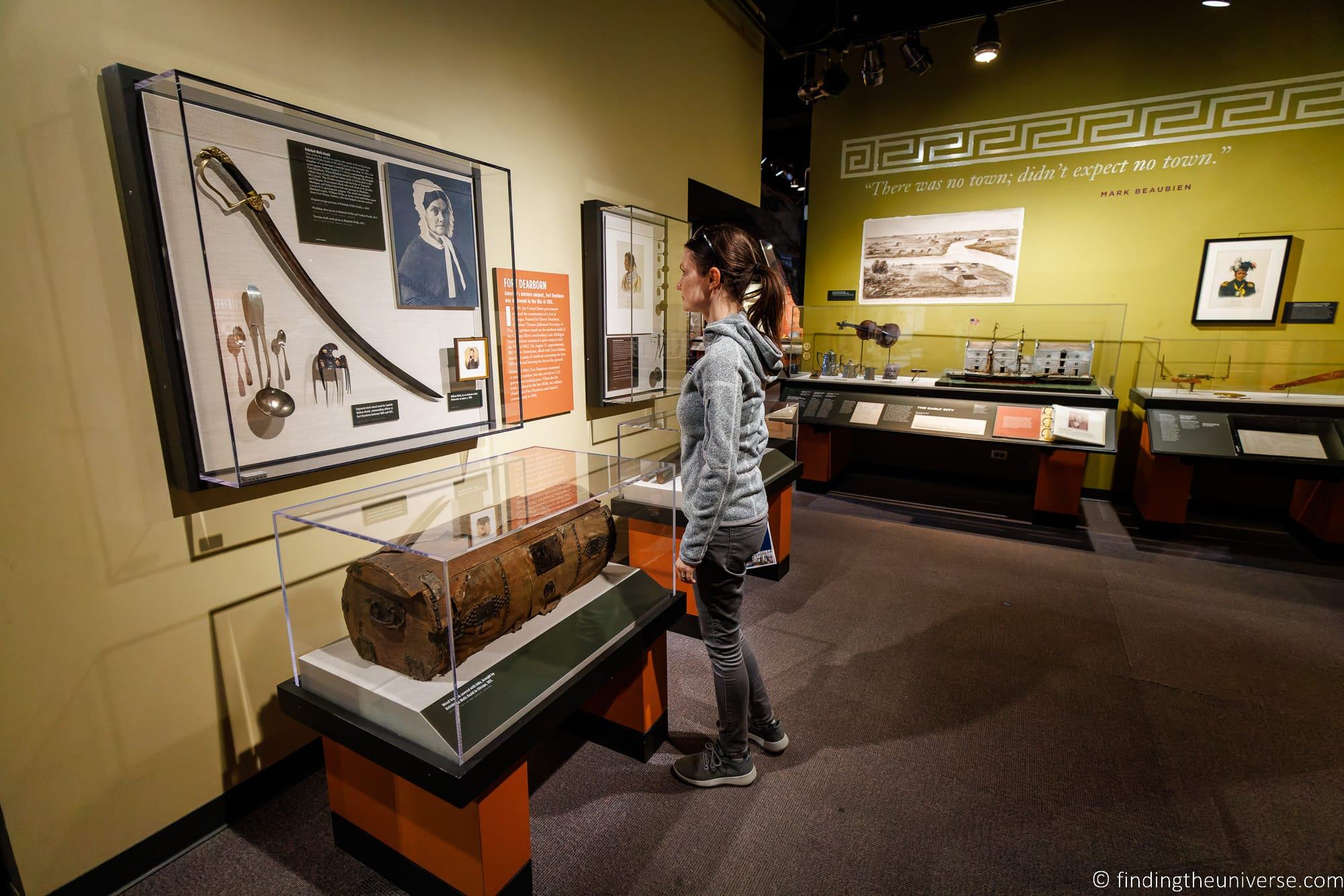 360 Chicago
Your last stop for your time in Chicago is the John Hancock Centre, another of Chicago's well-known tall buildings.
When this building was completed in 1968 it was the tallest building in Chicago, although of course the Willis Tower took over that title.
The main reason to visit is the 360 Chicago Observation Deck, found on the 94th floor of the building, just over 1,000 ft above street level. The viewing platform here is a particularly popular location to visit when it is dark, so you can see the city lights, although you get a great view of the city at any time of day of course.
As well as excellent views of the city skyline and Lake Michigan, you also have the option of riding the TILT attraction. For an additional fee, you can stand in a window that tilts to 30 degrees out of the building. We didn't do this, but it looked like a lot of fun based on the reactions of the folks we did see doing it!
You can see opening dates and times for 360 Chicago on their official website here. You can buy tickets online here. It is also included on the GoCity Chicago Passes as well as the Chicago CityPASS.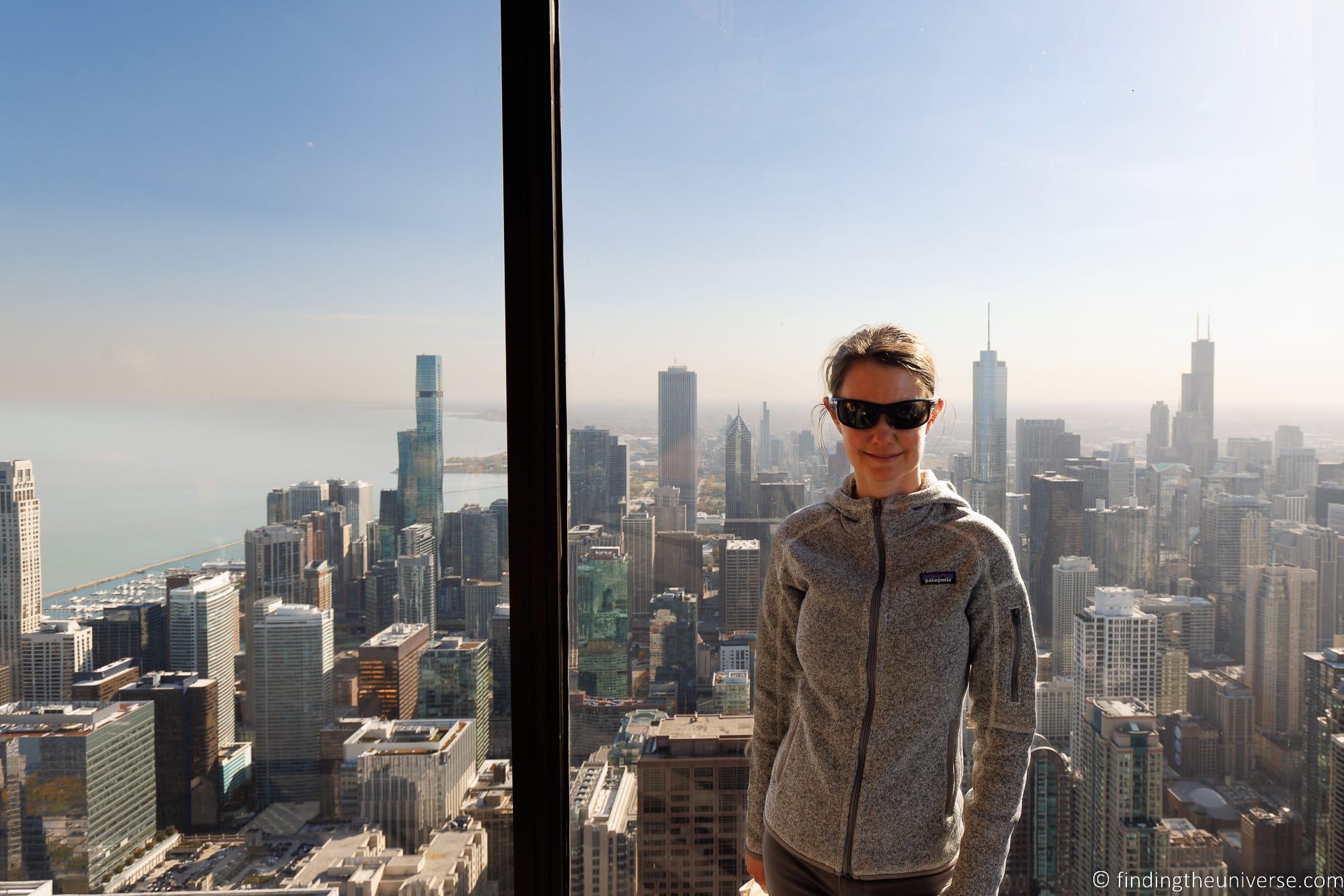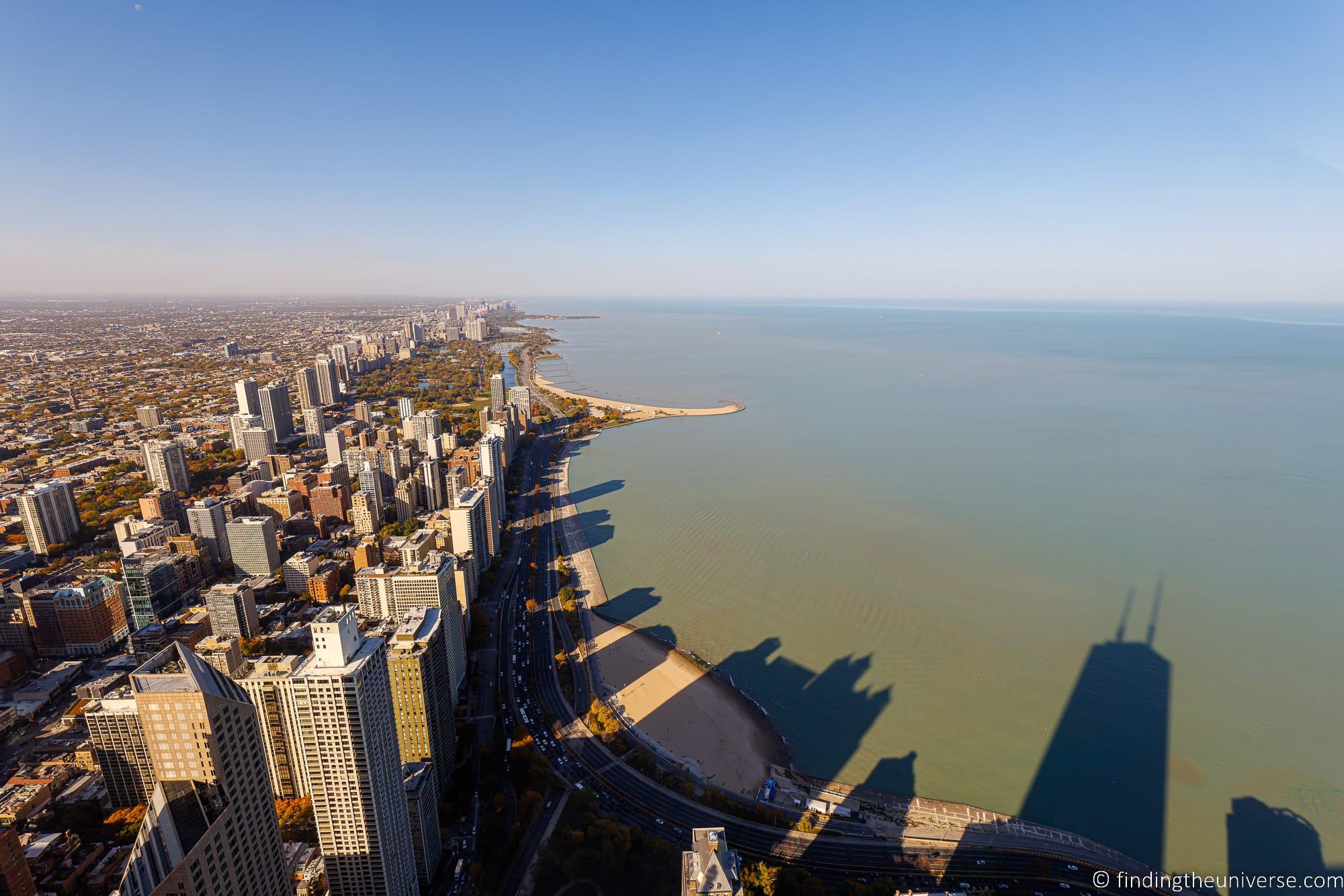 That wraps up our main itinerary for Chicago. Of course, we missed a lot with only two days in the city.
There's plenty more to see and do, from learning about Frank Lloyd Wright to visiting Hemingway's birthplace to visiting one of the world's largest science museums, another favorite of ours in the city.
If you have more time in the city, you'll find lots to fill your time! However, you have at least gotten a good taste of the highlights.
2 Day Chicago Itinerary Summary
Here's a quick summary of this itinerary for reference.
Chicago Day 1 – Skydeck Chicago at Willis Tower, Historic Buildings, Millennium Park and Cloud Gate, Art Institute of Chicago, Chicago Architecture Cruise, Navy Pier
Chicago Day 2 – Museum Campus Attractions (Shedd Aquarium, Adler Planetarium or Field Museum), Chicago History Museum, 360 Chicago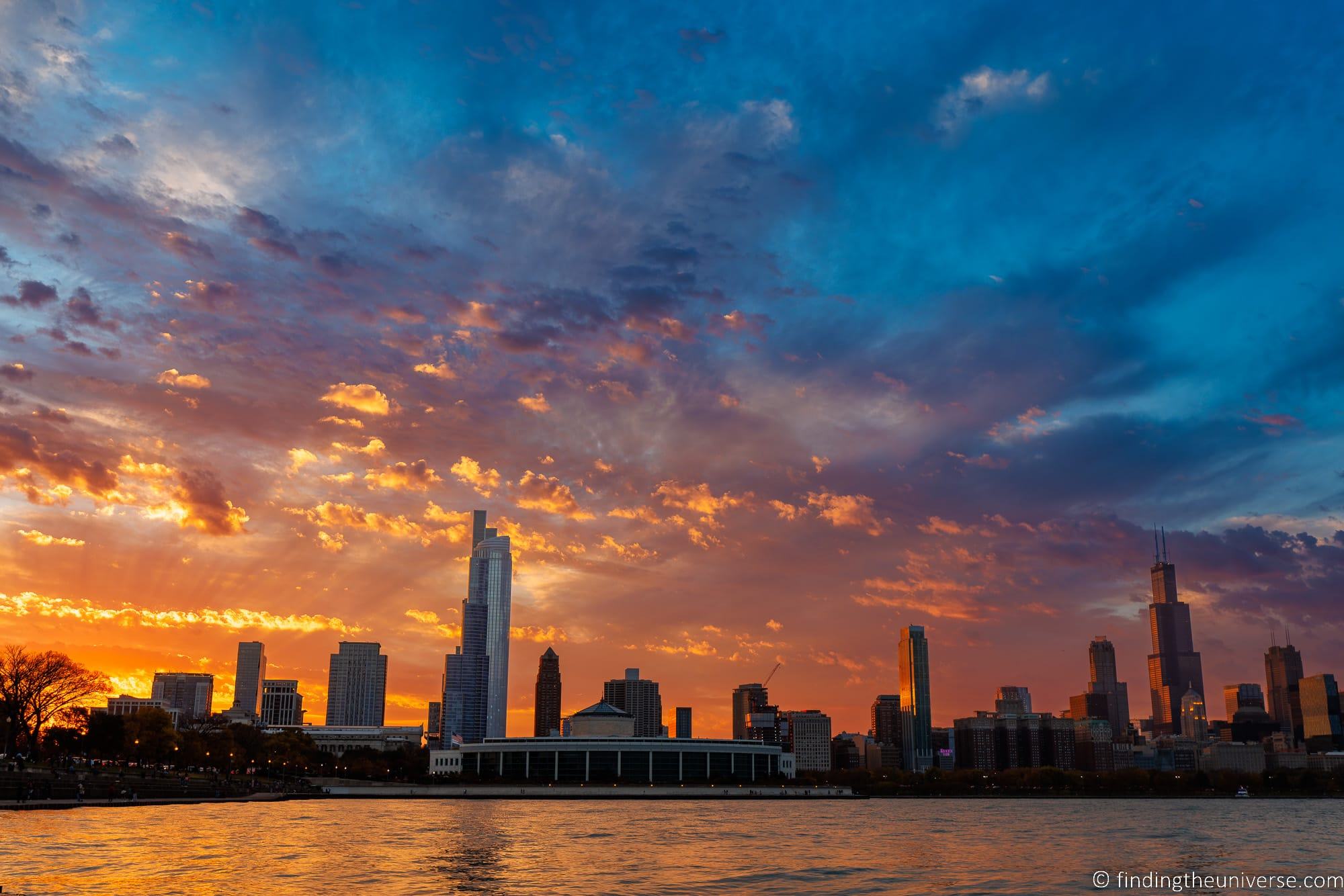 Chicago Itinerary Sightseeing Map
To help you visualise this itinerary, we've put together the below map which includes all the sights as well as our recommended hotels. You can also see this map on Google Maps here.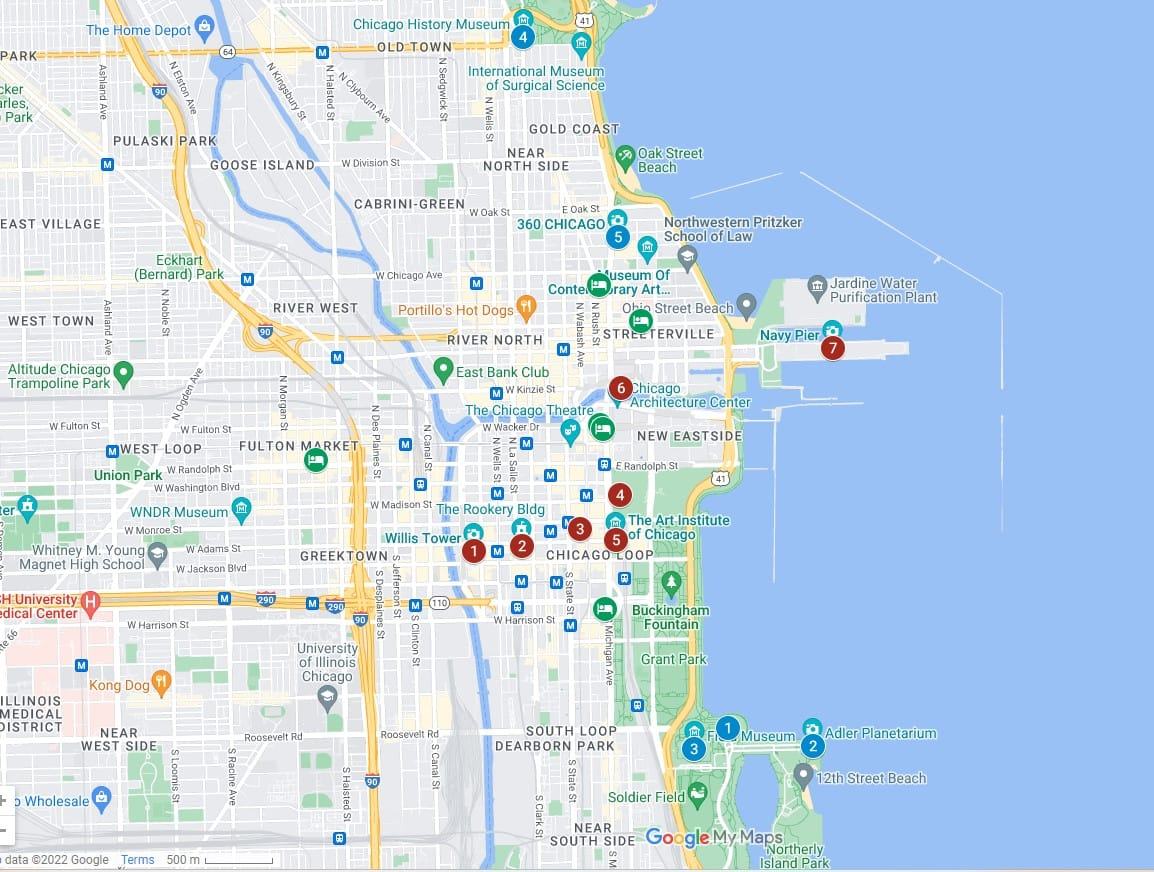 When to Visit Chicago
Chicago has a fairly variable climate, with hot summers and very cold winters. Some attractions are not open in the winter season, for example not all cruises operate and many of the Navy Pier rides are also closed over winter.
With this in mind, we'd recommend the best time to visit Chicago is going to be from mid-May through to mid-October. This will give you a better chance of good weather and attraction availability.
If you want to avoid the summer crowds, then May and early June, as well as September and early October are probably your best options.
It's also worth noting that Chicago is a very popular city for conferences and large events, and when these are in town hotel rates can go up. So, when planning a trip, it is worth checking conference schedules online as these can definitely make the city a more expensive destination.
What to Eat in Chicago
When you think of Chicago, you probably think of some of the iconic food the city has to offer. Whilst Chicago has a huge range of cuisines to choose from, there are some quintessential Chicago dishes you should definitely try when you're in the city. Some of these include:
Chicago Deep Dish Pizza. Probably one of Chicago's most famous foods, this dish was invented in Chicago. It's baked in a pan, with the cheese under the tomato sauce, and it's delicious. We've eaten it at both Pizzeria Uno (who claim to have invented it) and Giordano's Pizzeria, and both were excellent. Definitely not to be missed.
Chicago-style Hot Dogs. Whilst the hot dog wasn't invented in Chicago, the city has its own unique take on the hot dog. Generally you get a beef sausage in a bun, with yellow mustard, chopped onion, sliced tomato, sweet pickle relish, a dill spear, and celery salt. There are loads of places serving good hot dogs in Chicago, we suggest checking out a branch of Portillo's.
Italian Beef Sandwich. Invented in Chicago, this is essentially a sub with slices of juicy hot roast beef inside. The sandwich is normally dipped into the beef juices, and often spicy pickled vegetables (giardiniera) are added to the top. This one can be found at most pizzerias and Italian-American restaurants.
Of course, there are many more incredible dishes to try in Chicago, with a comprehensive list of options available here. We don't think you will go hungry.
One good option if you want to try a number of different foods and learn a bit about the history of Chicago is to take a food walking tour. We did this excellent tour with Devour Tours in Chicago, but there are a range of options to choose from.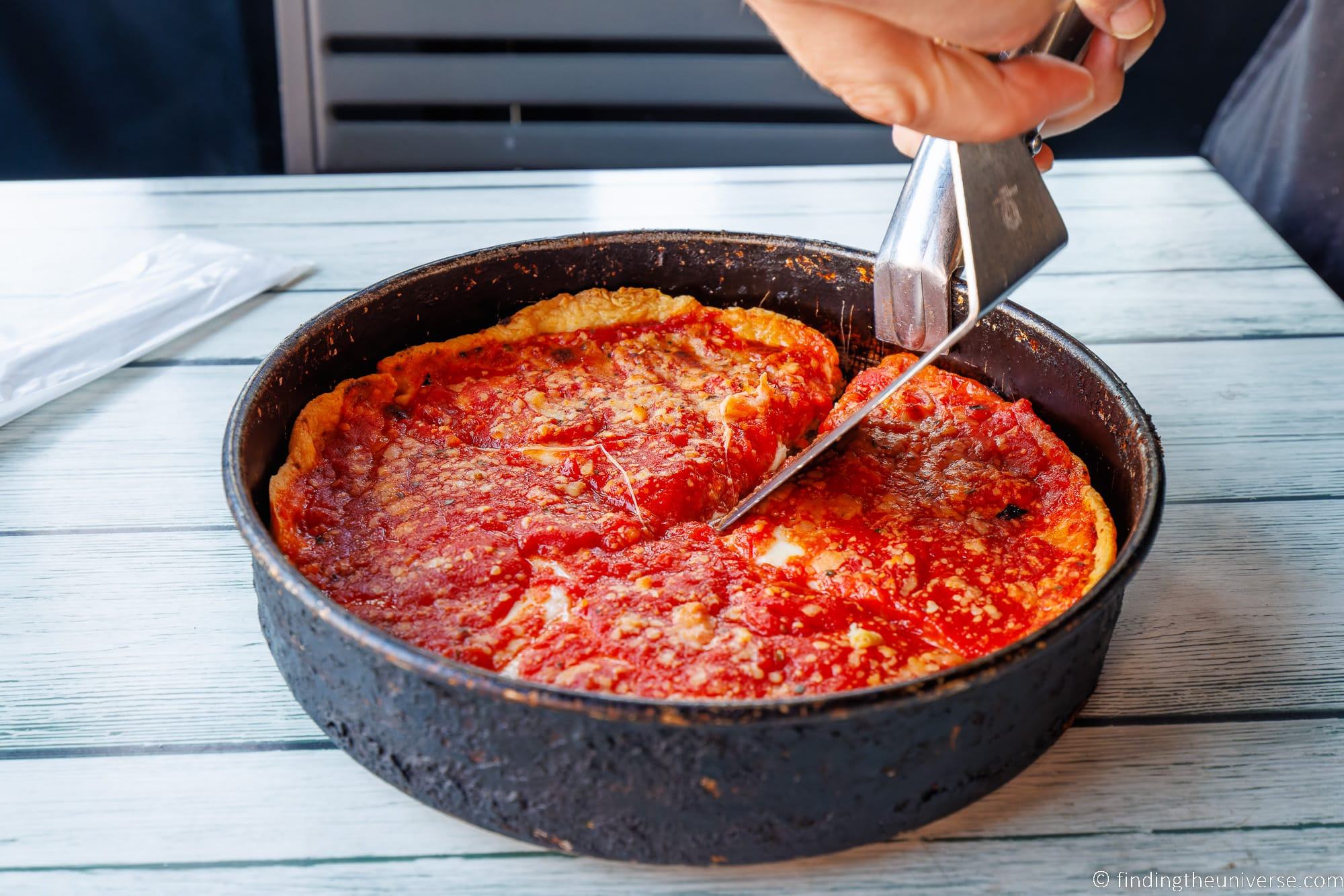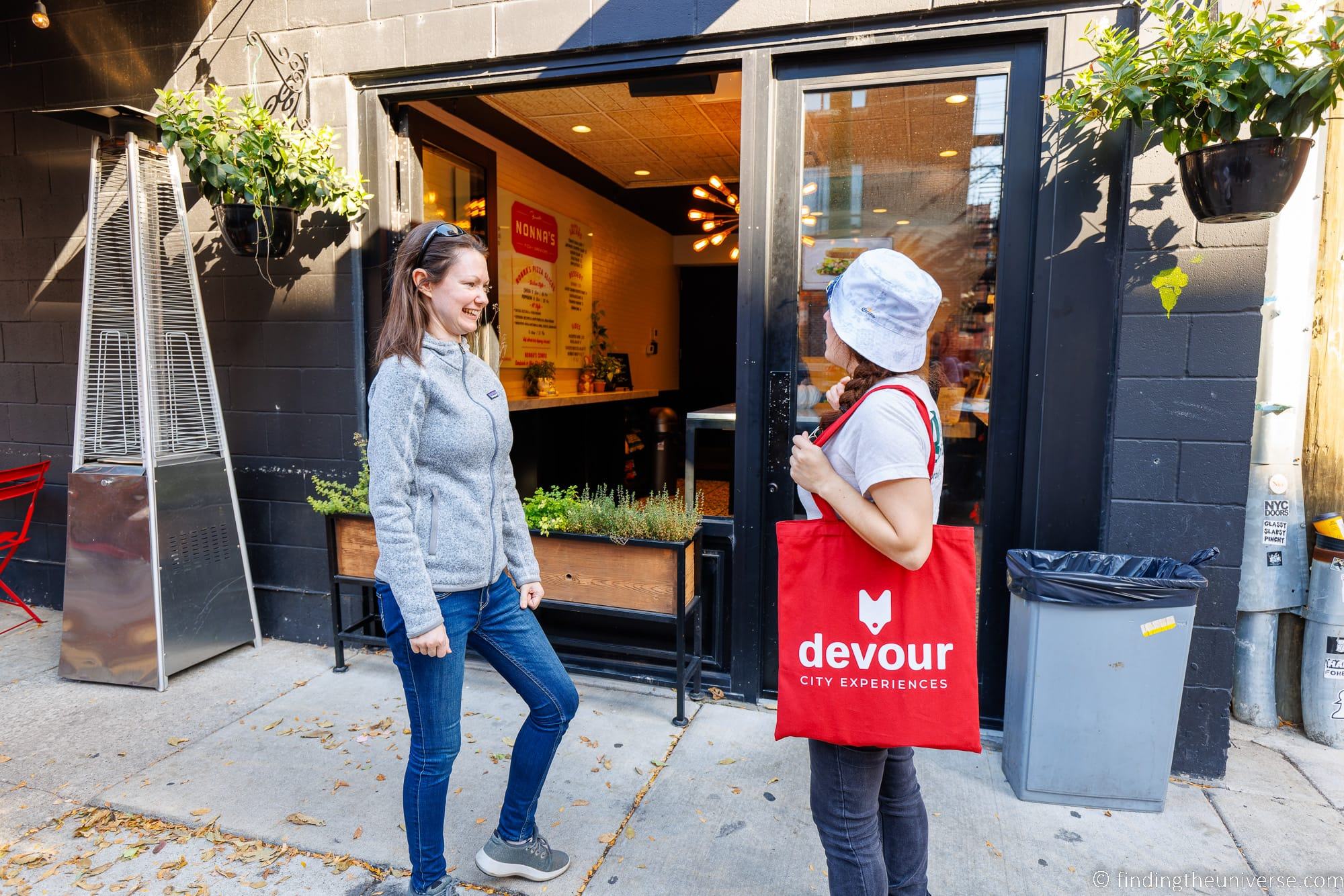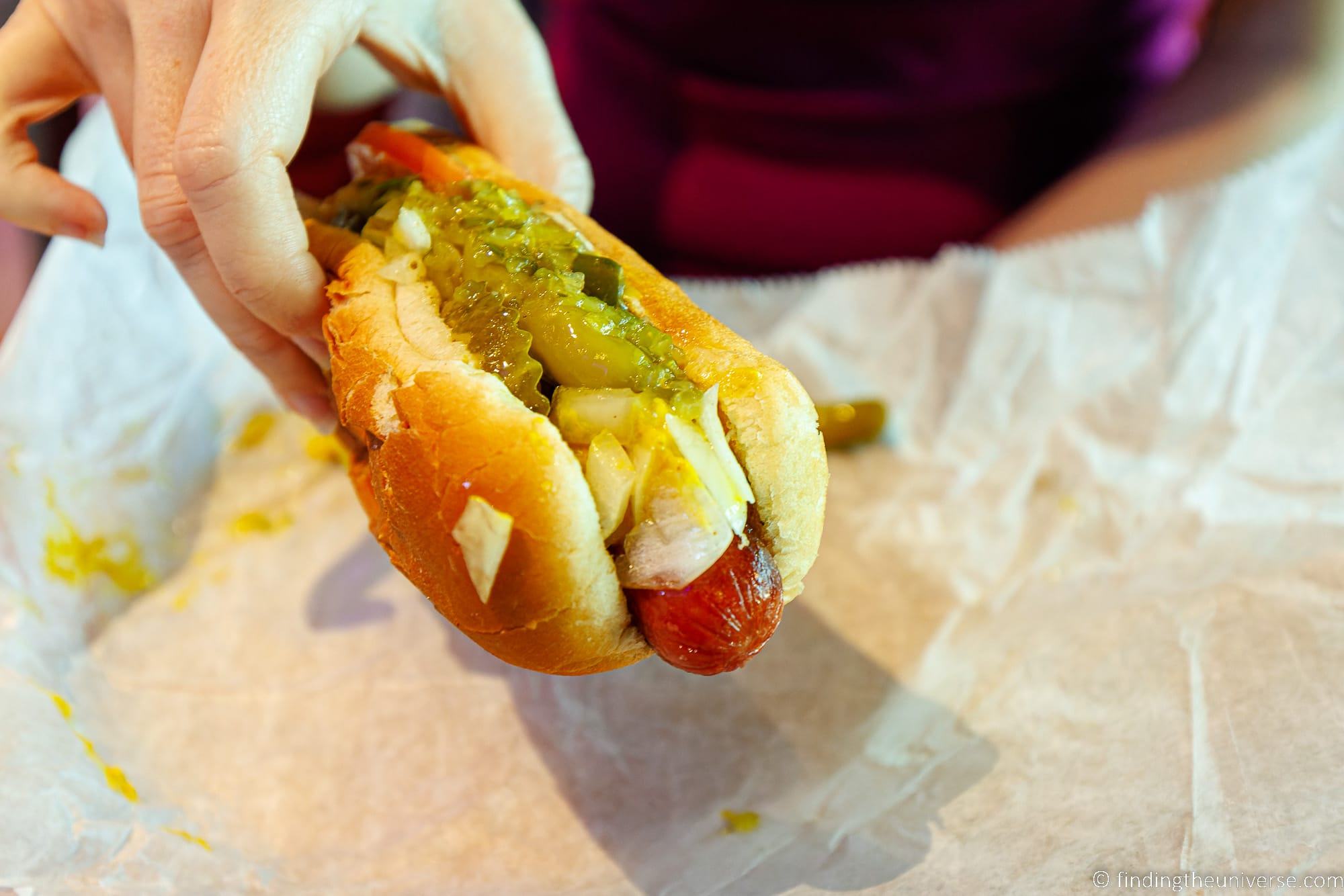 How to Get Around Chicago
Chicago is a relatively easy city to get around. Many of the attractions are near the downtown area around the river, and can be reached on foot. Other attractions are either a short taxi ride away, or can be reached by public transport.
The most iconic public transport in Chicago (and also one of the easiest to use) is the "L" train. These elevated trains (hence the name "L", for ELevated) cover most of the city, and fares are good value. You can even take the "L" all the way out to Chicago O'Hare International Airport, which is a great value way to get to and from the airport.
Taxis and ride-sharing apps can be convenient, however be aware that prices for the latter can vary dramatically based on time of day and vehicle availability.
For licensed taxis, they should use a meter but be sure to check before starting the journey as we have had drivers try to charge a high fixed fare for a short downtown journey. You can see the meter fares here.
There are also buses in Chicago, as well as the Metra commuter rail system which covers a wide area. You can find out more about getting public transport in Chicago on the Transit Chicago website.
When we visit Chicago, we normally find a combination of foot travel, L trains and taxis suits our needs best.
Another option is the Hop on Hop off bus. We always like to ride a hop on hop off bus, especially when visiting a new city, as it can be an easy way to get between sights and attractions and also to get a bit of information as we go.
Most of the stops on our itineraries are on the Chicago Hop on Hop off bus route, and it's included on the GoCity Chicago Pass. Alternatively, you can buy hop on hop off bus tickets here.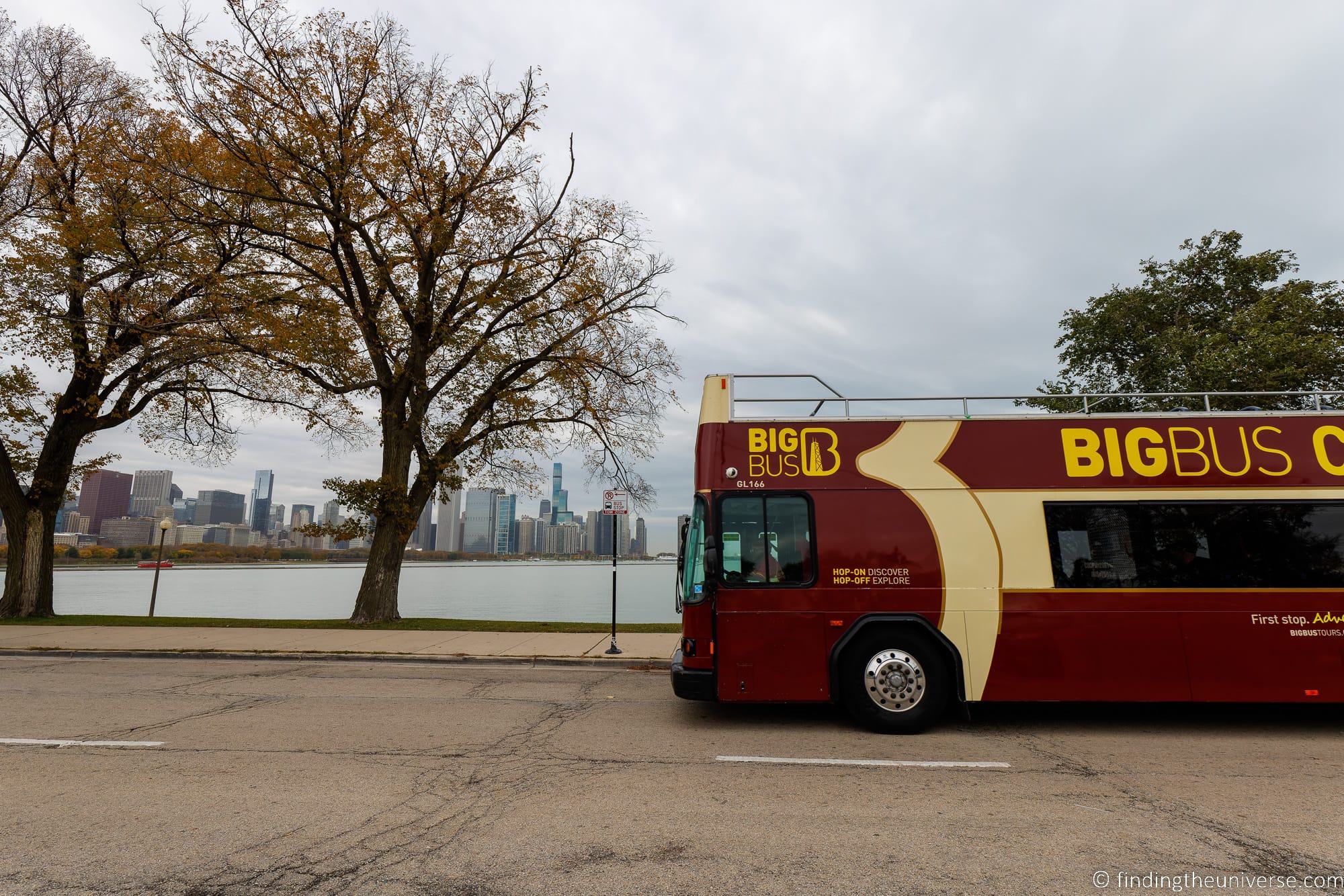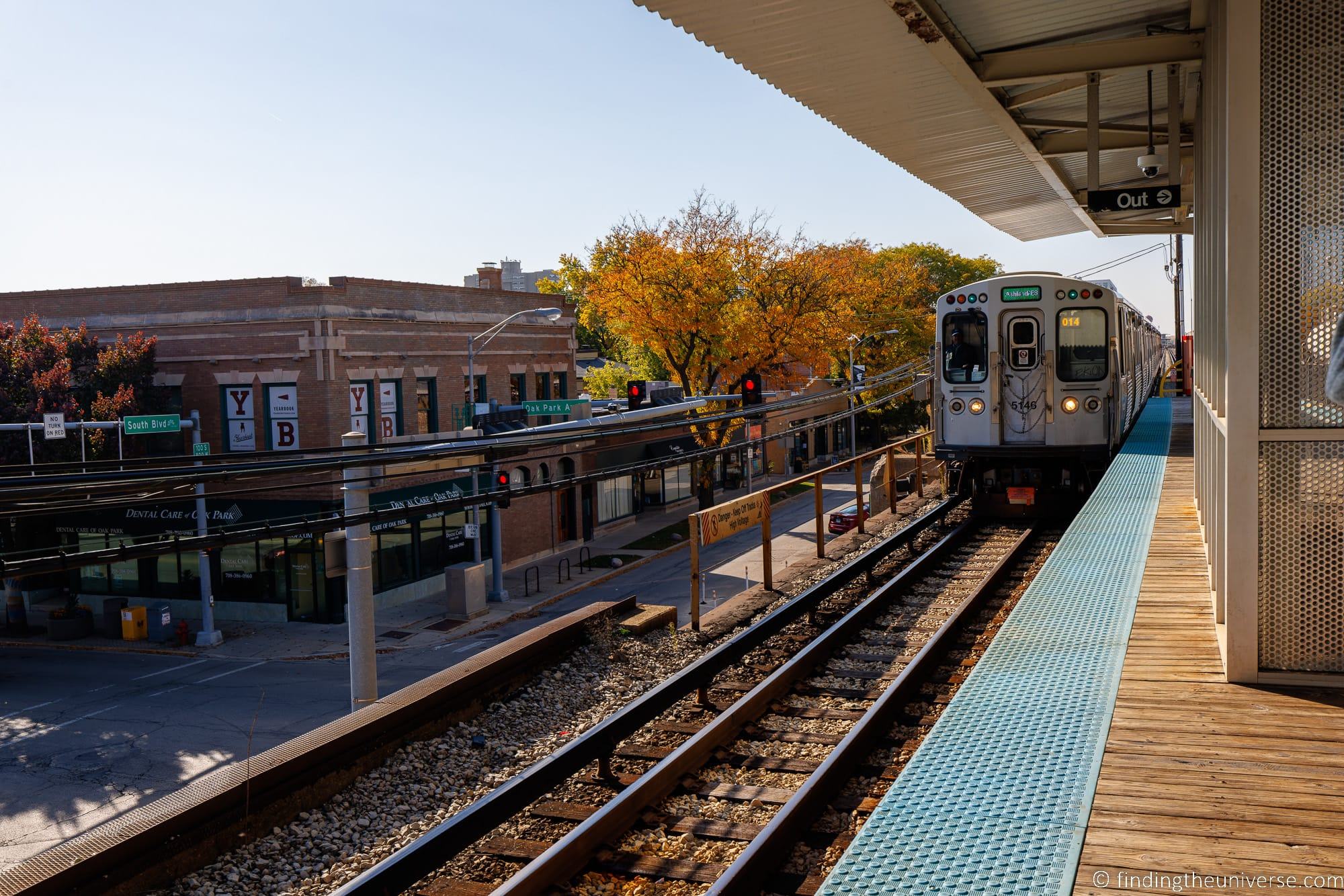 Walking Tours of Chicago
We always enjoy taking walking tours when we visit a city, and Chicago is no exception. Walking tours can be a great way to learn about an area, a specific attraction, or the local cuisine from a knowledgeable local expert.
On a recent visit to Chicago we did two walking tours, this food walking tour with Devour Tours, and this tour of the Chicago Art Institute with Take Walks. They were both excellent and we are happy to recommend them both.
Of course, there are more tours to try in the city. Here are some suggested options to check out.
If you do decide to take one or more of these tours, you may need to adjust this itinerary to suit of course.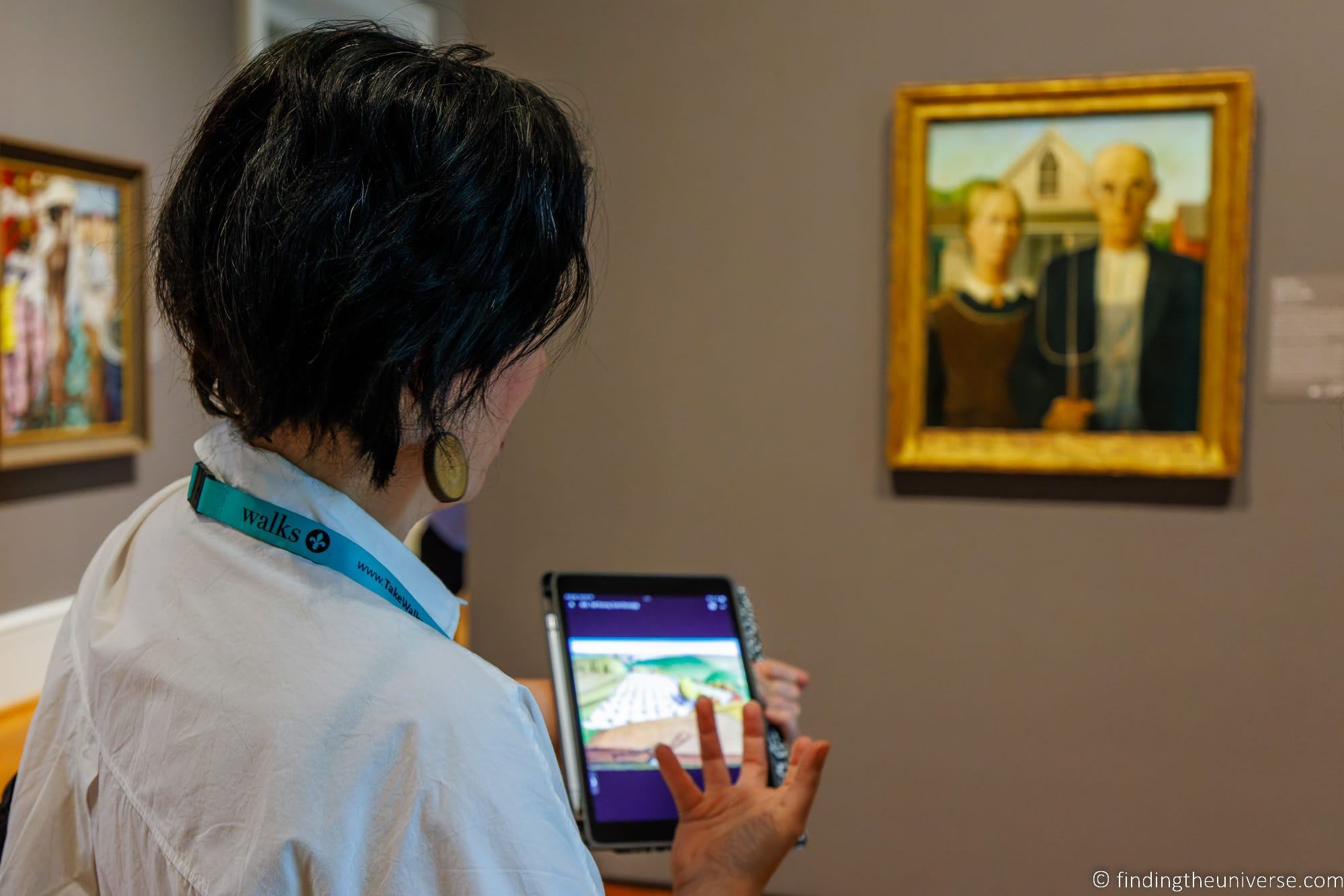 Save Money with Chicago Attraction Passes
As you can see from our Chicago itinerary, there is a lot to see and do in the city. Unfortunately, whilst there are many free and low-cost options, most of the major attractions in Chicago have entry fees.
If you plan on visiting quite a few attractions during your stay then these will quickly start to eat into your budget.
The good news is that like most major cities around the world, Chicago has some great value attraction passes which can save you quite a bit on your entry fees.
There are three city attraction passes we recommend you consider for your time in Chicago. These are:
Each of these passes works slightly differently and covers different attractions, so the right pass for you will vary depending on exactly what you want to visit. Let's take a quick look at how these passes can save you money.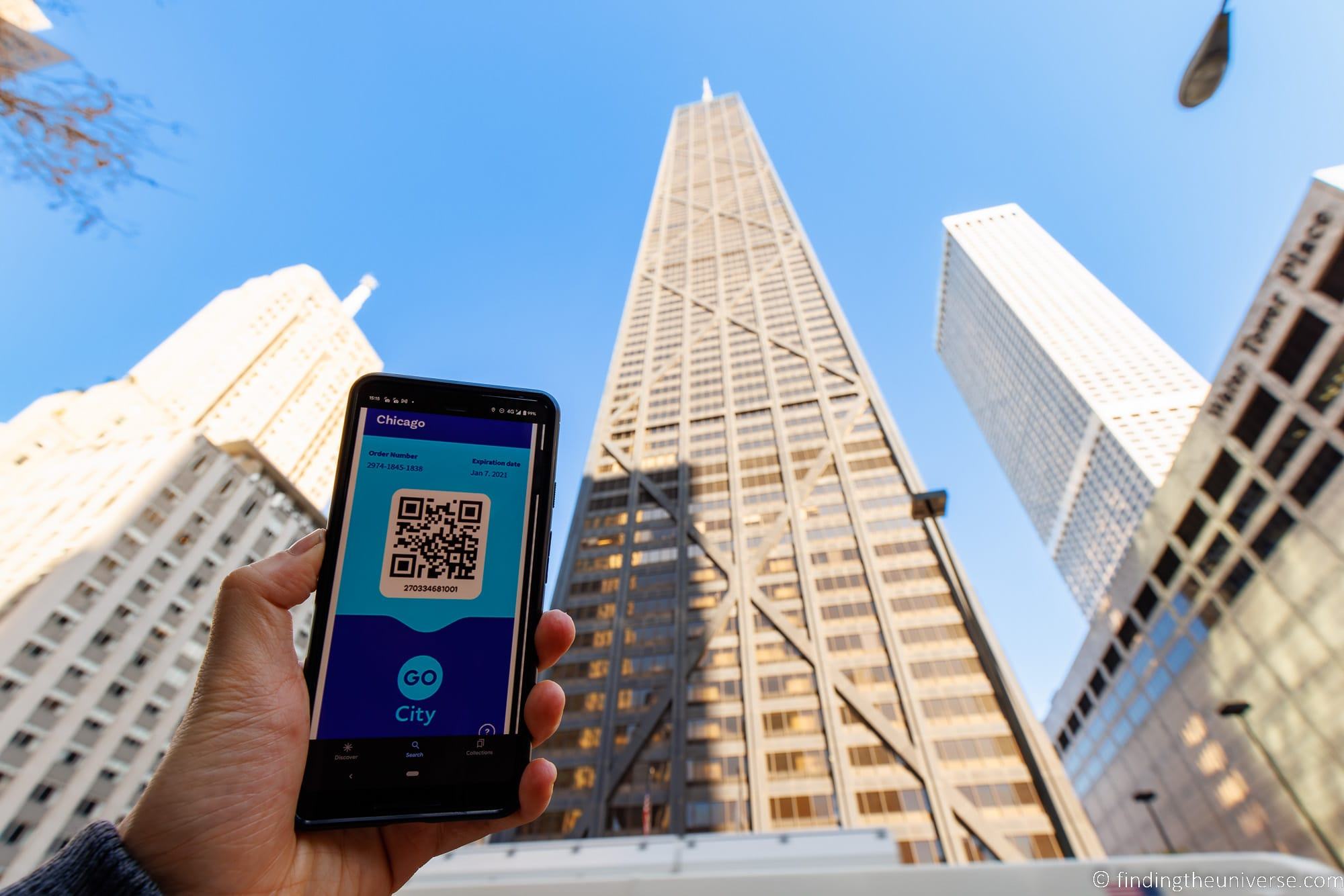 GoCity Chicago All Inclusive Pass
First, the GoCity Chicago All Inclusive Pass. This includes over 20 attractions in Chicago, including everything on our list with the exception of the Art Institute.
You buy a pass that is valid for a certain number of days, and then once activated at the first attraction, you can use the pass to visit the attractions it includes for the validity period.
For a shorter visit where you want to see a lot of attractions, the GoCity All Inclusive Pass probably makes the most sense. It includes the major, higher priced attractions such as the Chicago Architecture River Cruise, Hop on Hop off Bus, SkyDeck, Shedd Acquarium and lots more. This was the pass we used on a recent trip to Chicago.
GoCity Chicago Explorer Pass
Next, you might consider the GoCity Chicago Explorer Pass. With this pass, you decide how many attractions you want to include when you buy the pass, from 2 to 7. Then you can visit that many attractions over a 60-day period from the time you first use the pass.
This is a great option if you have a bit longer in Chicago and don't want to see everything in a short period of time.
The notable exception on this pass compared to the GoCity All Inclusive Pass is that it doesn't include the Shedd Aquarium.
We used the three-attraction version of this pass on a visit to Chicago where we had only a smaller number of attractions we wanted to visit, and it worked well to save us money on that trip.
Chicago CityPASS
Finally, another pass to consider is the Chicago CityPASS. We haven't personally used this city pass in Chicago but we have used it in a number of other US cities and achieved great savings.
The Chicago CityPASS includes access to five Chicago attractions. Three of these are fixed: the Shedd Aquarium, the Field Museum and Skydeck Chicago.
You then get to choose two from the following: the Art Institute of Chicago, The Museum of Science and Industry, the 360 Chicago Observation Deck or the Adler Planetarium.
This pass is valid for 9 days from the date of first use.
The Chicago CityPASS is a good option if you specifically want to visit just the attractions it covers. However, it does miss out on some popular Chicago options such as the River Architecture Cruise. The main advantage it has it that it includes the Art Institute of Chicago.
Pass Comparison
We'll look at a real-world example now to see which passes might save you money. I'll use our itinerary to give you an idea of possible savings with each pass.
As of November 2022, the passes are priced as follows:
A 2 Day Go City Chicago Pass costs $174 for an adult, and $129 for a child (aged 3-12)
A 7 Choice Go City Chicago Pass costs $169 for an adult and $119 for a child (aged 3-12)
A Chicago CityPASS costs $114 for an adult and $93 for a child (aged 3-11)
| | | | |
| --- | --- | --- | --- |
| | 2 Day Go City Chicago Pass | 7 Choice Go City Chicago Pass | Chicago CityPASS |
| Skydeck | FREE | FREE | FREE |
| Art Institute | $25 | $25 | FREE |
| Architecture Cruise | FREE | FREE | $47 |
| Navy Pier Rides | FREE | FREE | $45 |
| HOHO Bus | FREE | FREE | $50 |
| Shedd Aquarium | FREE | $40 | FREE |
| Field Museum | FREE | FREE | FREE |
| History Museum | FREE | FREE | $19 |
| 360 Chicago | FREE | FREE | FREE |
| Total Attraction Entry without Passes for 2 People | $670 | $670 | $670 |
| Cost of 2x Adult Passes | $348 | $338 | $228 |
| Total Additional Cost for 2 | $50 | $130 | $322 |
| Total Cost with Passes and Attraction Entry for 2 | $398 | $468 | $550 |
| Total Saving | $272 | $202 | $120 |
As you can see, all the passes offer a good saving if you plan on visiting a number of attractions. The savings will of course vary depending on which attractions you plan to visit, so you will need to decide in advance which those would be.
In summary though, if you plan to visit all the attractions in our itinerary, then the GoCity All Inclusive Pass will likely be the best option.
It covers all the attractions we mention, with the exception of the Art Institute. Even then, you are looking at over a $270 saving for two people, which is pretty impressive. Even if you skip quite a few attractions from our itinerary you are still likely to save a good amount of money.
However, if you plan on visiting fewer attractions or spending longer in the city, then one of the other passes might save you more money. It is also always important to check opening times, prices and any free opening days on the attractions you plan to visit to ensure you get the best deal.
Where to Stay in Chicago
Chicago has a good range of accommodation options, from hostels through to high-end five-star hotels. To minimise travel, we recommend staying closer to the downtown area if possible.
The area around the Art Institute, Millenium Park and the DuSable Bridge in particular will put you within relatively close walking distance of most of the attractions in our itinerary.
Note that prices can vary dramatically depending on time of year and if there are major events happening during your visit. If you are flexible with your travel dates it is worth trying different dates to see if prices change.
Below are our recommendations for where to stay in Chicago across a variety of styles and budgets. These are approximately ordered by price, from low to high, but pricing can change so do always check a few options before booking.
Centrally Located Chicago Accommodation Recommendations
Alternative Options
If you don't mind being a bit away from the downtown, the following options are also worth considering. These will require a bit more transport time to reach most of the attractions.
Chicago Getaway Hostel – found near Lincoln Park, this is a great value well rated hostel offering both private and shared accommodation options as well as a kitchen for guest use.
Nobu Hotel Chicago – found in the trendy West Loop area of Chicago, this is a well reviewed five star hotel close to many excellent restaurants
Of course, there are many more options. You can see lots more options for accommodation in Chicago, including apartments, hotels, hostels and more, on booking.com here.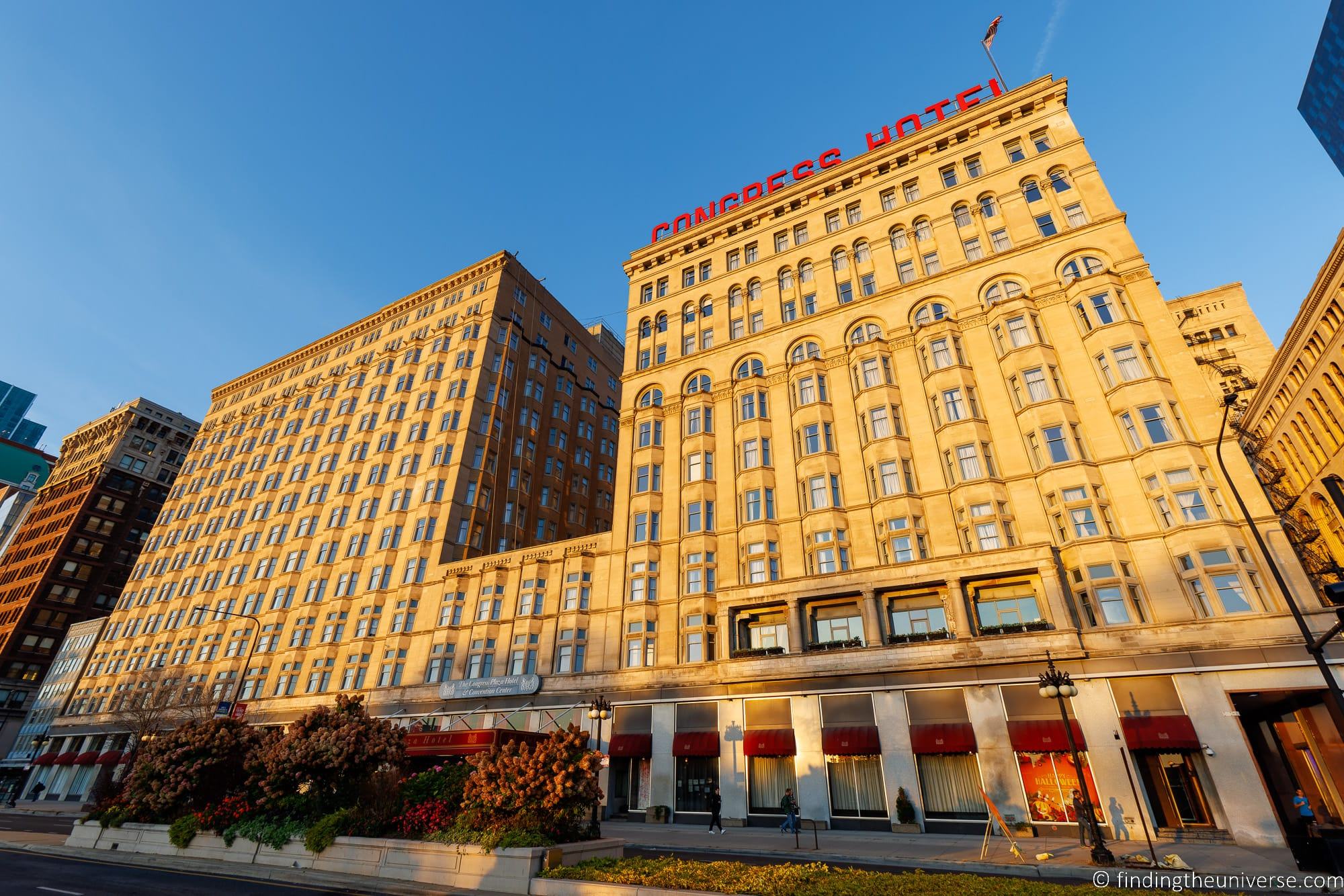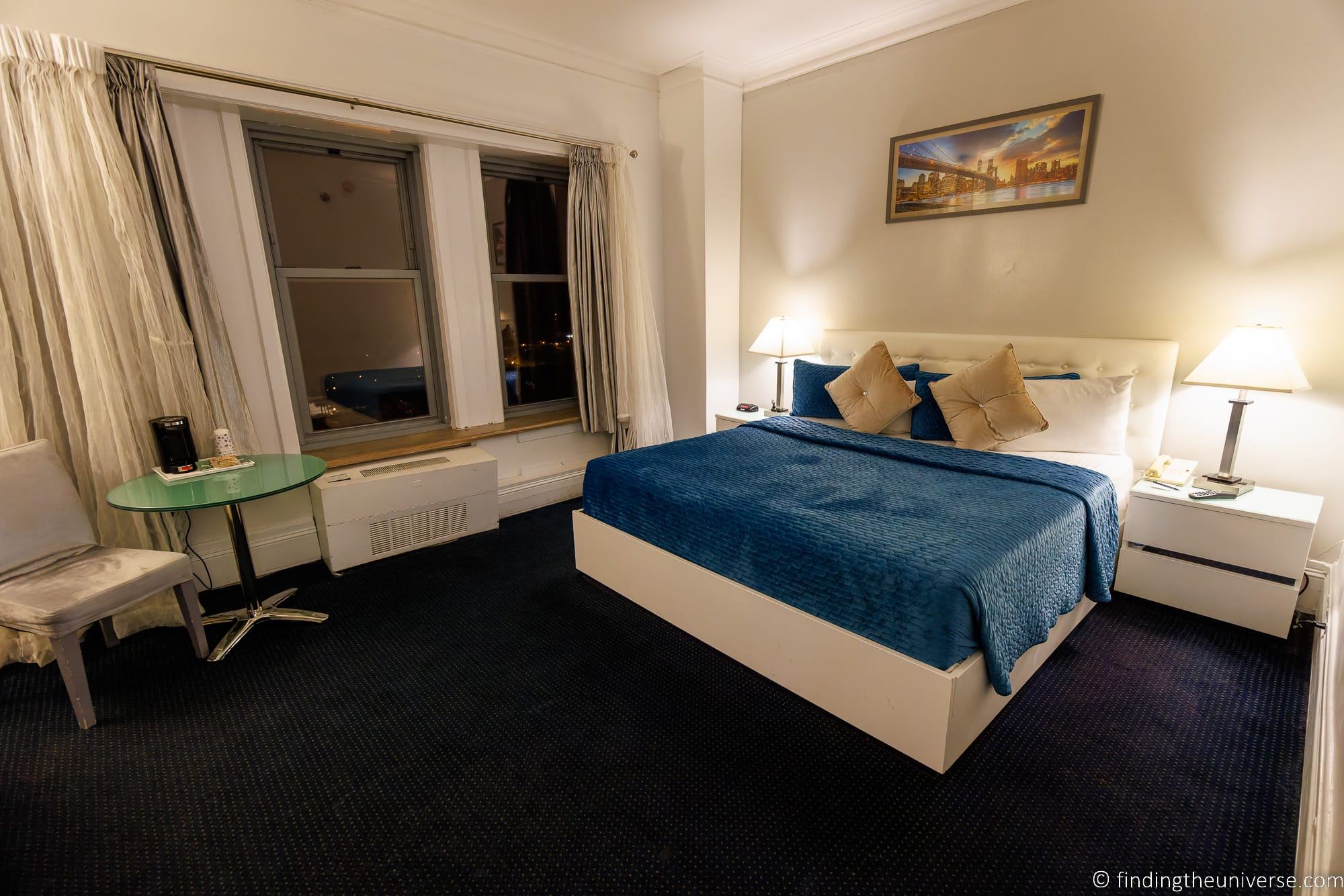 Further Reading
That's it for our guide to spending two days in Chicago! We hope you found it useful.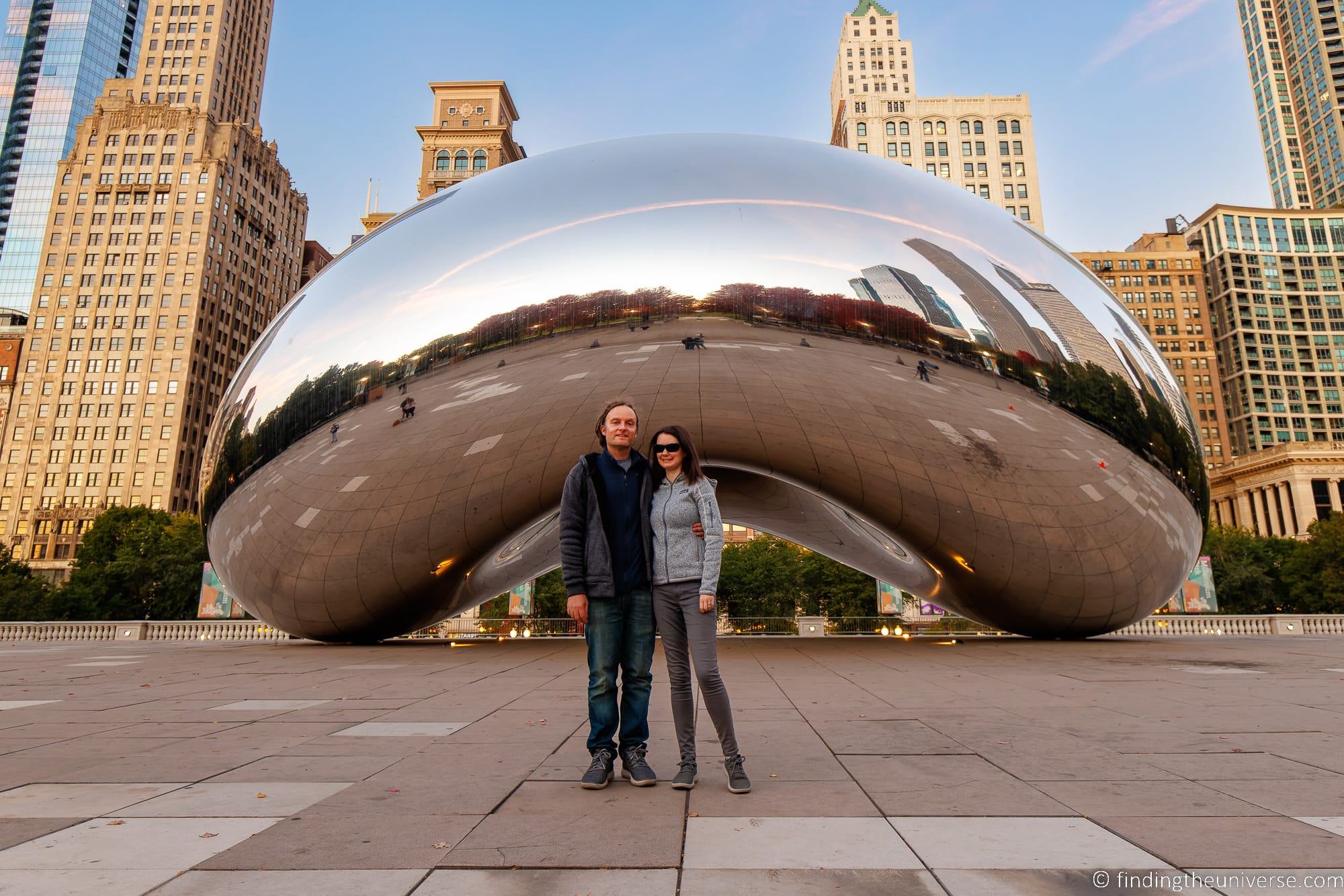 To help you further plan your trip, we have a number of other resources we think you might find useful.
And we're done! As always, we're happy to hear your feedback and questions to help you plan your visit. Just pop them in the comments below and we'll get back to you as soon as we can.