One of London's most recognizable and popular attractions is the London Eye.
This enormous observation wheel has been providing visitors with wonderful views across London since the turn of the millennium, and is just as popular today as it was then. In fact, it is one of the UK's most popular paid attractions.
We've ridden the London Eye a number of times on various visits to London. The first time was in 2015 and most recently in 2022. Today we're going to share everything you need to know to help plan your visit.
We'll cover everything from how to buy tickets, the different experiences available on the London Eye, how to save time and money, and how to get the best photographs from your visit.
London Eye Facts
Before we get into planning your London Eye visit, let's cover some history and facts about this well-known London landmark.
What is the London Eye?
The London Eye is a cantilevered observation wheel, or Ferris wheel. It's 135 metres (443ft tall) and when it was built it was the tallest Ferris wheel in the world.
Unlike a regular Ferris wheel which normally seats 2 to 4 people, the London Eye features 32 large pods, each of which can carry up to 25 people who can move around the cabin area.
It is found on the edge of the River Thames diagonally opposite the Houses of Parliament, and it offers visitors fantastic views from its observation pods.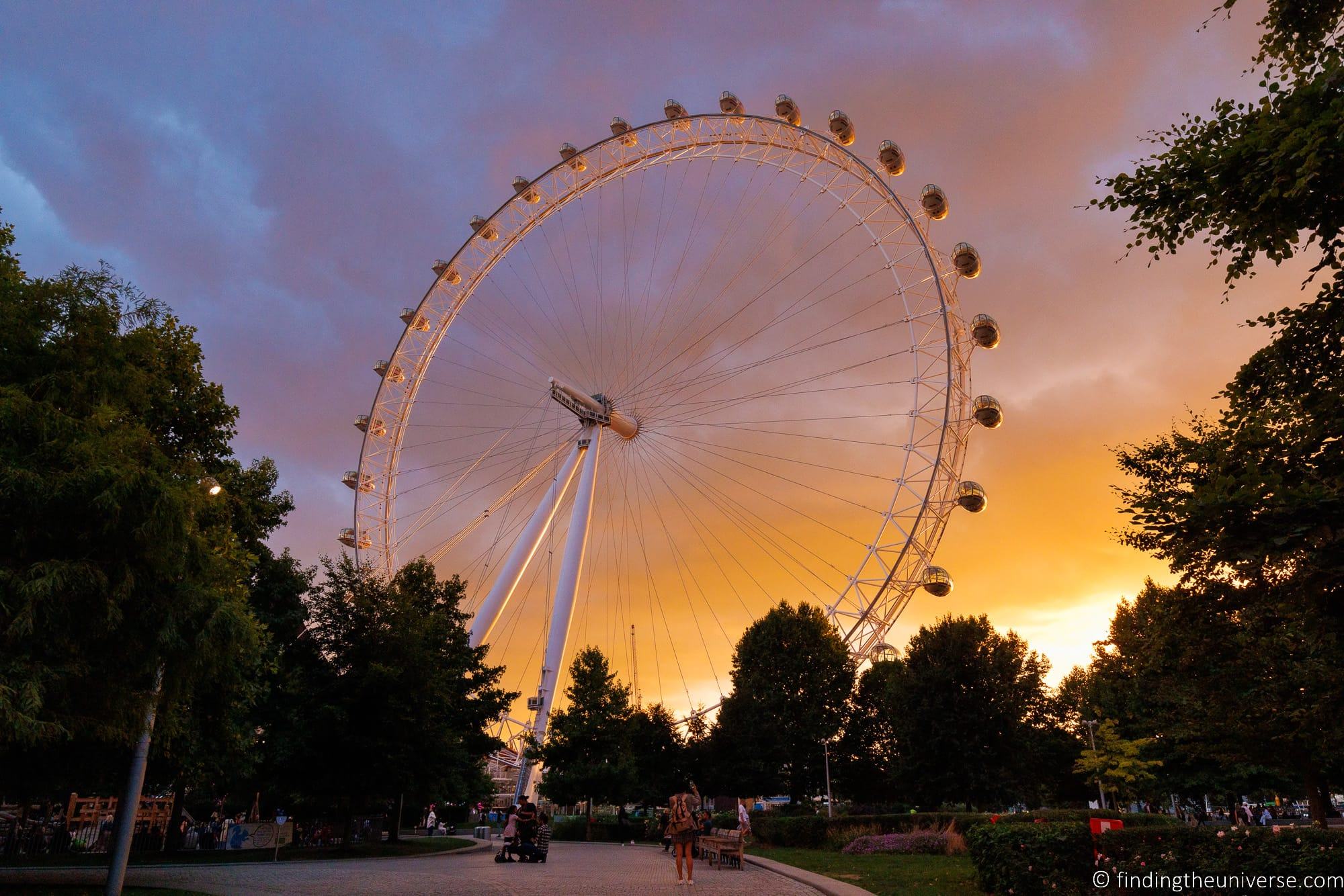 Why was the London Eye Built?
The London Eye was built to mark the Millenium, and it was originally called the Millenium Wheel.
It was purpose built as a tourist attraction, and much like the Eiffel Tower in Paris, it was not actually meant to be a permanent installation.
However, due to its popularity, it was given permanent status in July 2002, only two years after it started operating.
The London Eye is currently owned by Merlin Entertainments. It has partnered with a number of companies in sponsorship deals, which have included British Airways and Coca-Cola. The current sponsor is lastminute.com.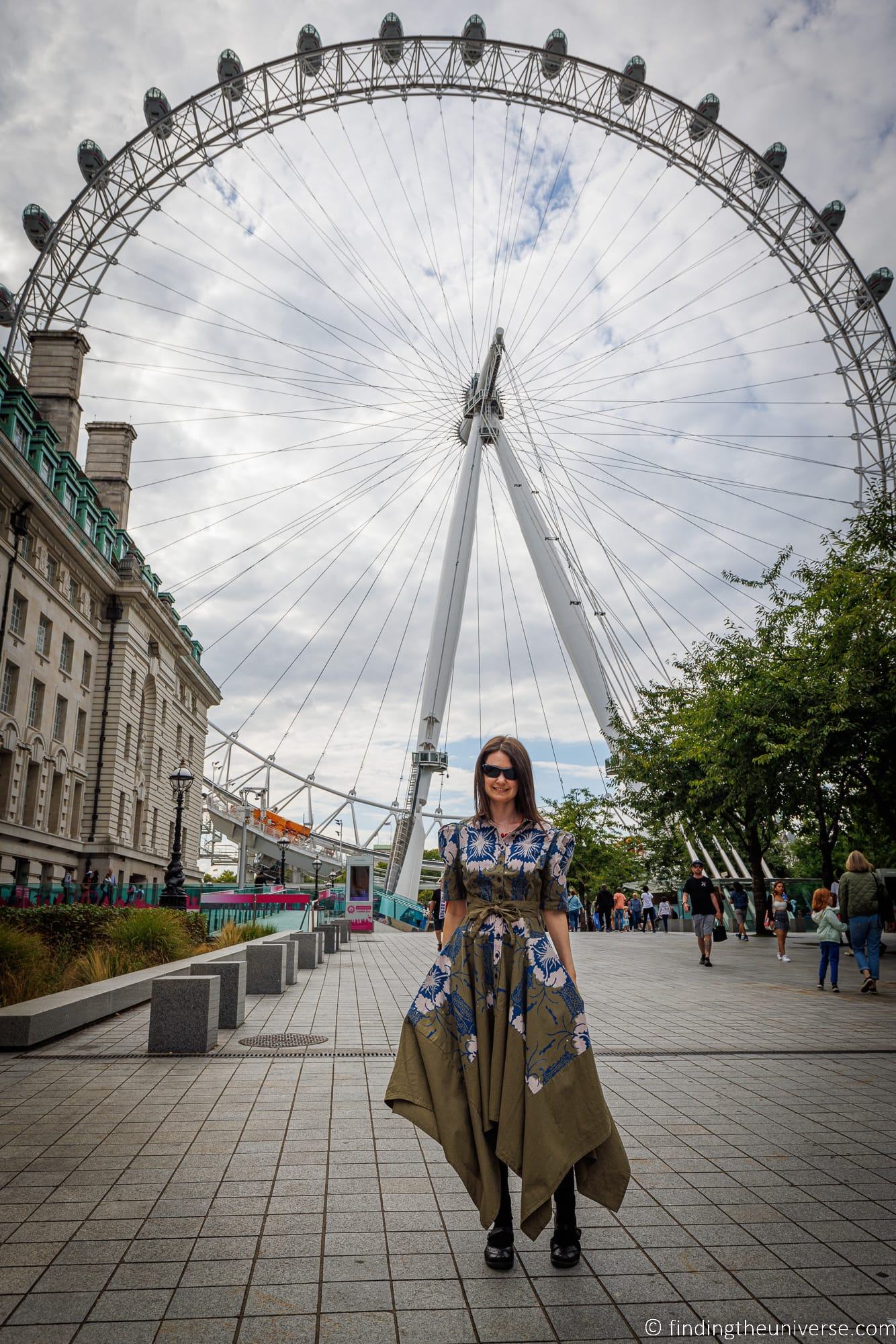 Interesting Facts about the London Eye
The London Eye is the world's tallest cantilevered observation wheel. There are larger Ferris wheels, but none with a cantilevered design.
There is in fact some debate as to whether or not the cantilevered design actually qualifies it as a Ferris wheel, although as there's no formal definition of a Ferris wheel that we can find we think it's fine to refer to it as such.
If you were wondering, a cantilevered design means that it's supported only from one side, unlike more traditional Ferris Wheel designs which have supports on both sides.
This design means that it is actually suspended over the River Thames itself.
The London Eye was designed by husband-and-wife team Julia Marks and David Barfield, and it took around seven years from vision to completion. Their vision was to build London's equivalent of the Eiffel Tower in terms of a visitor attraction.
The passenger capsules, or pods, are positioned on the outside circumference of the wheel rather than inside. As the wheel rotates, these also rotate, so the capsules always remain level.
There are 32 capsules, each of which can hold up to 25 passengers. This means that up to 800 people can be on the London Eye at any one time, or 1,600 per hour. Capsules are numbered from 1-33, with no capsule numbered 13 as some would consider it unlucky.
Capsules move at just over half a mile per hour, with passengers journeying around a quarter of a mile in the half hour rotation. The capsules don't stop (except for specific situations), so you get on and off as it is moving. Each year the London Eye rotates almost 8,000 times, covering over 2,000 miles!
From the top, you can see up to 40km (25 miles) on a clear day, meaning you can see all the way to Windsor Castle if you are lucky.
The London Eye is a popular location for wedding proposals, with over 5,000 proposals to date. Over 500 couples have even gotten married on board!
The London Eye is also no stranger to the silver screen, having appeared in numerous films and TV, including the Harry Potter films.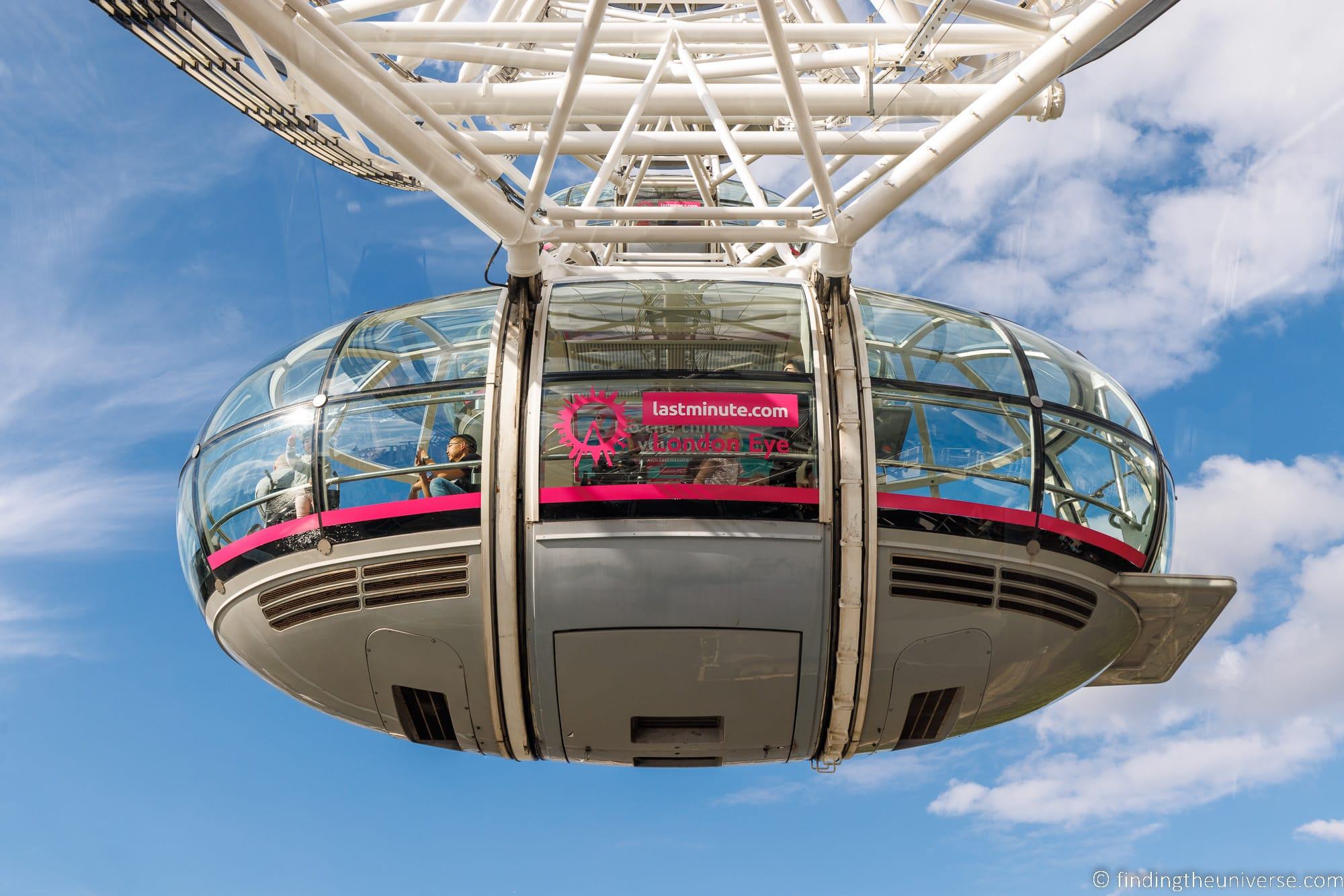 Planning Your Visit to the London Eye
Now you know more about the London Eye, let's look at some useful information to help you plan your visit here.
Where is the London Eye?
The London Eye is found on the south bank of the River Thames in front of London's County Hall building.
The address is Riverside Building, County Hall, London, SE1 7PB.
The London Eye is about a five-minute walk from Westminster Bridge, and 10 minutes from the Houses of Parliament.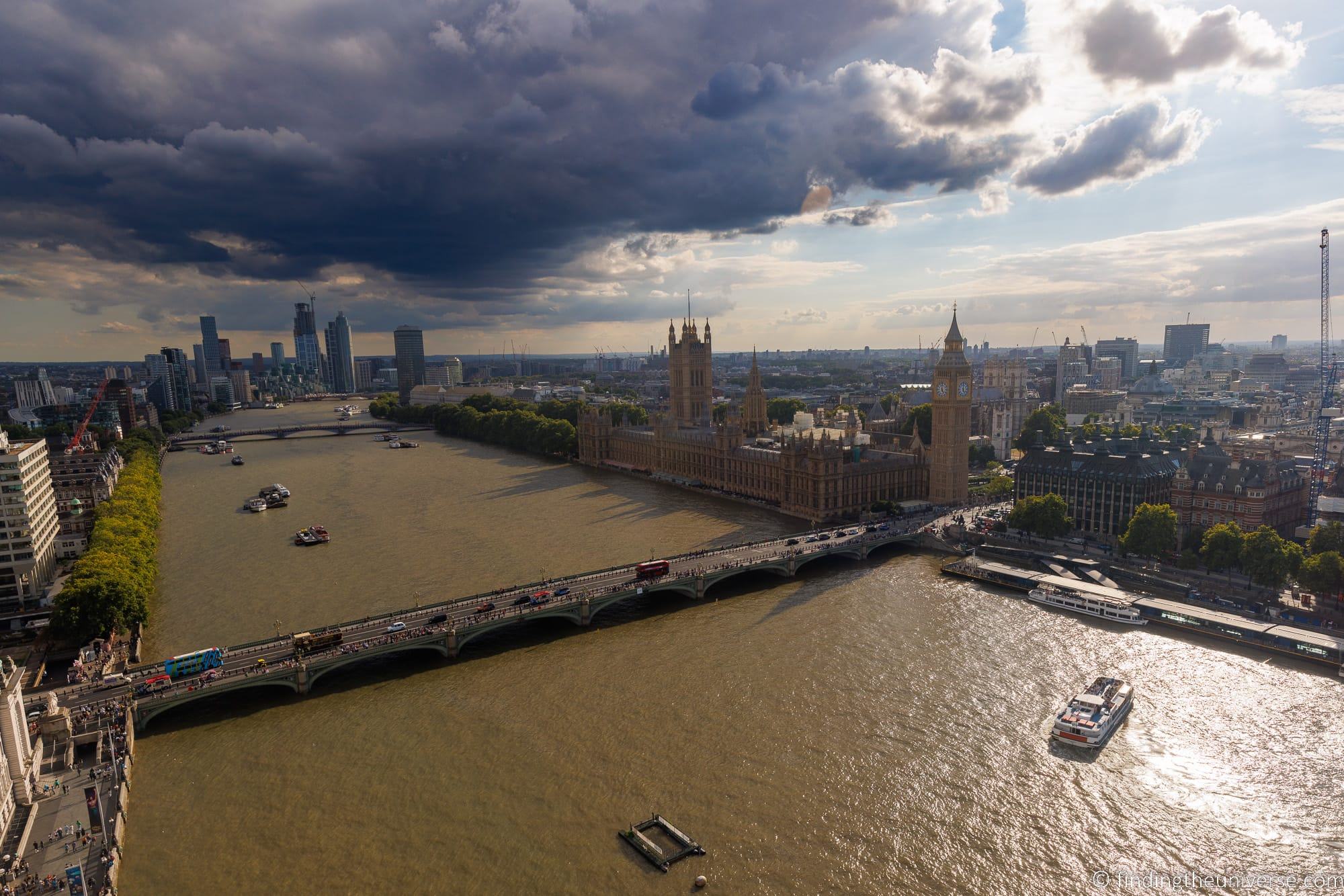 How to Get to the London Eye?
The London Eye is very centrally located and is easy to get to from most locations in London.
If you are already in central London, then it might be easiest to walk to the London Eye. From Westminster Abbey and the Houses of Parliament it's around a 10-minute walk. It's 20 minutes' walk from Covent Garden and 35 minutes from London Bridge.
The London Eye is also easy to reach by public transport. The nearest tube and train station is Waterloo which is served by the Bakerloo, Jubilee, Northern and Waterloo & City lines, as well as by various overland train services.
From Waterloo train station it's around a 5-minute walk to the London Eye.
The London Eye is also a popular stop for most Hop on Hop off buses in London, with buses stopping about a couple minutes' walk from the London Eye.
If you are traveling by river, the London Eye is right next to a stop, the London Eye Waterloo Pier. This is served by both commuter and hop on hop off sightseeing cruises.
You can also reach the London Eye by bicycle. There is free cycle parking right next to the base of the London Eye here.
We would recommend against driving to the London Eye due to traffic and the congestion charge. However, if you do drive, the nearest car parks are at the Q-Park in Westminster and at the Southbank Centre.
Sometimes the London Eye offers parking discounts at nearby car parks, check their website here for more information.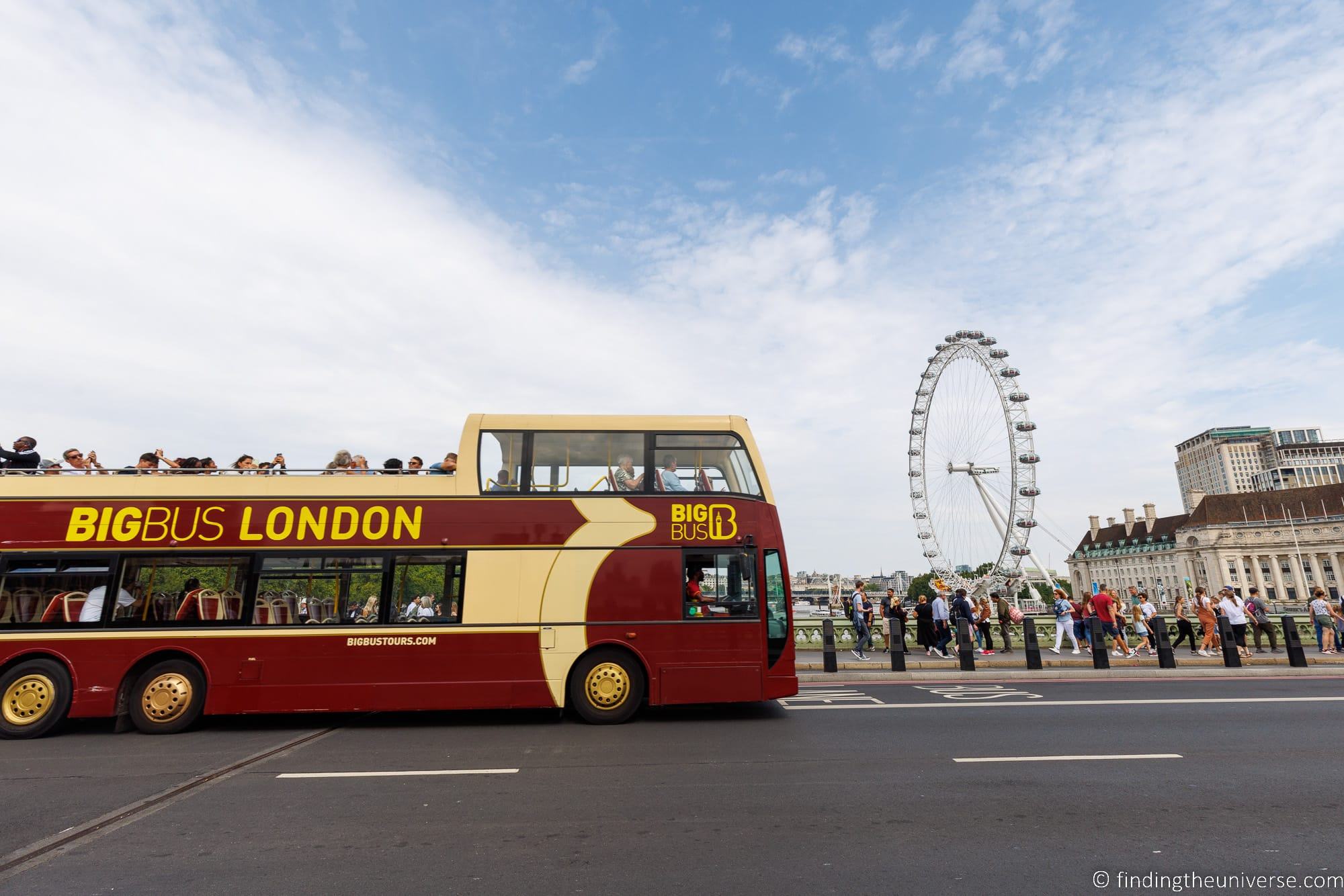 When is the London Eye Open?
Opening times for the London Eye vary depending on the time of year.
For February and March 2023, it is open from 11am until 6pm. These are the times of the first and last boarding windows.
From April 2023 onwards opening times vary. On weekends it is normally open from 10am – 8.30pm. During the week, opening times vary, either from 11am to 6pm or from 10am – 8.30pm.
It is open every day except major holidays, including Christmas Day (25th December), New Years Eve (31st December) and New Years Day (1st January).
In previous years the London Eye has opened as early as 10am and closed as late as 9.30pm, so you should check the official website for the latest opening dates and times.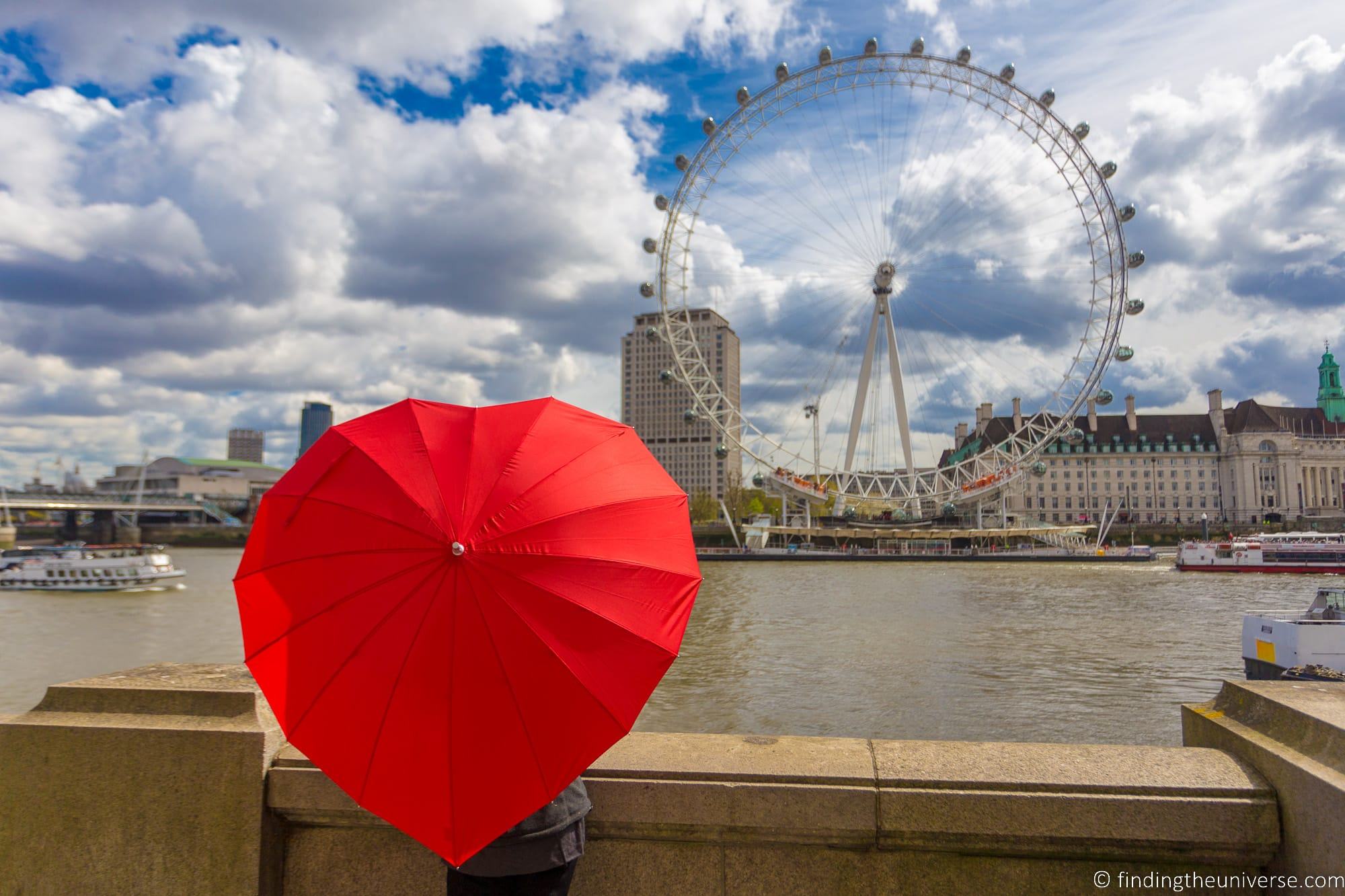 How Long is the London Eye Ride?
Officially, the London Eye ride lasts for 30 minutes. However, your ride might be slightly longer or slightly shorter than this. This is because sometimes the ride pauses, especially when helping those with accessibility needs on and off the capsules.
On a recent visit to the London Eye we timed our ride from the moment we stepped onto the capsule to the moment we stepped off, and it was exactly 25 minutes. So we feel that an average ride time of 30 minutes is probably accurate.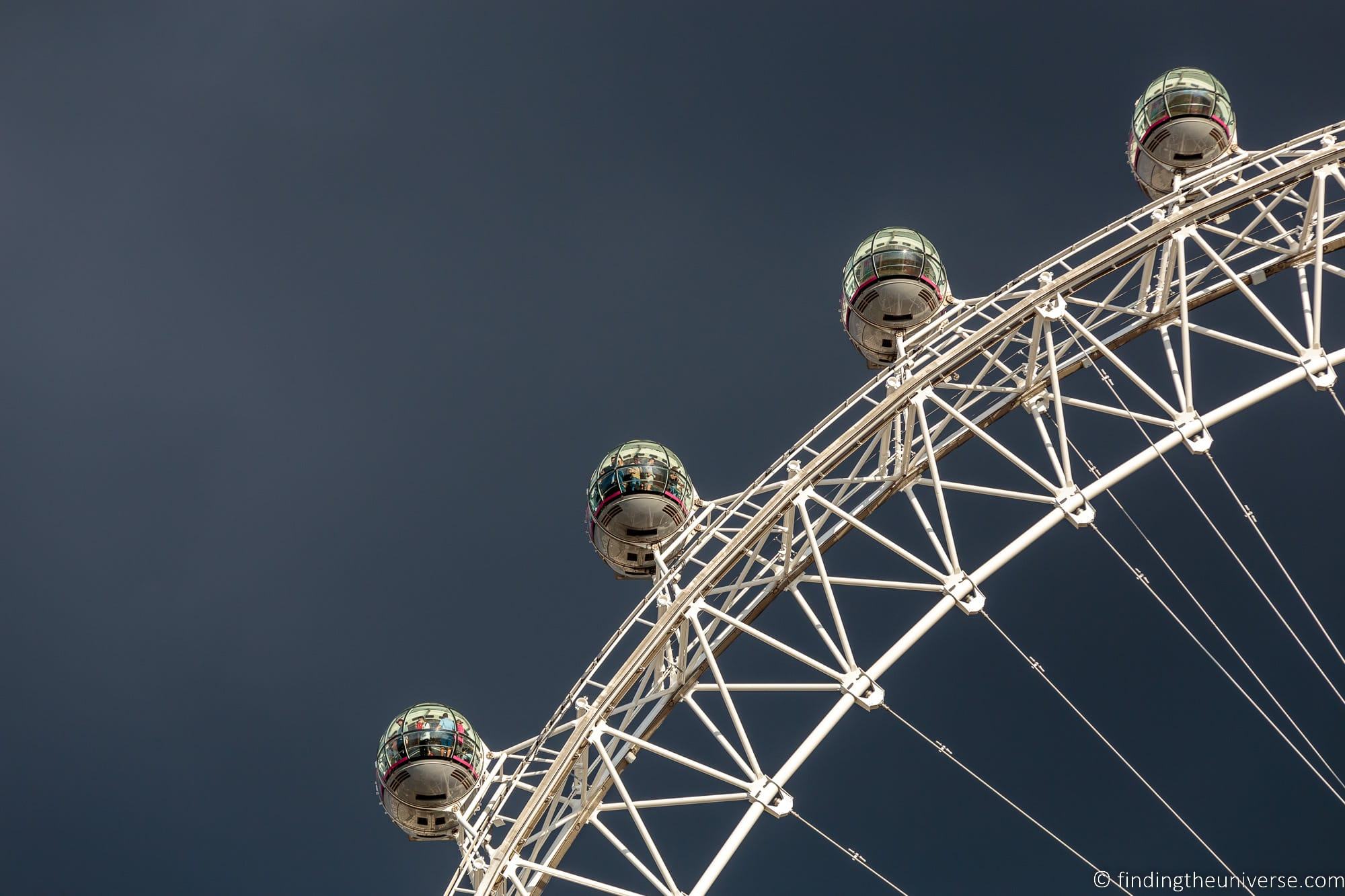 What Can you See from the London Eye?
When you ride the London Eye you will reach a maximum height of around 135 metres (443ft). This height makes the London Eye one of the tallest structures in the surrounding area, and means you will get an incredible view of the majority of London.
How far you will be able to see will of course depend on the weather conditions and air clarity, but on a clear day you can see up to 25 miles (40km) from the top.
Obviously, that means you can see a lot, however, the main highlights that you will see will include:
Of course, you can see a lot more as all of central London will be at your feet, but the above are some of London's more recognizable landmarks that you'll be able to see.
A couple of notable London landmarks that you won't be able to easily see are the Tower of London and Tower Bridge, which are partly obscured by other buildings.
If you want a guide to help explain what you are seeing, we recommend picking up the 360-degree viewing guide which is available for a small fee (2 or 3 pounds when we visited) in the gift shop before your ride. It was included as part of the VIP Champagne experience ride when we did that.
There is nothing inside the capsule in terms of signs or audio to outline the view. In previous years there was an app but this is no longer available.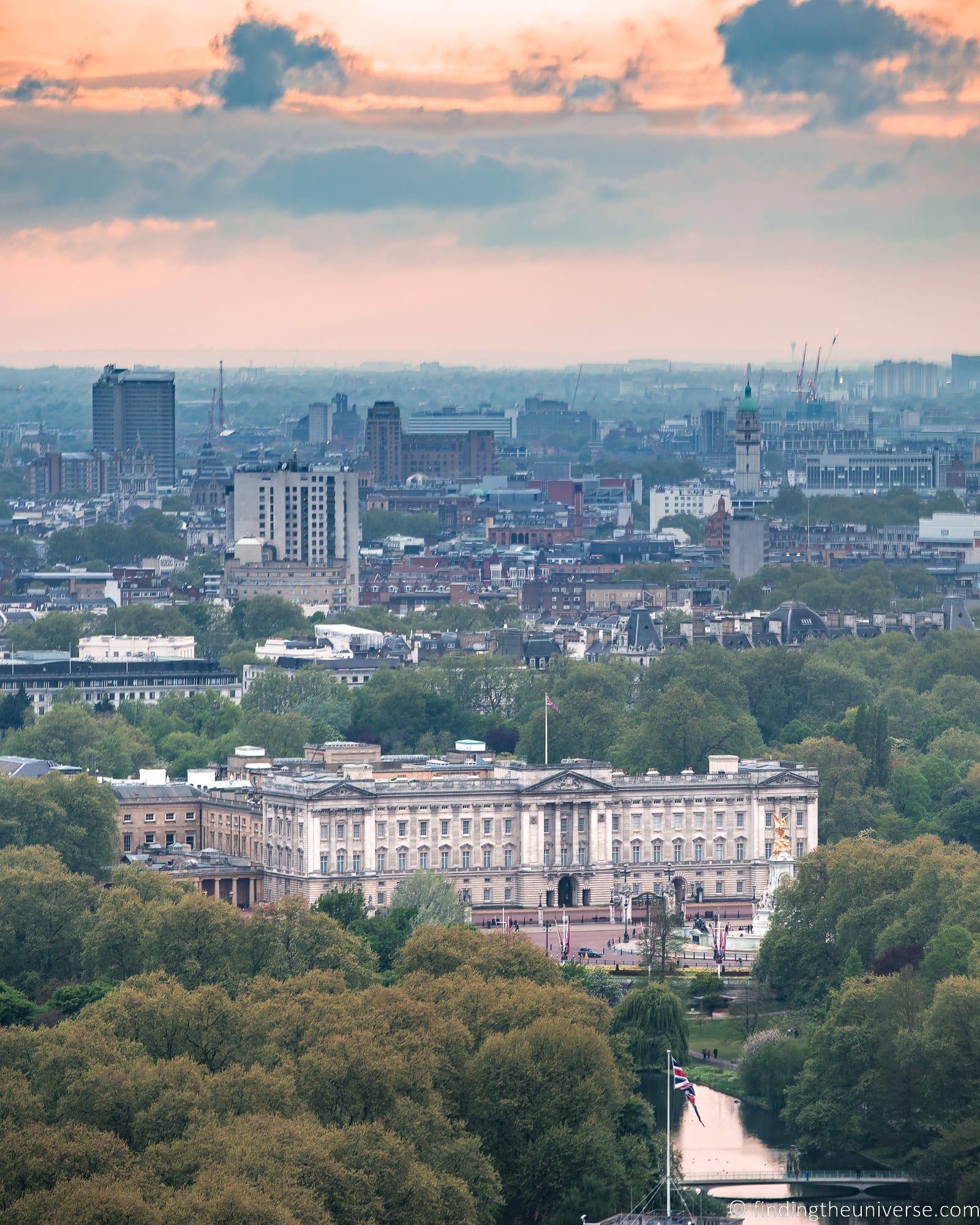 Do you Need a Ticket for the London Eye?
Yes, all visitors to the London Eye require a ticket. You book a ticket for a specific 15-minute window, which is the time you are allowed to join the queue, not the time your ride will start.
Even with the timed entry system, you will still join a line for security and boarding.
Children under 3 get free rides on the London Eye, but they still need a valid ticket to ride.
Where to Buy London Eye Tickets
The easiest way to buy London Eye tickets is online on the official website here. This website has the best choice of tickets, and you can also save by booking online in advance.
When booking a ticket online, you can choose to print your ticket at home, collect it in person from the self-service kiosks, or save your ticket to your mobile device for display.
You can also buy same day tickets on-site for the London Eye at the ticket office. There are self-service kiosks as well as a manned ticket counter.
However, London Eye staff have informed me that you can only purchase full price same day tickets on-site. So if you want to save by booking in advance, or want to book in advance in general, you will need to book online.
You can also buy London Eye tickets via third party sites such as GetYourGuide here. These are normally just the standard and fast-track tickets and there isn't the full range of experiences. They do sometimes have the advantage of free cancellation up to 24 hours in advance of your visit.
Note that when buying a ticket via a third-party site, you don't get an actual ticket you can ride with, instead you get a booking number. This needs to be exchanged for an official London Eye ticket on site, either at the ticket desk or at the self-service kiosk. Be sure to give yourself some extra time to collect your ticket if you choose this option.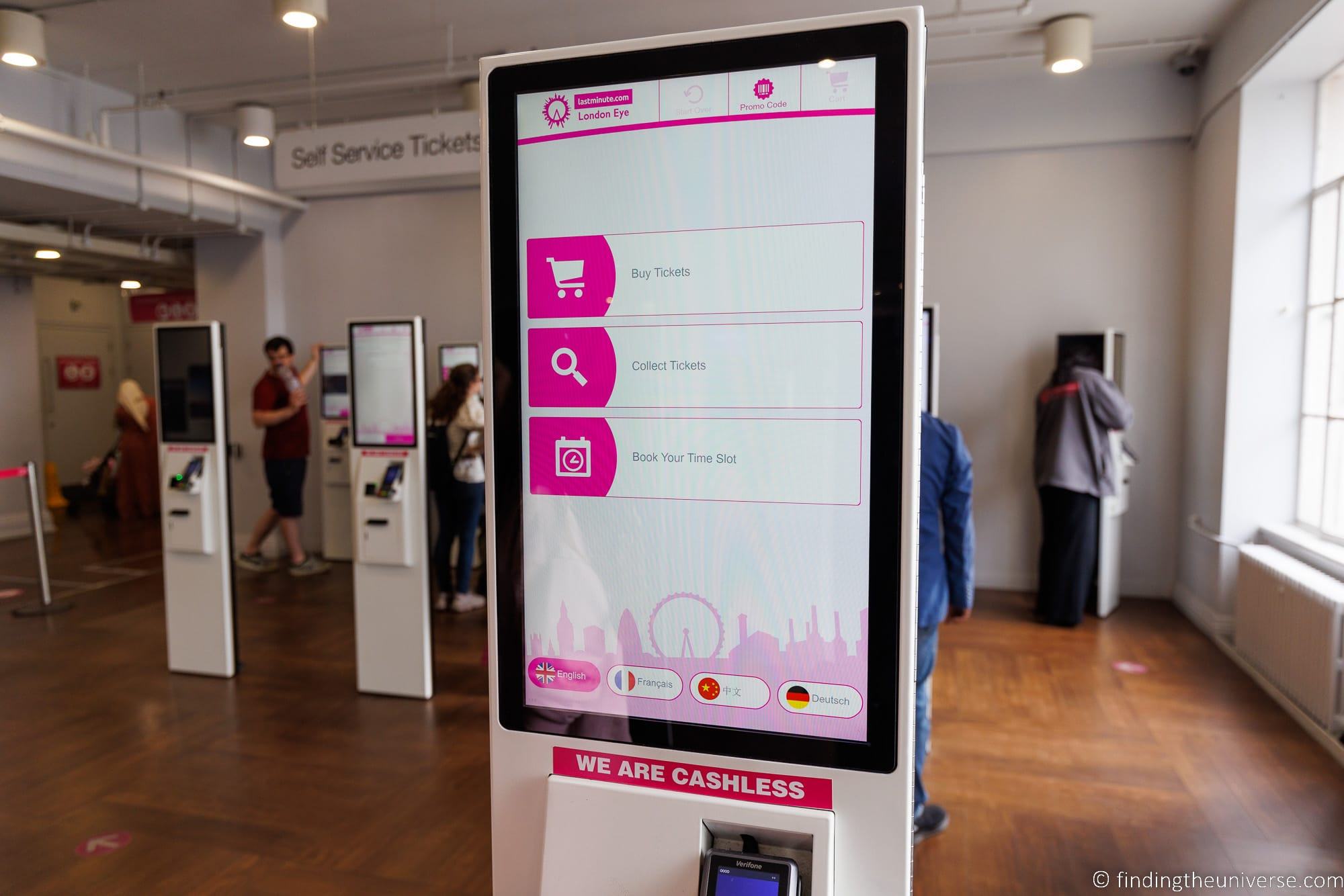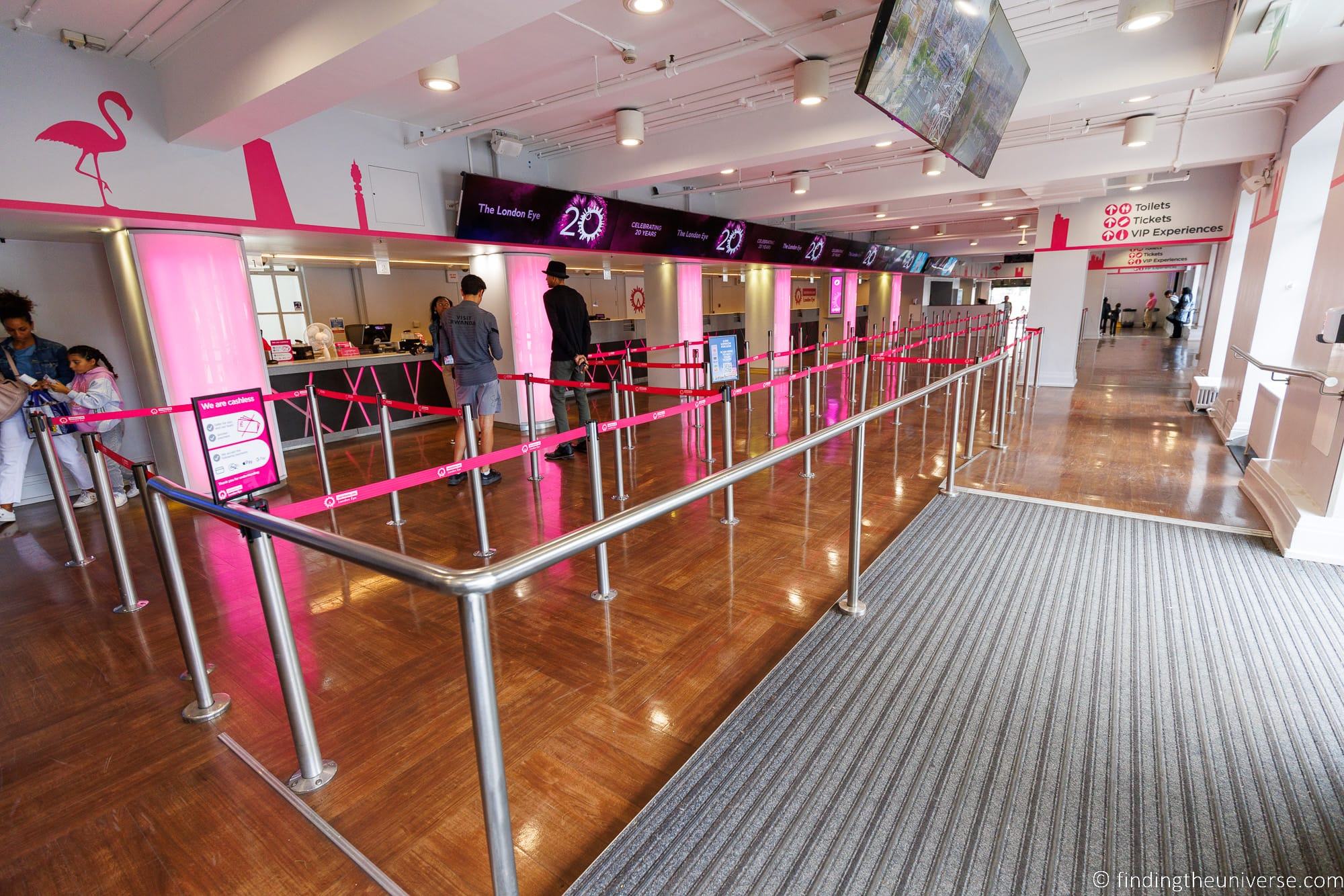 How Much Does the London Eye Cost?
Ticket prices for the London Eye vary. Normally, same day tickets, and tickets for popular days (such as weekends and holidays) are more expensive compared to tickets booked in advance and for less popular days such as weekdays.
There are three main ticket options for the general London Eye experience. These are the standard ticket, the family ticket and the fast-track ticket.
There are also additional premium experiences you can book for the London Eye, which we cover in a separate section.
As you will see, if you book your ticket online at least a day in advance, you normally save on your ticket prices.
Regardless of whether you are visiting on a peak or off-peak day though, we still recommend booking online in advance here as you will avoid the disappointment of turning up and finding there is no availability.
Price below are correct as of March 2023, but do check the official website for the most up to date pricing information and ticket options.
Standard London Eye Ticket Price
The standard ticket is the basic ticket for the London Eye and grants you one 30-minute ride on the London Eye.
The entry is timed, with the ticket granting you access to the London Eye standard queue at the timeslot you choose.
It is important to remember that your ticket time is not your ride time, but the time you are allowed to join the line/queue.
So when planning your time in London, ensure you consider the queue time as well.
Pricing for the London Eye varies depending on the day you visit, as well as the time of day you visit. The best prices are normally available if you book online for less busy (off-peak) days at least three days in advance. As a general idea, pricing for standard tickets is as follows:
£30.50 – £40 for adults (16+), most tickets are around £38 in our experience
£27.50 – £36 for children ages 3-15.
Free for children under 3.
If you are able to book at quieter times, you will be able to take advantage of better pricing. However, more popular times such as rides at the weekend, during school holidays and rides around sunset carry a premium.
Peak days vary, so you will need to check prices on the website to see if your chosen day is a peak day. We'd still recommend booking online to avoid disappointment on the day.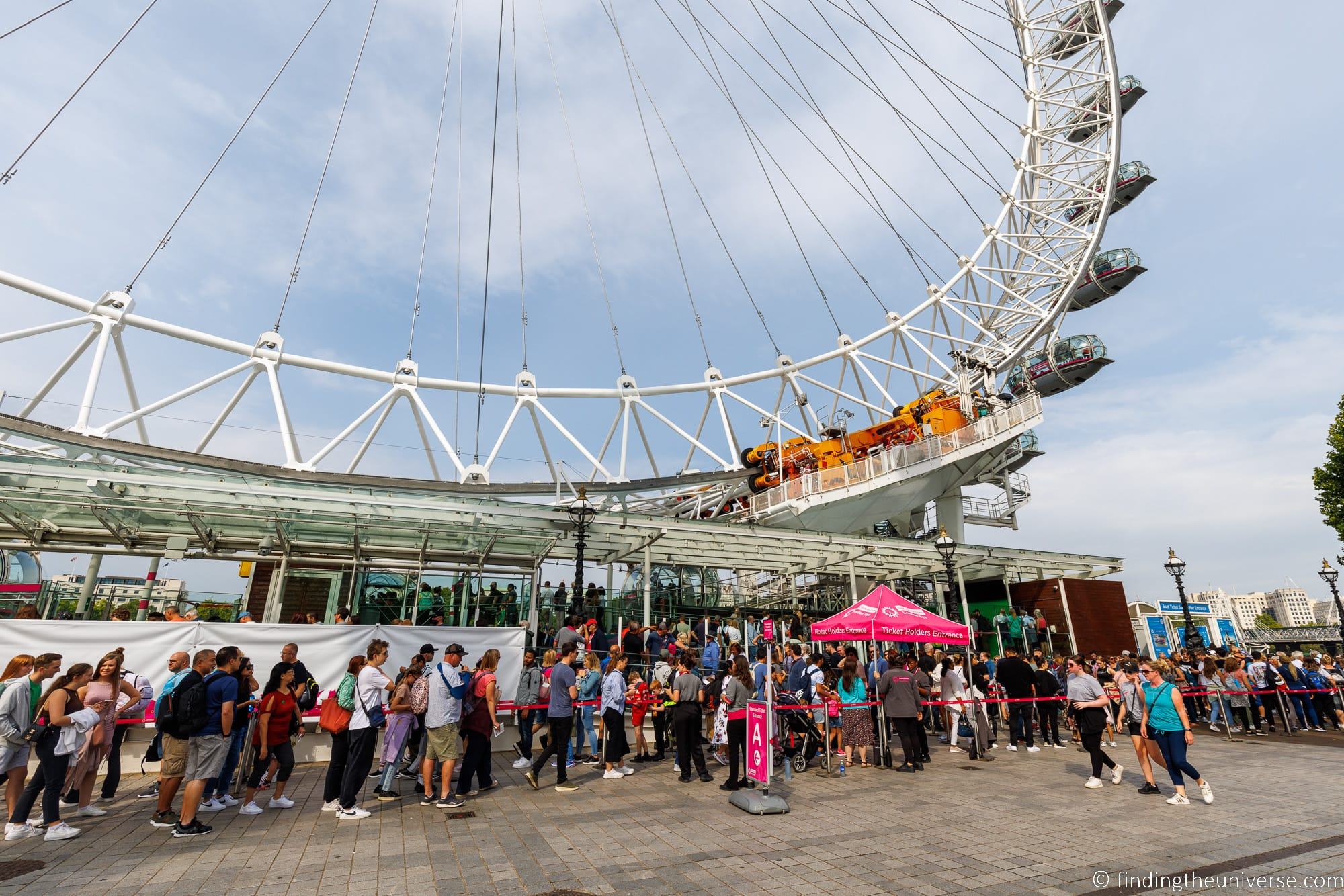 Fast-Track London Eye Ticket Price
The fast-track ticket offers the same ride experience as the standard ticket, but has the advantage of giving you access to the dedicated fast-track ticket line at the time you choose.
This ticket gives you access to a faster ticket line as normally fewer people book these tickets. The ride experience is the same as standard ticket holders, and you share the same capsules. The only difference is you will probably stand in line for less time.
As with the standard ticket, the time you book is the time you can join the line, not the time of your actual ride, which will vary depending on the length of the line.
Fast-track prices also vary depending on the day you visit and when you book.
Generally, fast-track pricing is as follows:
£42.5-£55 for adults (16+).
£38.5 – £51 for children ages 3-15.
Free for children under 3.
The London Eye also offers what is known as a flexi fast-track ticket. This allows you to turn up at any time on your chosen day, giving you more flexibility over when you ride.
These tickets cost £58 for adults, £52 for children aged 3-15 and are free for children under 3. These tickets can only be booked online.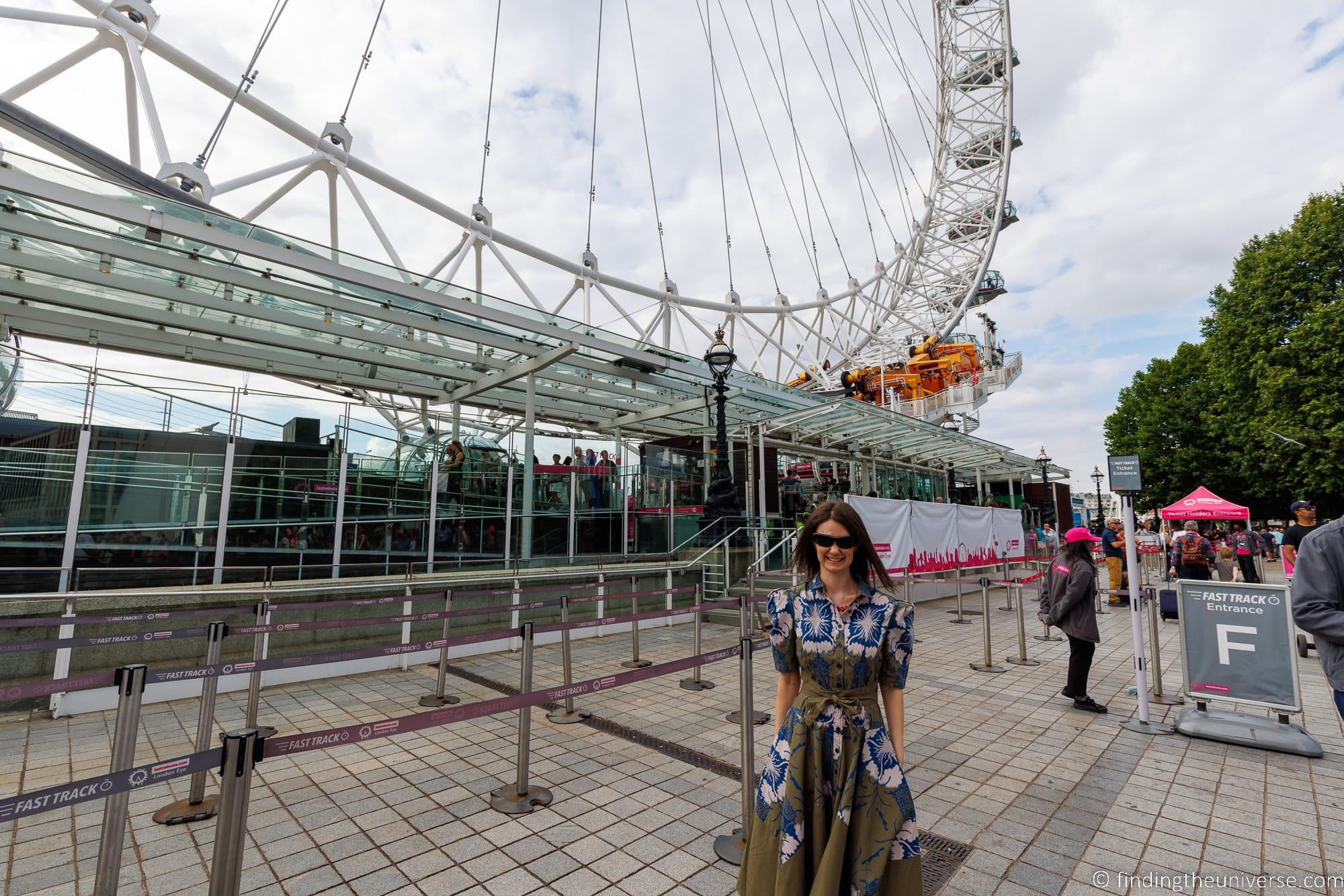 Family London Eye Standard Ticket
The family London Eye ticket offers the same experience as the standard ticket, in that you join the standard ticket queue. However, it offers families a more cost-effective option.
If you are visiting with at least two children aged 3-15, this ticket option will likely save you money. The family tickets cost as follows:
£28 per adult (minimum of 1 adult)
£28 per child (3-15) (minimum of 2 children in this age range)
Free for children under 3.
These prices are currently the same when booking online for both same day and future dates, and for both peak and off-peak, although of course pricing can change so always check the website.
If you are visiting with a family that meet the above criteria, this is a very good value option. If you were visiting with 2 adults and 2 children ages 3-15, you would save up to £40 depending on the time of day and year you visit.
Note that sometimes the London Eye family ticket booking window doesn't have the option to add a child under 3, despite the website stating that they need a ticket.
In this case, you will need to visit this page to book a timeslot for the London Eye. Here you will be presented with the option to book a timeslot for an individual, or for a child under 3. Slightly confusingly, at this point you need to book for an individual as when we last checked the website didn't allow for booking a timeslot for an under 3 on their own.
I confirmed with the London Eye that this is the correct procedure for adding a child under three to a family ticket if it does not show on the family ticket page.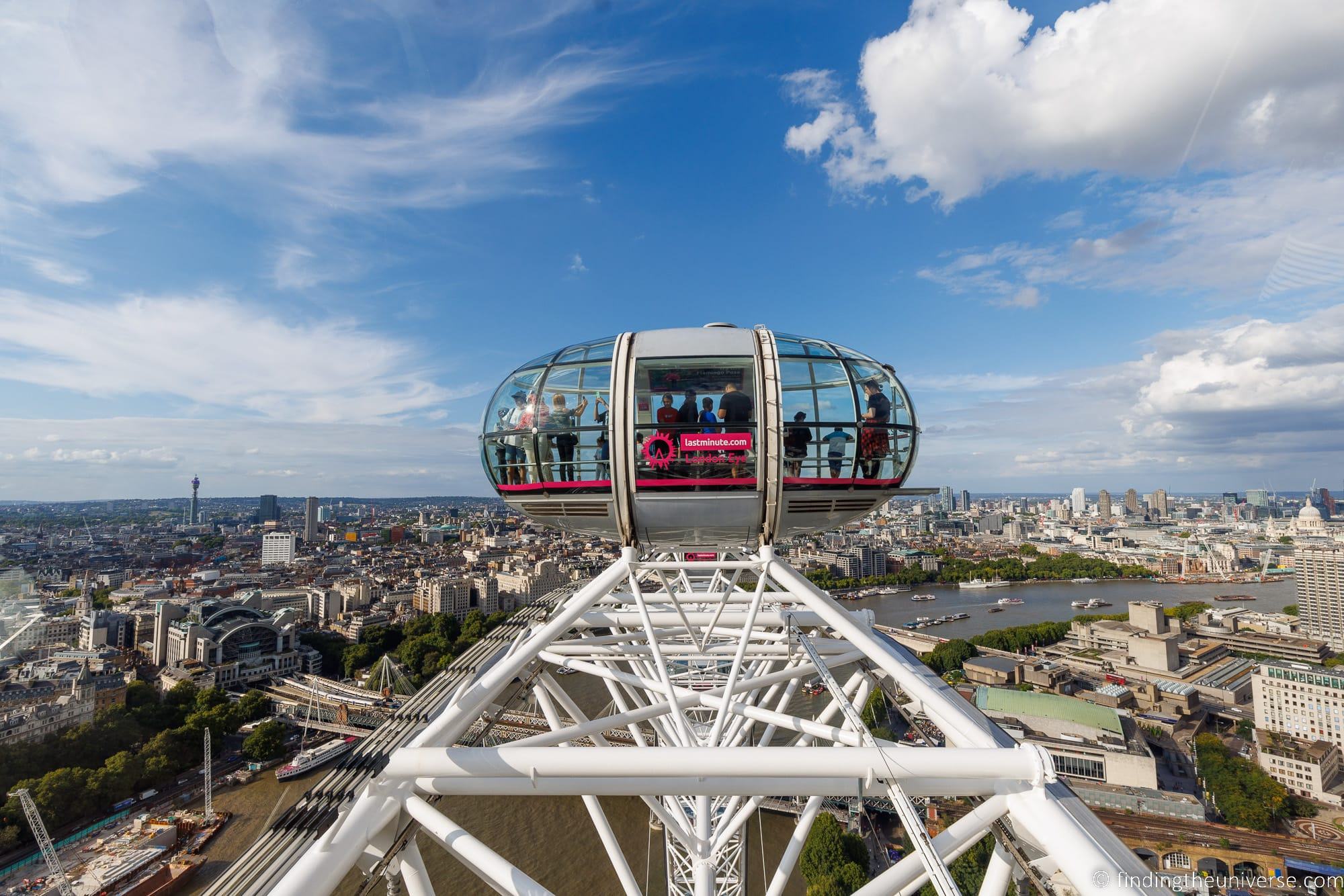 VIP London Eye Experiences
As well as the general tickets, there are normally a number of premium experiences that you can book at the London Eye.
These are the Champagne Experience, the Private Pod, and the Cupid Pod.
We'll go through each of these and cover what they cost and what they include.
It's also worth noting that from time to time there are additional experiences and pods available. For example, there has been a pub themed pod and a tennis themed pod. So do check the official website to see the latest experiences on offer.
Champagne Experience
The Champagne Experience is a hosted experience and it includes:
VIP check-in and time to relax in the London Eye lounge before boarding
a host who will lead you through security and to your pod
a glass of Champagne for each adult (soft drinks also available, and served to those under 18).
fast track boarding through the fast-track lane
a 360 degree viewing guide
The Champagne Experience is shared with other people who have booked it, but it is limited to a maximum of 15 people per pod.
Note that the pod is not shared with general ticket holders, so if booking as a group make sure you all get the same ticket types in order to ride together. A person with a standard or fast track ticket cannot share a pod with a Champagne Experience ticket holder.
The Champagne Experience costs £60 for ages 3+, and is free for those under 3. Just be sure to book them a free ticket when you book your champagne experience.
We really enjoyed the champagne experience when we did it, and it was by far our favourite London Eye experience.
We also think it offers good value especially compared to the fast-track ticket option as it includes fast-track and a hosted experience as well as a glass of Champagne.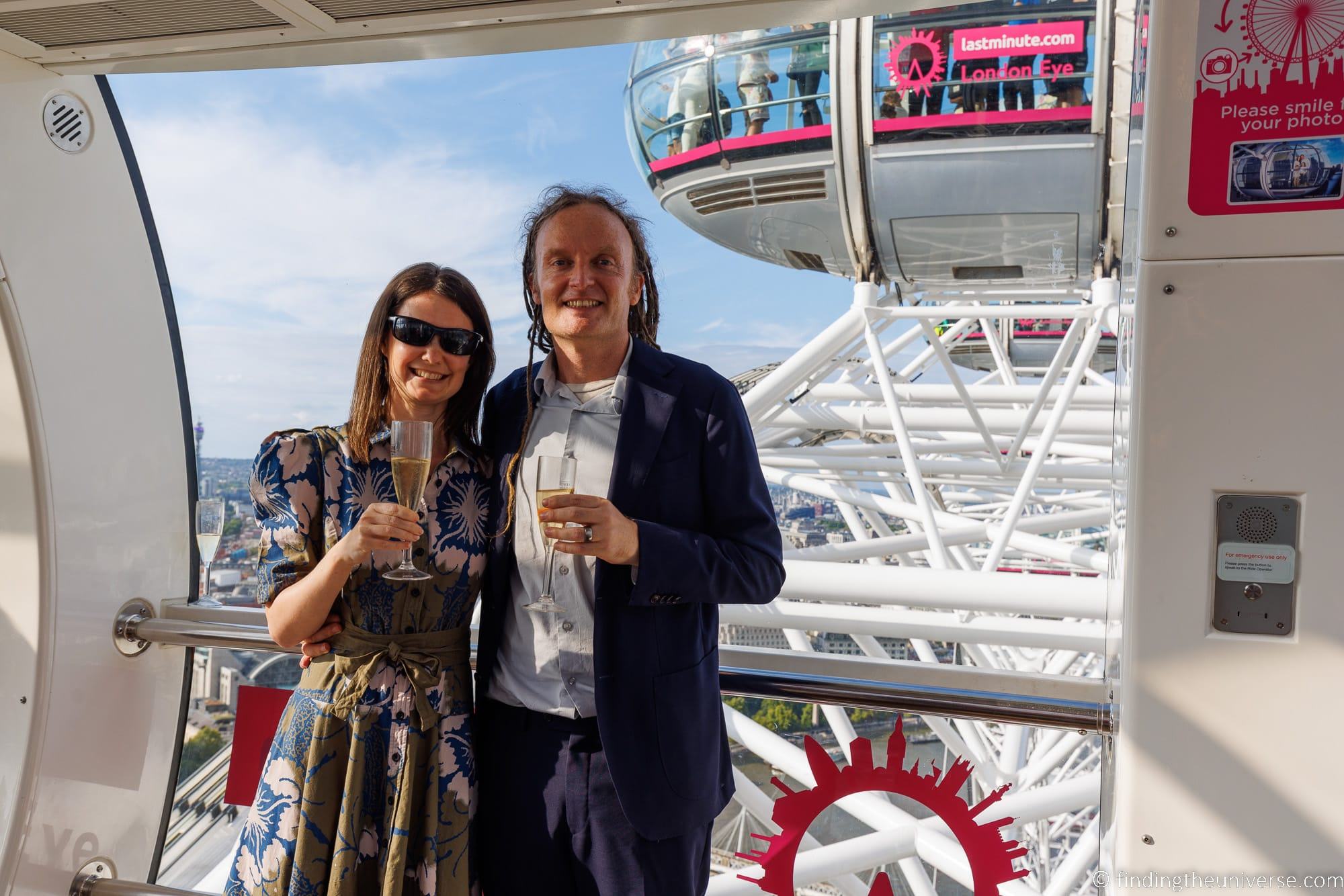 Private Pod
You can hire an entire private pod for between 2 and 25 people. This would make for a fun group celebration option, and for larger groups especially it is quite a cost-effective option. A private pod includes:
exclusive access to a pod for 2 – 25 people
fast-track boarding
the option to order food and drink (additional fee applies)
You are not allowed to bring your own alcohol onto the pod. A private pod on the London Eye costs £675 for a group. Groups must have a minimum of two guests over 18, but can otherwise consist of adults and children.
If there are only two of you, a more fun and cost-effective option though would be the Cupid Pod.
Cupid Pod
If you are looking for the ultimate romantic London Eye experience for two, consider booking the Cupid's Pod package. This is a couple's experience, and includes:
a private pod for two guests (must be 18 or older)
A bottle of champagne
A box of luxury chocolate
A personal host for your rotation
Priority boarding
A Cupid Pod package costs £550, which we think makes it a good value option compared to the private pod option if there are only two of you. This would definitely be a good choice for a special occasion.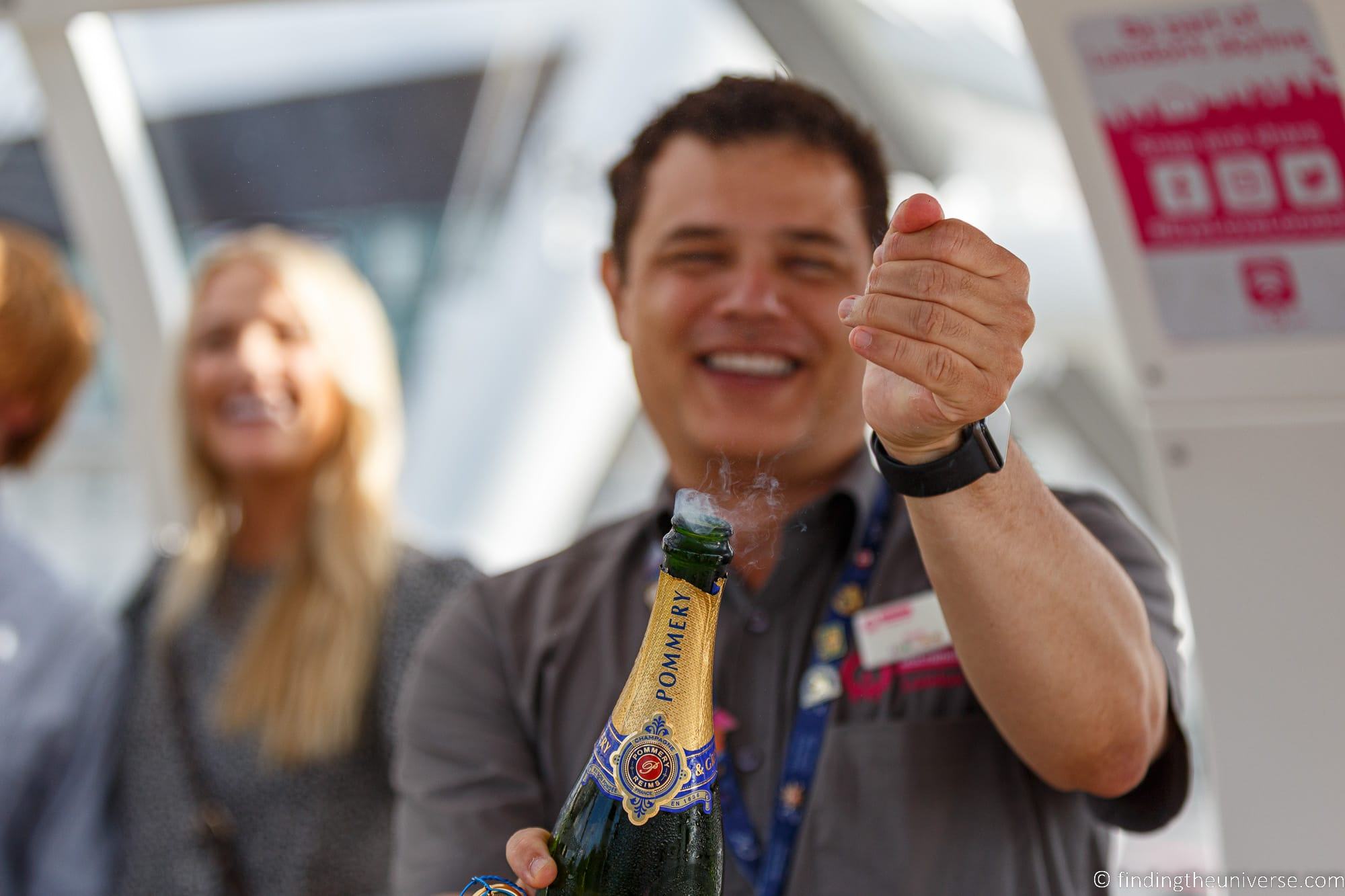 Can you Cancel or Reschedule a London Eye Ticket?
Tickets for the London Eye sold via the official website are non-refundable.
If you would prefer to purchase a refundable ticket, these are normally available on GetYourGuide here, although do check the conditions before purchasing to be sure.
Note that when buying a ticket via a third party these need to be exchanged for an official London Eye ticket on site, either at the ticket desk or at the self-service kiosk, so be sure to give yourself plenty of time if you choose this option.
If you purchase a standard, fast track or family ticket through the official website, you can change the time online after booking, up to 24 hours before your ride.
If you book a premium experience such as a Private Pod or Champagne Experience, these cannot be managed online. If you need to change these bookings, you will need to contact customer service.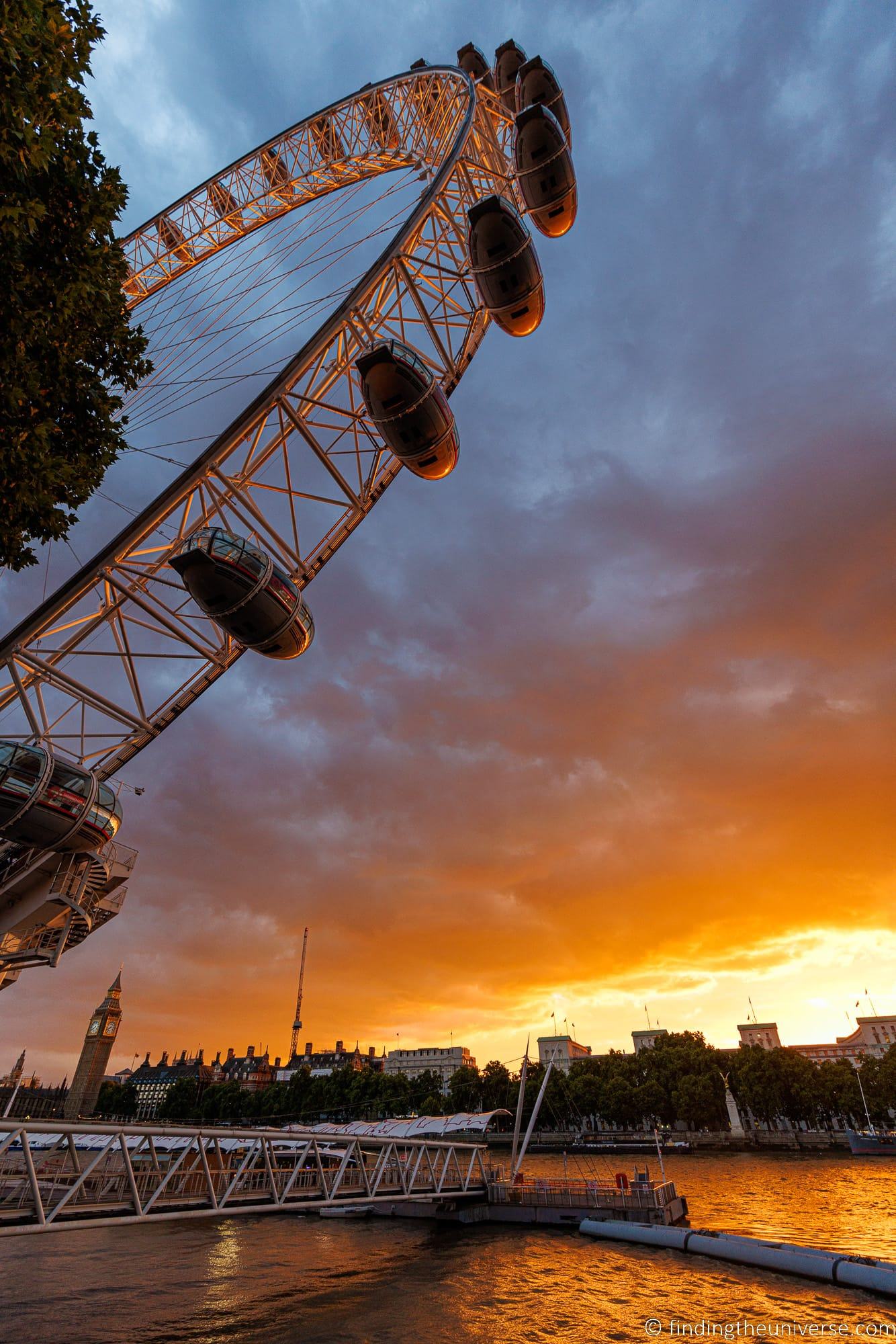 Can you Upgrade a London Eye Ticket?
Yes, it is possible to upgrade some London Eye tickets.
When you are onsite you can upgrade from a standard ticket to a fast-track ticket. When we checked in 2023, the price of this upgrade was £10. To do this, you will need to visit the ticket office.
This upgrade actually works out slightly cheaper than just booking a fast-track ticket online, however there is a risk of there not being availability, so we would not recommend relying on this.
You can also do a refund and rebook of a standard ticket to a fast track ticket, whereby you are refunded the full amount of the standard ticket and you then pay for a fast-track ticket. You can do this in advance of your visit by contacting customer service.
If you want to upgrade to the Champagne Experience from a standard or fast track ticket, this is also possible however it also involves refunding the original ticket and buying a new ticket. This can be done on-site or online with customer service.
All ticket upgrades are subject to availability of course. We would generally recommend just booking the ticket type you are most interested in from the beginning to avoid later disappointment.
This is especially the case for more expensive experiences as these have limited availability.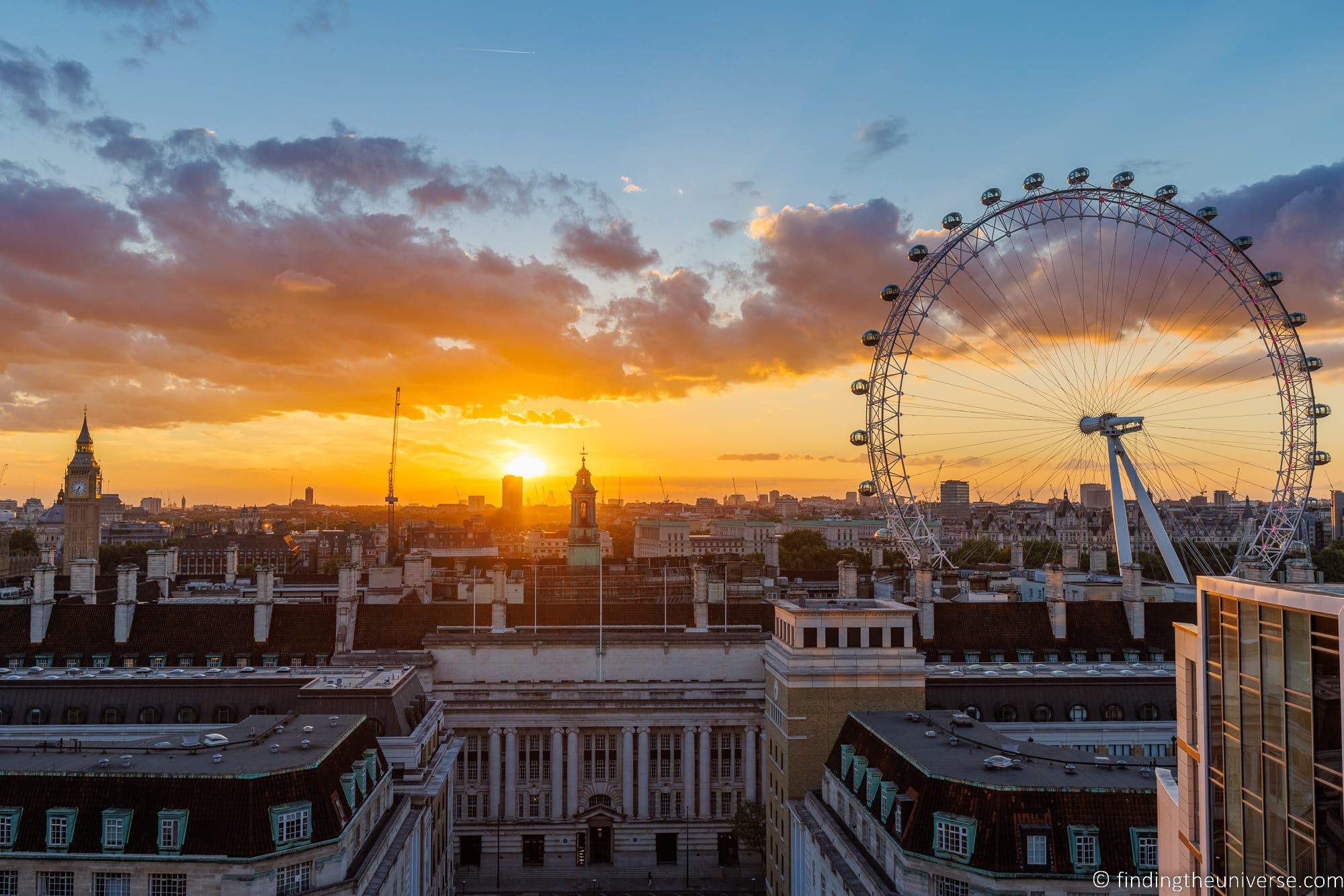 How Long are the Queues at the London Eye?
Queue times at the London Eye vary depending on the time of year and the time of day. The official website states that queue times for standard entry can be up to 45 minutes, whilst fast track is around 15 minutes.
When we have visited, we have normally not queued for more than 15 to 20 minutes for standard entry, and generally only 5 to 10 minutes for fast track. However we have not visited during the busiest times when the lines can be much longer.
Can You Skip the Line at the London Eye?
If you have not bought a ticket, or have bought a ticket from a third party, then you will first need to join the ticket line inside the ticket office. There are both self-service machines and ticket counters with staff.
In order to skip the ticket line we recommend booking your ticket online in advance from the official site here.
Once you have your actual boarding ticket, you can join the entry line at the time specified by your ticket. There are two entry lines at the London Eye, the standard line and the fast-track ticket line.
You cannot skip the security and entry line; however, the fast-track ticket line is nearly always faster as fewer people have these tickets. Of course, you may be lucky and visit when neither line is busy, in which case both lines will take the same amount of time.
Both lines have a security check as well as a stop for a photo prior to boarding, so it does take a short time to clear these two processes.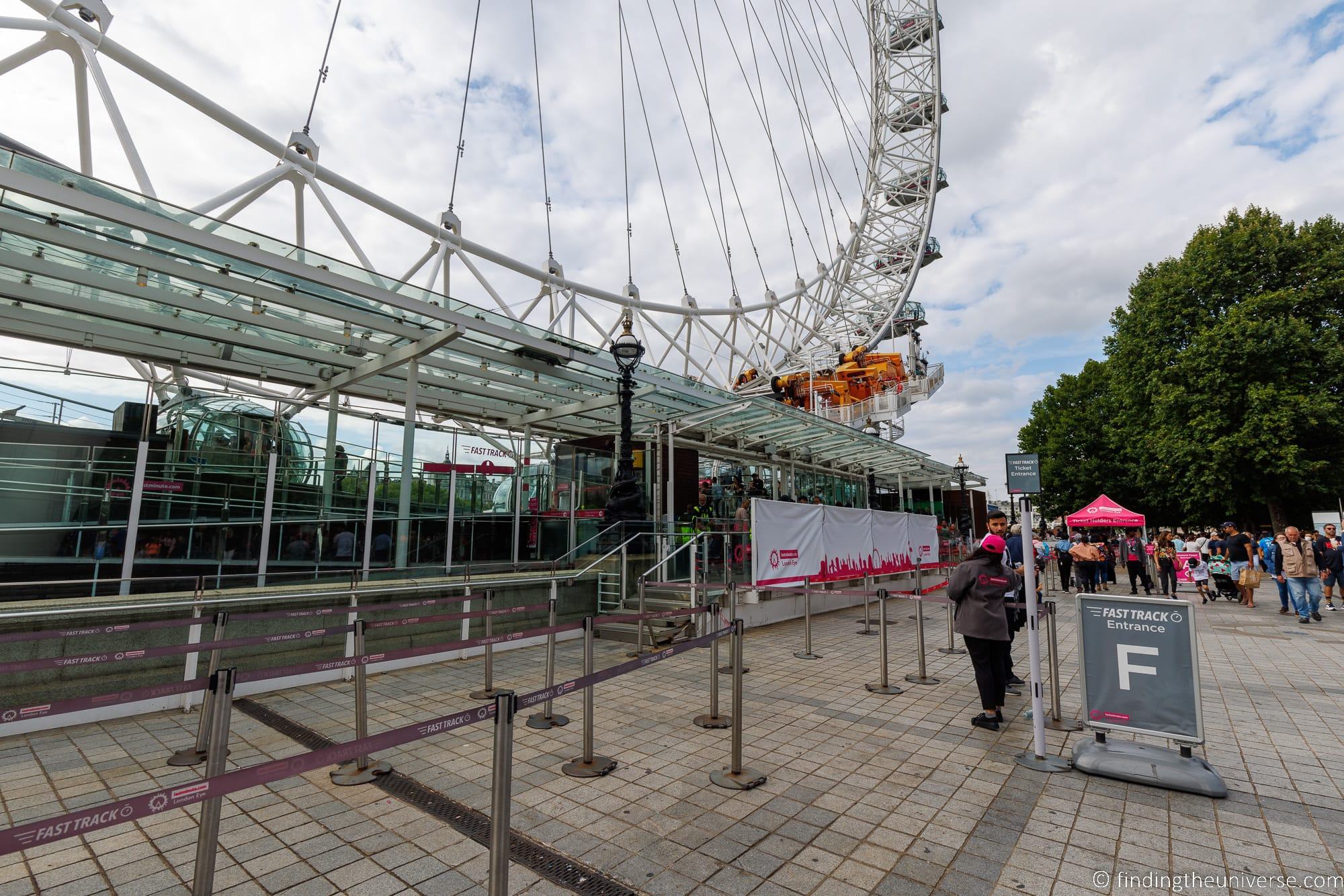 London Eye Discount Tickets
You might be wondering if there are discounted tickets available for the London Eye.
First, you can normally save money by booking online in advance on the official website here. Generally, these tickets are the best value option. Families can also save with the family ticket.
Another way you can save is if you are visiting London by train, and you can take advantage of the 2FOR1 offer from National Rail. This will allow you to book two standard adult tickets for a total of £36, or the equivalent of £18 each. Check the website for terms and conditions, as well as exclusions.
If you are a student, you can save up to 35% with the London Eye student discount. Information is available here on how to do that.
Another way you can save on London Eye tickets is to buy a multi-attraction ticket or pass which includes the London Eye. This is only a good idea if you were already planning to visit the other attractions. If so, you can definitely save by buying in a bundle.
For example, you can book:
We cover the passes that include the London Eye in the next section.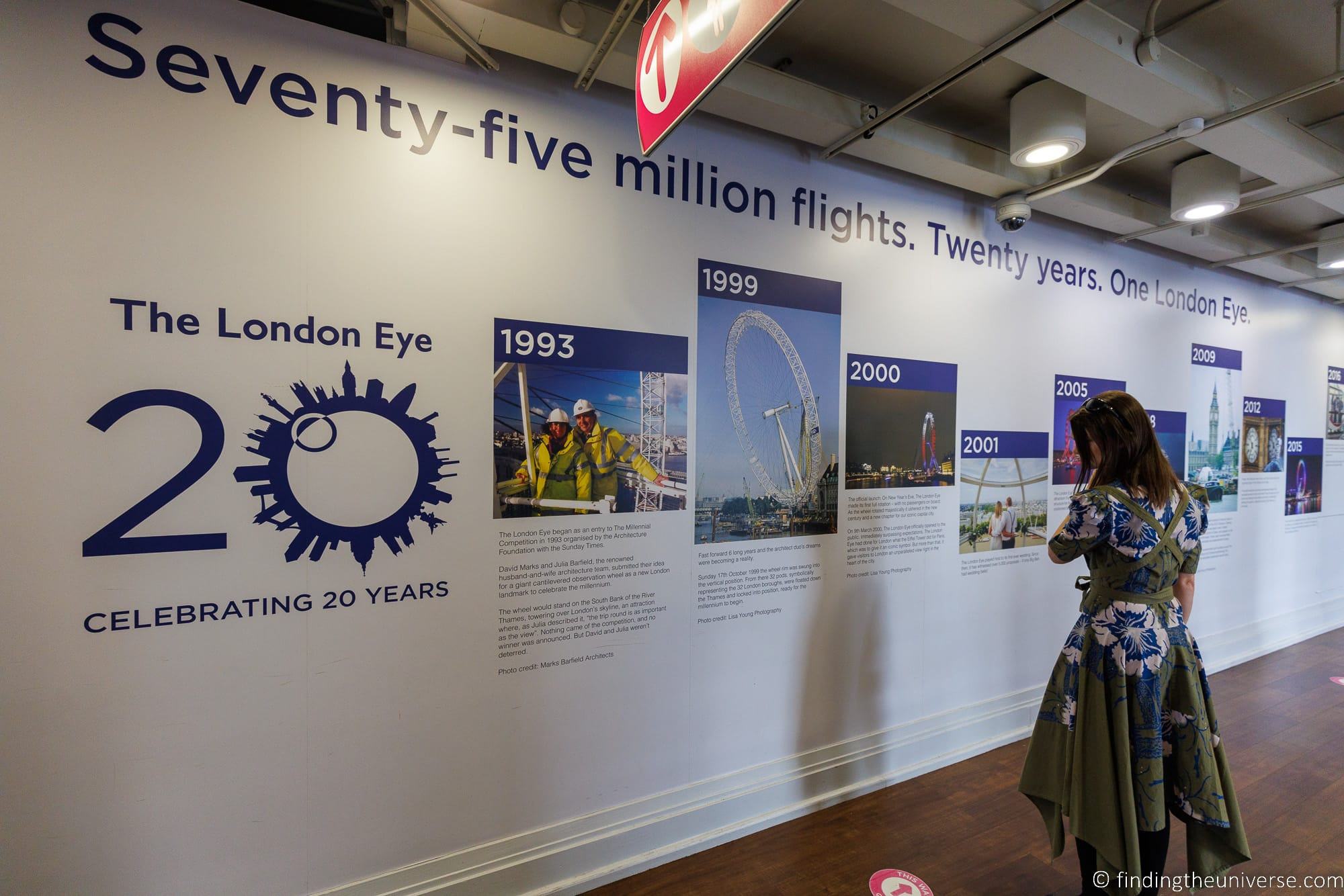 Passes which include the London Eye
If you plan on visiting a number of sights when in London, then you might be able to save money with a multi-attraction pass. These normally include a number of attractions, and the price of the pass is usually less than buying individual entry.
Of course, these passes will only save you money if you visit the included attractions. It's also important to check exactly what they include, how to use the passes and if there are any exclusions prior to purchase.
The main passes we are aware of which include the London Eye are the following.
Big City Saver Pass. This pass is available in a number of versions, covering up to 5 premium attractions in London. These attractions include Madame Tussauds, SEA LIFE London Aquarium, London Dungeon, Shrek's Adventure, and of course the London Eye.
London City Pass. This pass includes the Tower of London, London Eye, 24 hour hop on hop off river cruise, and a London walking tour audioguide.

Merlin Annual Pass

– If you plan on visiting a number of attractions across the UK, then the Merlin Annual Pass might be a good option. This includes nearly 30 attractions, including the London Eye, Alton Towers, Legoland, London Dungeon, and Warwick Castle. This is probably best suited for those who live in the UK.
Note that the London Pass, which is one of our favourite passes for London, does not currently include the London Eye.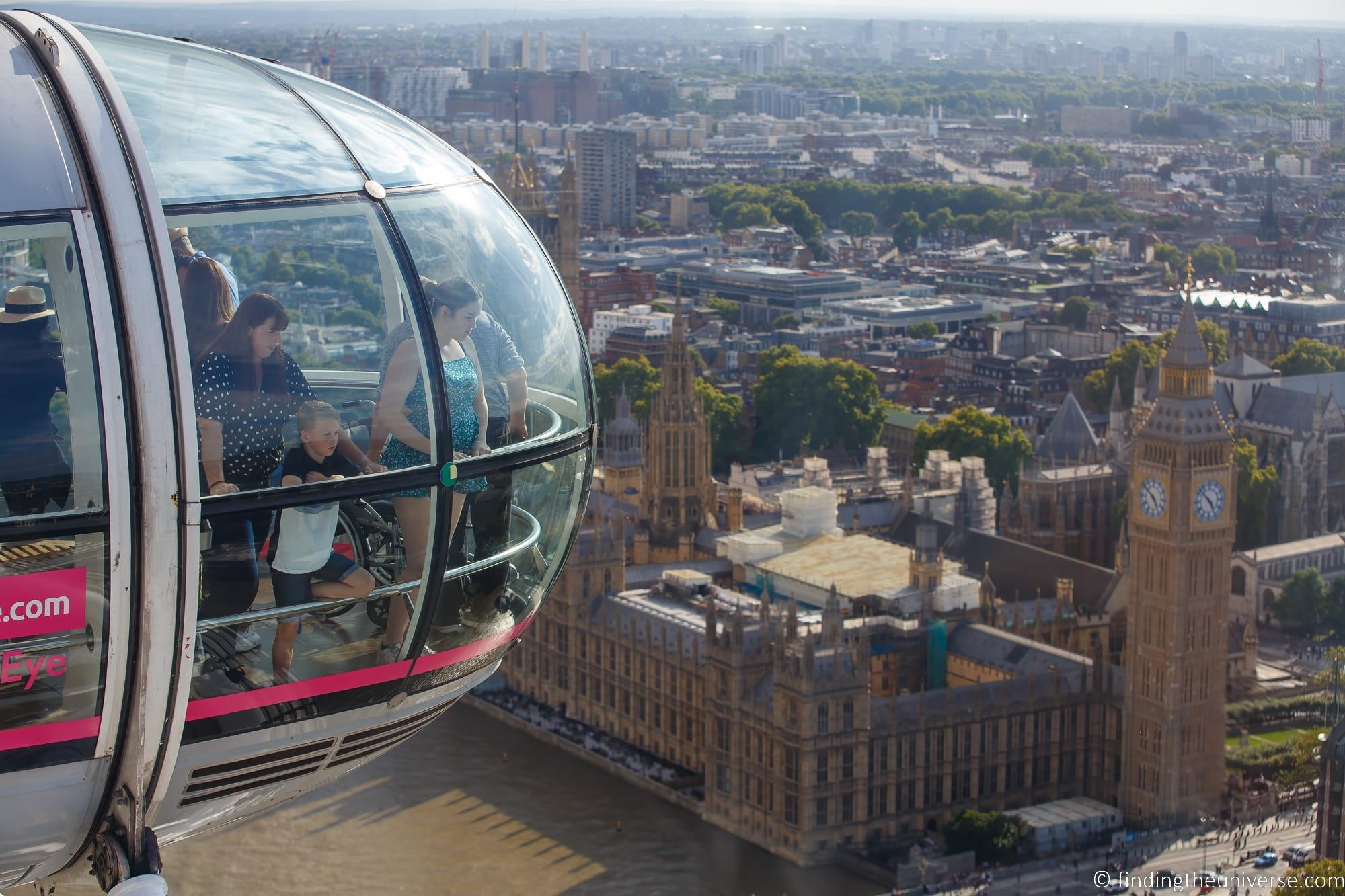 Is the London Eye Worth It?
The London Eye is certainly a premium attraction in London, so you might ask if it is worth it. We feel that the experience is definitely worth it.
The views are very good, especially on a clear and sunny day, and there really isn't another experience like it in London.
Is the Fast Track London Eye Option Worth It?
You might be wondering if it is worth buying the fast track London Eye ticket. The answer to this comes down to personal choice and how much you value your time.
If you are visiting the London Eye at a busy time, such as during the summer season, school holidays. public holidays or weekends, then you will most likely save quite a bit of time with a fast track pass, probably at least half an hour if not more.
However, if you are visiting at a quieter time of year, then the difference in queue time is probably not worth it in our opinion.
One thing to mention is that if you are already considering the fast track option, then you might instead consider the Champagne Experience. This is not a lot more expensive, but comes with a number of additional benefits that we think makes it worth considering.
Is the London Eye Champagne Experience Worth It?
We have ridden the London Eye a number of times, and our favourite ride to date was definitely the Champagne Experience.
Whilst this is more expensive than the standard and fast-track options, it definitely felt more special.
One of the main reasons for this was that it was a hosted experience. Our host met us in the London Eye lounge, escorted us through the fast-track area, and rode with us on the ride.
As well as the benefits of fast-track entry, we also got to enjoy a glass of champagne, and our host was able to tell us things about the London Eye and what we were seeing. He was also very happy to take photos of us.
Overall, we highly recommend considering the Champagne Experience if your budget stretches to it, especially if you were already considering the fast-track experience.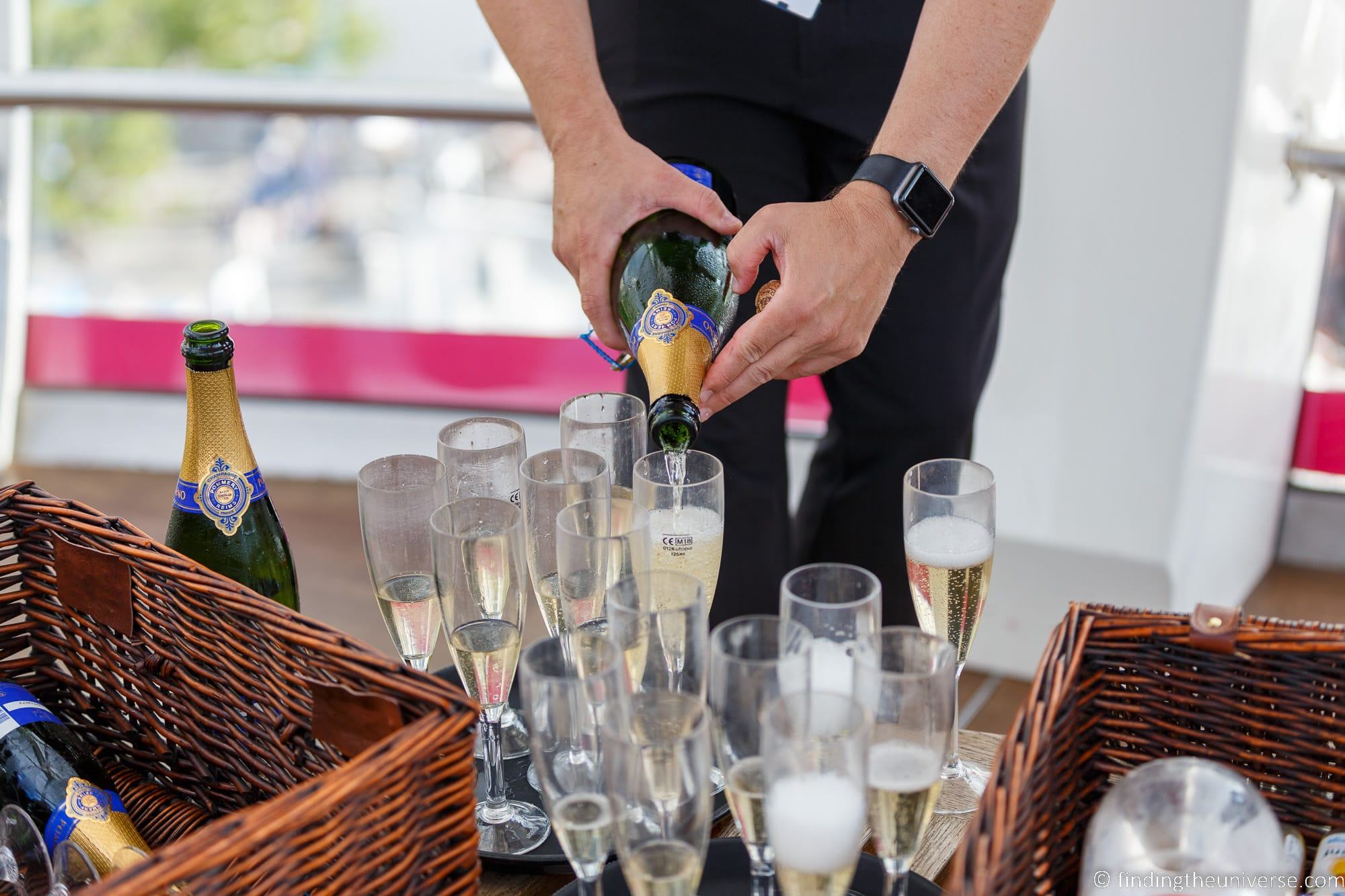 Facilities at the London Eye
The London Eye has the following facilities available on-site:
Baby changing facilities
Toilets (including accessible toilets)
Free WiFi
Gift shop
Ticket office & self-service ticket kiosks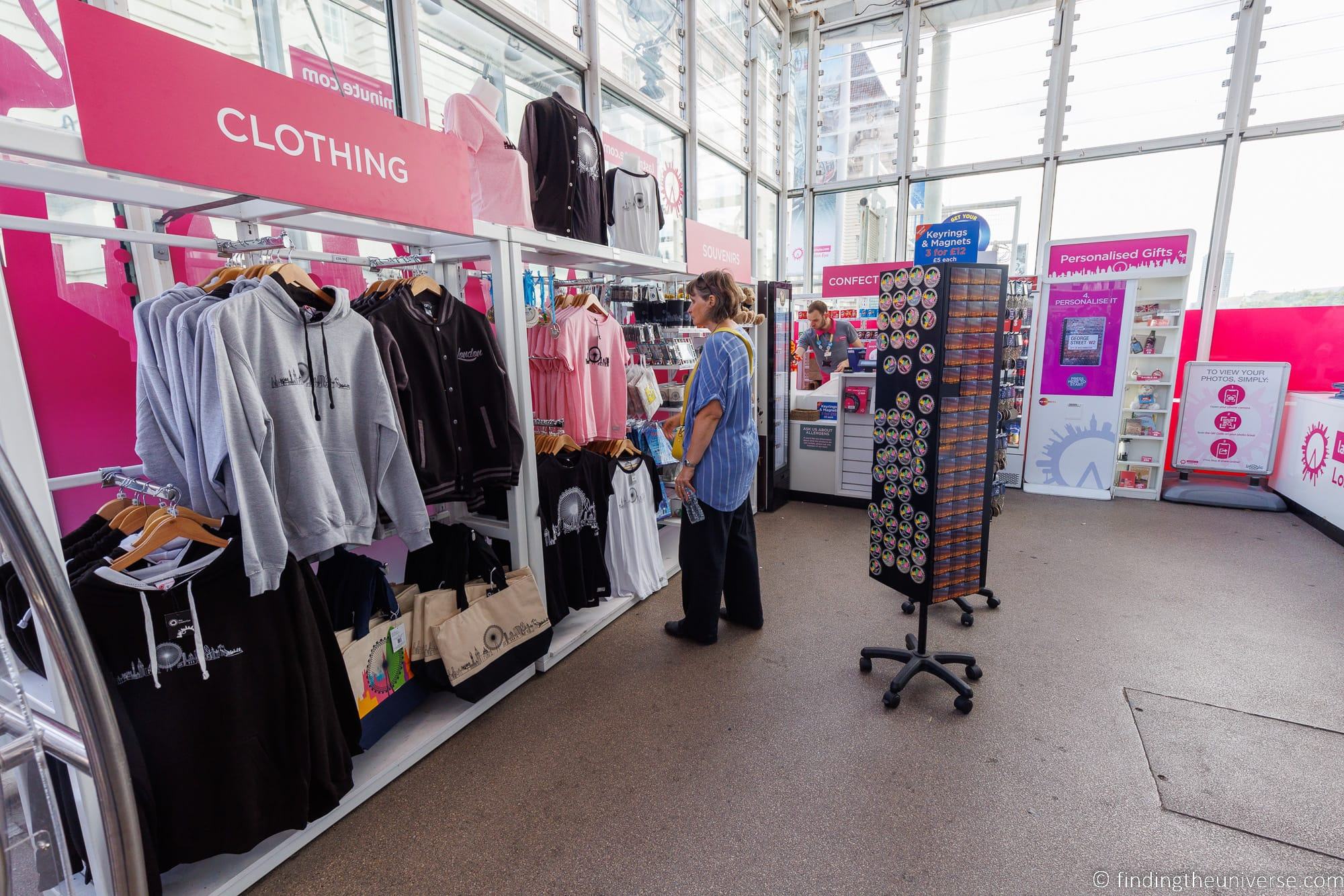 Security and Restrictions at the London Eye
The London Eye, like most attractions, has security in place prior to boarding, as well as some rules on what you cannot bring on board.
The security line is part of the ticket line, and is normally separated between fast track and standard ticket holders.
When we have visited, they normally check inside bags and use a security wand to scan your body. However, security practices can change over time so this may vary.
They are generally looking for sharp objects like knives which are obviously not permitted on board. The full list of prohibited items can be found here, and includes:
large bags and luggage
any item deemed to be a weapon
glass bottles
sharp objects including knives and scissors
alcohol
skateboards, scooters, rollerblades
drones
animals (except service animals)
These are fairly common sense restrictions we feel, but it is worth being aware of what is and isn't allowed to be sure you don't get caught out.
We recommend not bringing a lot of stuff with you if you can help it to ensure that security goes as quickly and smoothly as possible.
Pushchairs and strollers that can be completed folded down are allowed inside the pods. But they need to be folded up before joining the line and should not be used again until you exit the pods.
Accessibility at the London Eye
The London Eye is fully accessible, and there is a lot of detailed information about accessibility which you can access on their website here.
There is step-free access to the London Eye, and ramps are provided for boarding and disembarking the pods. The London Eye completely stops for wheelchair users and those with limited mobility to board and disembark.
It should be noted that only two wheelchair users are allowed per pod, and wheelchair users need to book a specific wheelchair slot in addition to booking their standard ticket.
Booking the wheelchair slot is free and can be done here. This allows the London Eye to ensure no-one is disappointed on the day due to the limitation on the number of wheelchairs per pod. Wheelchair users can also book a free carer ticket here.
All users have to queue to board the London Eye. However if you have limited mobility or difficulty standing you can request assisted boarding with the onsite team when you arrive.
There are also fully accessible toilets inside the main building where the ticket office is located. There are no toilets on board any of the London Eye pods.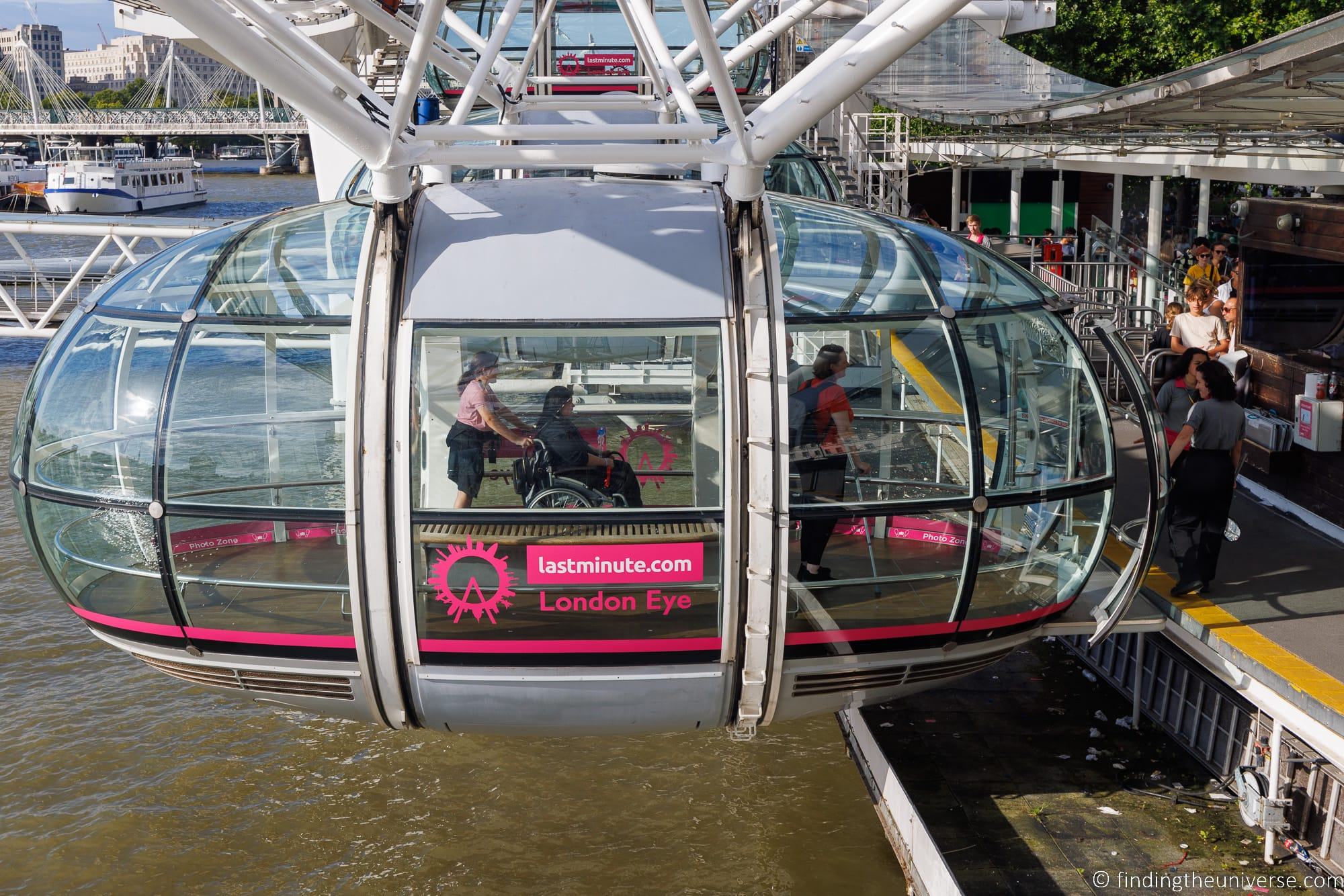 Luggage Storage at the London Eye
There is no official luggage storage at the London Eye, and large bags, suitcases, and other oversized items are not permitted on board.
There are a number of nearby luggage storage facilities in the vicinity, including at Waterloo and Charing Cross train stations.
Ideally though, we'd recommend not bringing your luggage to the London Eye, and leaving it with your hotel in their secure luggage area if possible.
What Time of Day is Best for Visiting the London Eye?
The best time to visit the London Eye will depend on what your aims are.
From a queuing perspective, when we have visited we have noticed that the London Eye is busier in the mornings and less busy in the afternoons.
However, this will vary depending on the day and time of year, so we would not recommend basing your visit time entirely on these observations!
What we feel is more important to consider is when to visit based on the best conditions for getting the best views and photos.
Obviously, you do need to consider the weather conditions, as the views are best when it is sunny. So if the forecast is for rain in the morning and sun in the afternoon, then you might want to book for the afternoon.
Of course, weather forecasts are not always accurate, and when you book in advance you might not know what the weather is going to be like.
Our overall recommendation is that the morning or late afternoon are the best times to visit the London Eye. The best time will depend on the time of year, and also the opening hours.
If you visit in the morning, then the sun will be to the east of the London Eye. This means you will get better light on the river Thames and Houses of Parliament, and won't be shooting into the sun.
If you visit in the afternoon, then you have a chance to experience the sunset from the London Eye. The sun sets in the west, which means it will set across the Thames in the direction of Westminster. A sunset from the London Eye is a really beautiful experience if you are lucky to get a good one.
Of course, sunset times in the UK vary, from around 9.30pm in summer to just before 4pm in winter. So depending on the opening times of the London Eye and the time of year you visit, viewing the sunset from the London Eye might not be possible. In this case, we'd recommend a morning visit for the best light.
You can check sunset times in London for different months here.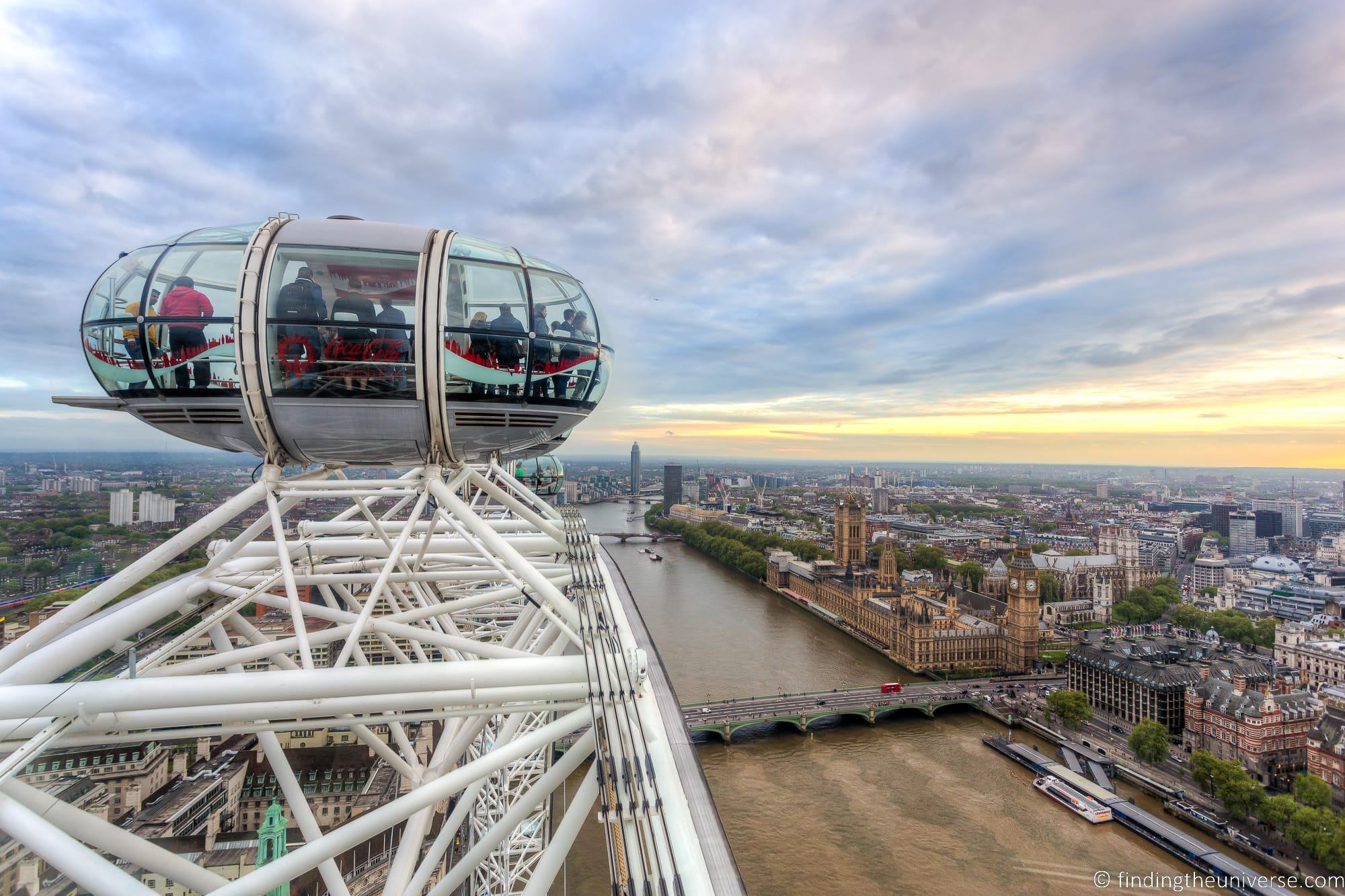 Is the London Eye Air Conditioned?
Yes, all the London Eye capsules are climate controlled and sealed from the elements, so they are warm in winter and cool in summer.
However, the line for the London Eye is not enclosed, and only a small part of it is covered. So you will want to dress appropriately for the weather as you may need to stand outdoors for a period of time whilst in line.
Can I take Food and Drink on the London Eye?
Food and drink is not permitted on the London Eye, with the exception of bottled water. Eating or drinking on the pods is not permitted.
If you book the Champagne Experience, this will include Champagne or a soft drink, as does the Cupid's Pod experience.
If you book a private pod experience, you can pay extra for food and drink as well. Details of the options will be sent to you after booking.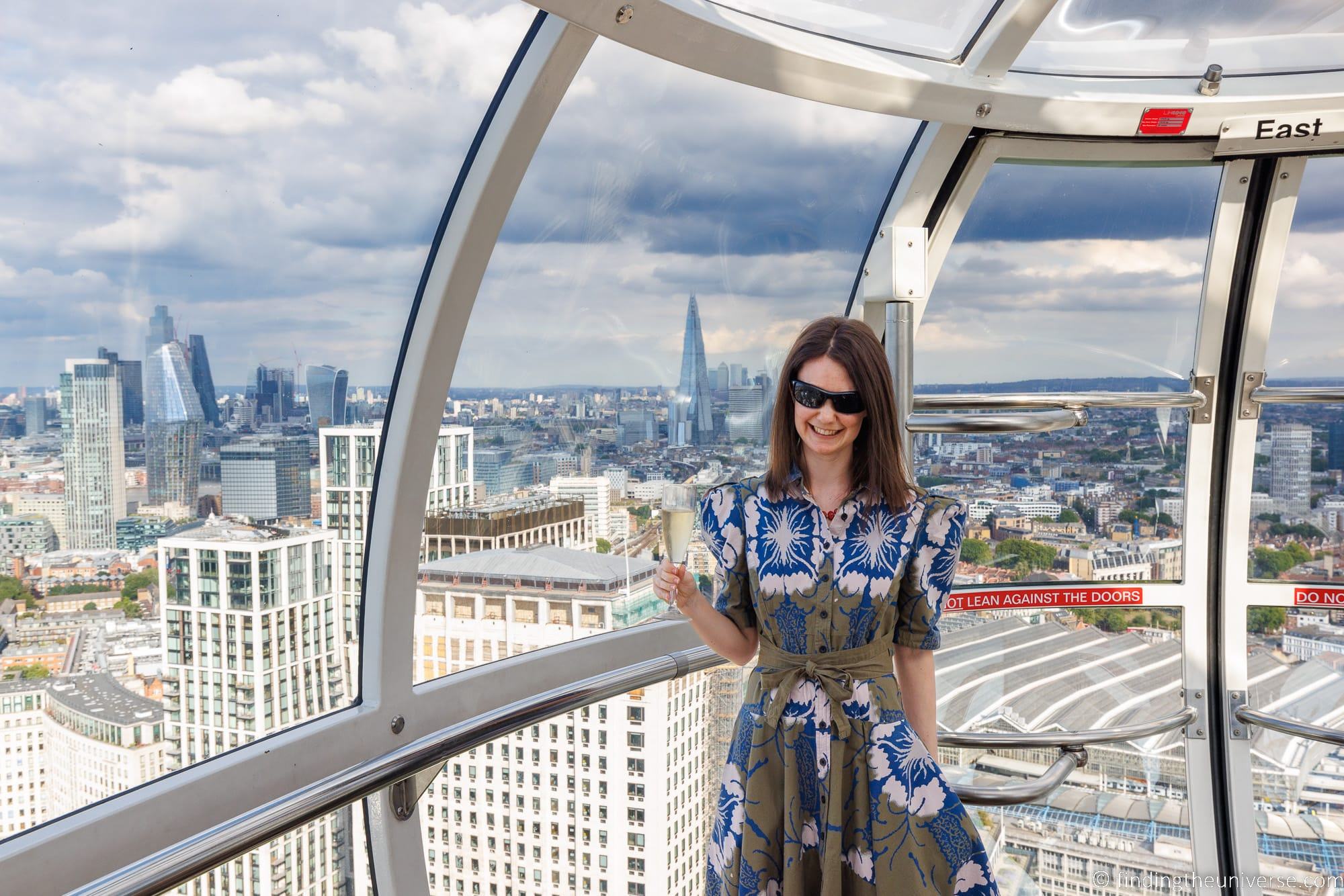 Is Photography Allowed on the London Eye?
Yes, photography is allowed on the London Eye for personal use. Cameras and smartphones are permitted, but tripods and professional video cameras are not.
If you wish to do promotional filming, permission must be sought in advance.
Note that two photos are taken during your experience (once in line and once in the pods themselves) and these are available for purchase after you exit the pods.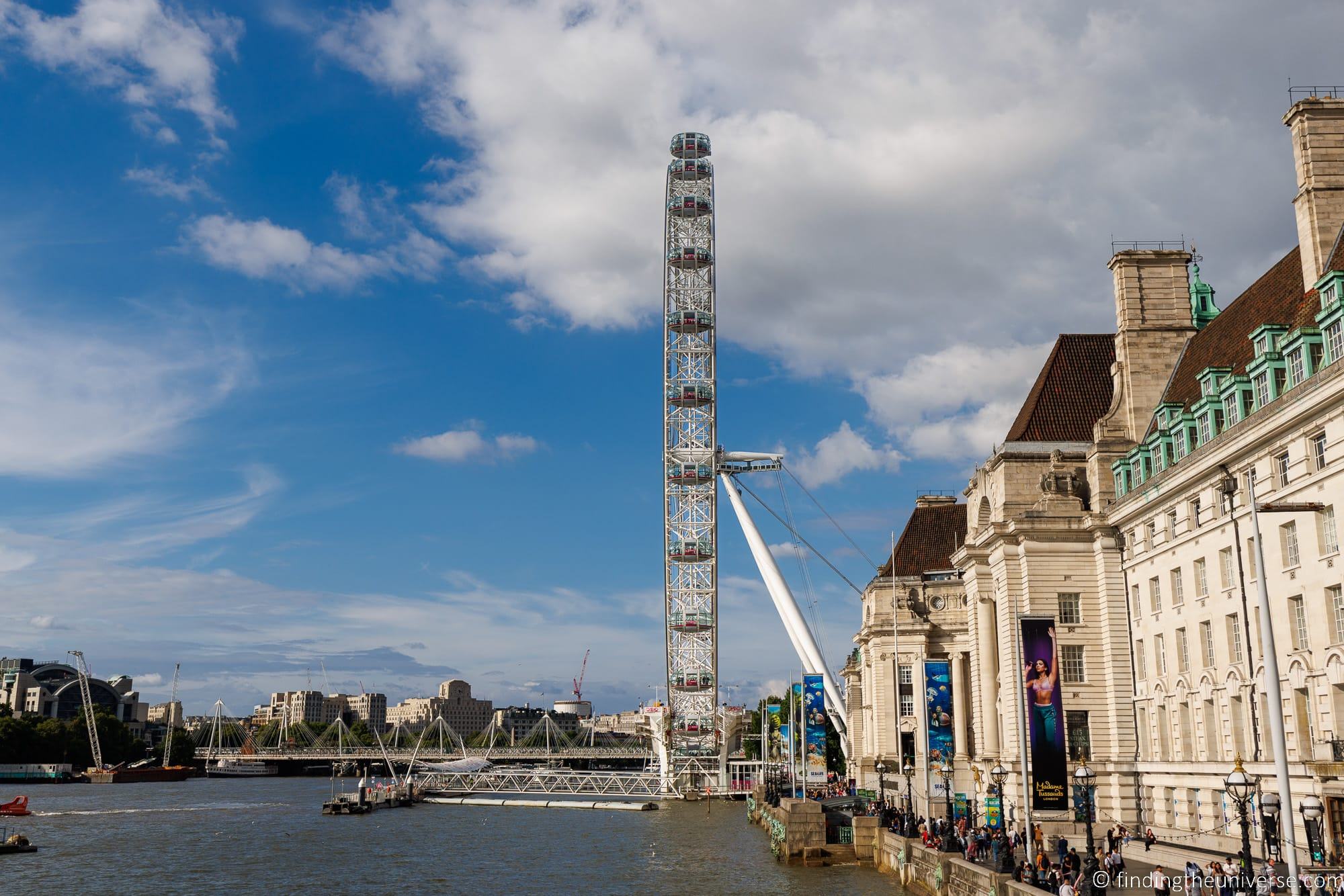 Attractions Near the London Eye
The London Eye is obviously a popular attraction, but there is lots more to do in London.
In fact, there are a number of other popular attractions which are easily accessible from the London Eye, which can make for a full day in London.
The closest attractions to the London Eye are as follows:
Of course, there are many more attractions within easy reach of the London Eye. For more planning ideas, check out our guides to spending 1 day in London, 2 days in London, 3 days in London and 6 days in London.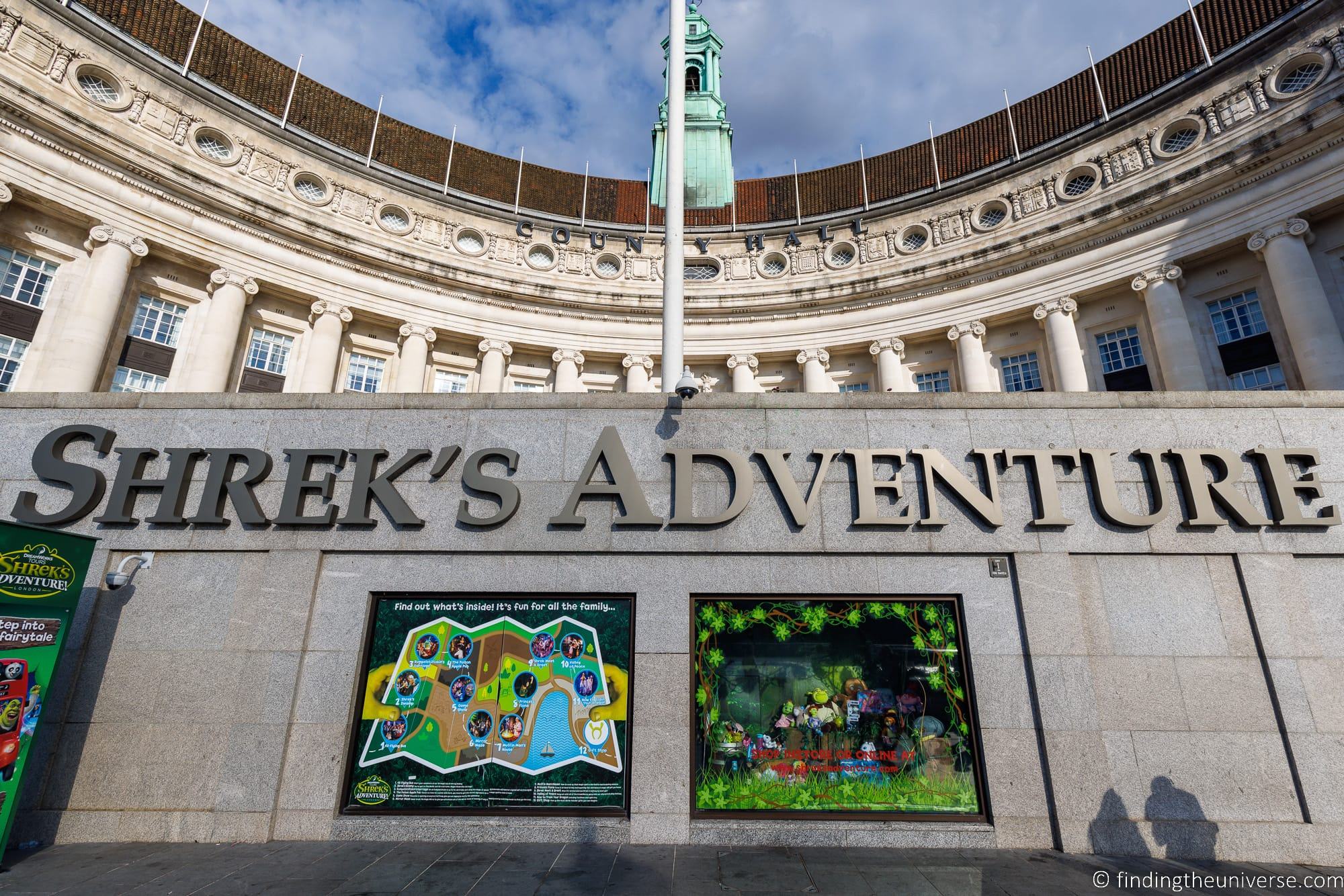 Alternatives to the London Eye
You might be wondering if there are any alternatives to the London Eye. In all honesty, there is no good direct replacement for the London Eye. Certainly there is no other huge observation wheel experience, which offers you views from the bottom to the top of your journey.
There's also nothing equivalent in the nearby area that would give you such sweeping views up and down the River Thames and of the Houses of Parliament.
However, if you wanted some alternative views of London, then consider the following:
As you can see, there are quite a few locations for getting a view, but in our opinion, the London Eye is well worth the visit!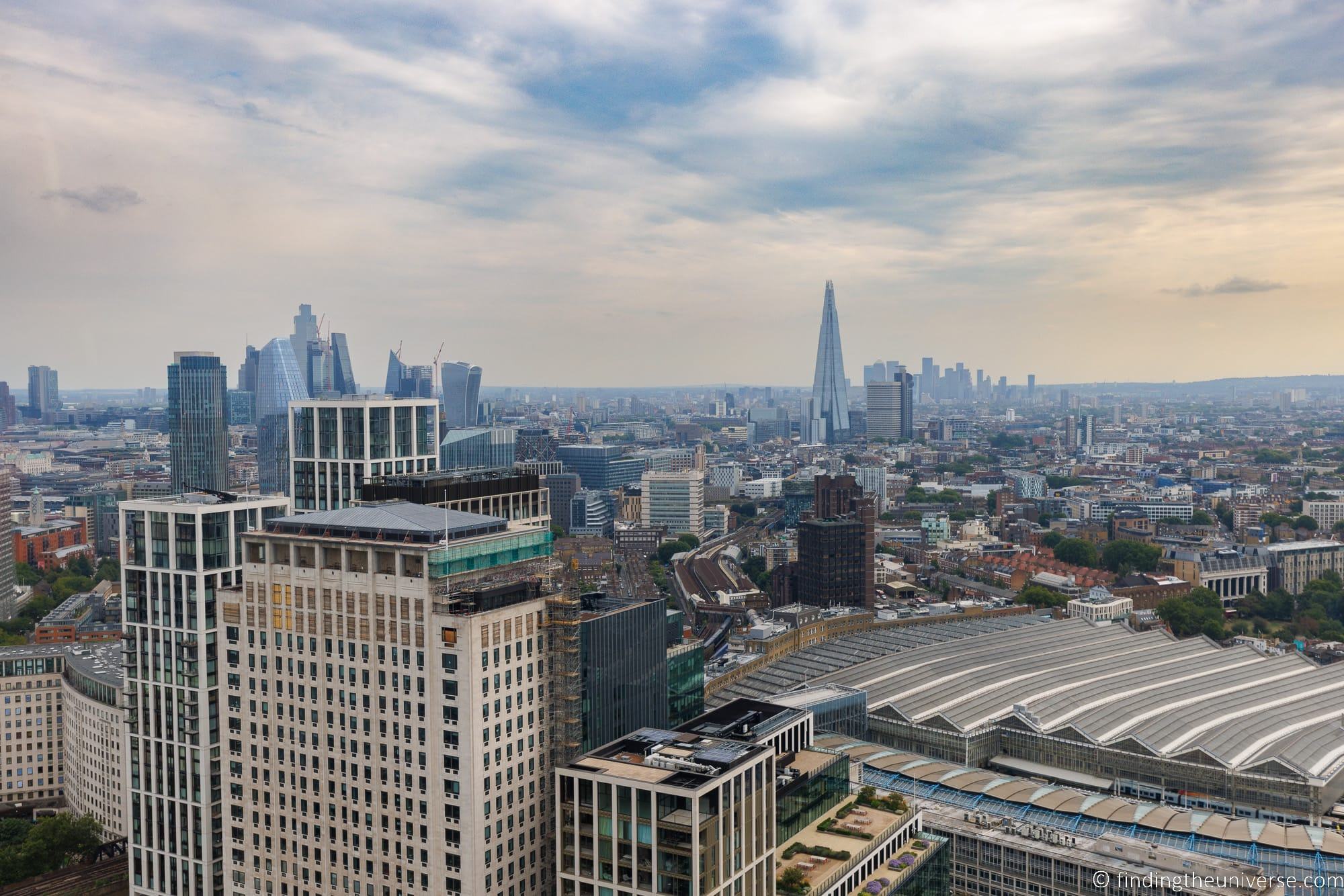 Where to Stay Near the London Eye
The London Eye is very central, and there are many hotels within easy walking distance of it. We would recommend reading our complete guide to where to stay in London for some tips. However, some nearby hotels we recommend are the following.
These are all within a 10-15 minute walk of the London Eye, and are ordered approximately by budget from low to high.
As you can see there are plenty of options! You can check out even more hotels near the London Eye on booking.com here.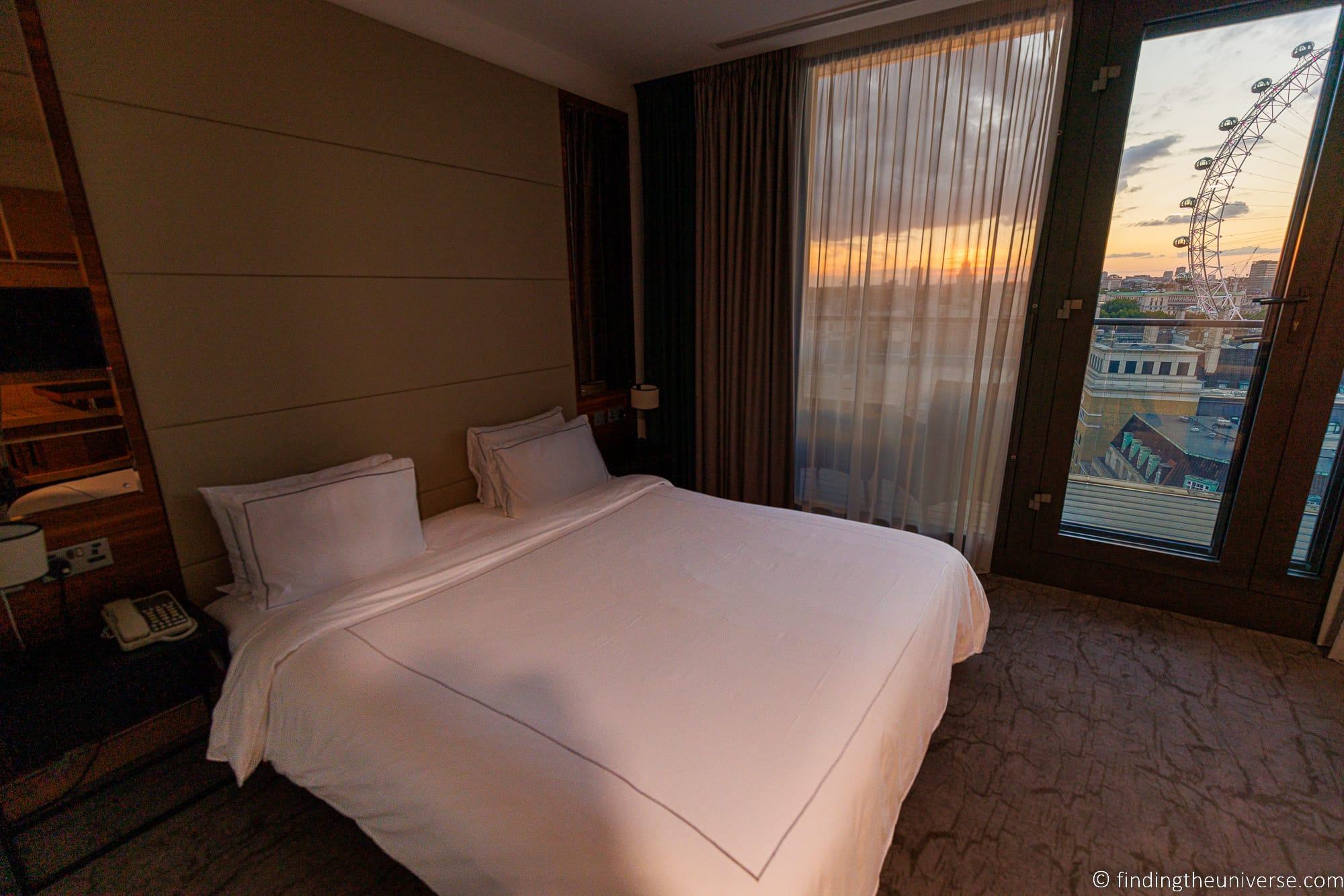 London Eye Photography Tips
As a professional photographer I wanted to share some tips for taking photos, both at and of the London Eye. Hopefully these help you get some lovely photos to remember your visit.
Photography from the London Eye
The London Eye offers wonderful photography opportunities across most of central London.
The main challenge you will have as a photographer is that the transparent glass walls of the pods can have reflections in them. To solve this, try to hold the camera lens as close to the glass as possible, which will minimise reflections.
If you want a more advanced solution, there are lens hoods available for phones and cameras which go up against the glass and remove the reflections completely.
In some areas, you will notice that the walls are more curved than in other parts. The curved glass can cause distortions in your images, so ideally try to shoot through the flatter parts of the glass. This may require you to kneel down to the lower parts of the capsules.
In terms of photography opportunities, the Houses of Parliament are quite an iconic sight and are one of the closest landmarks. These can be photographed throughout the rotation, but towards the end of the ride you will be closer to them. If you are looking for a nice selfie or photo of those you are riding with, I'd suggest the Houses of Parliament make a good backdrop.
Normally when taking photos of yourself I'd recommend using a tripod, but these aren't allowed on the London Eye. So I'd suggest asking someone else on board to take your photo if possible.
If you happen to ride the London Eye when it is getting dark or already dark, then make sure to disable your camera flash if shooting subjects outside the capsule. It will just reflect back from the capsule glass and ruin the photo, and it is not going to have sufficient power to illuminate the world outside anyway!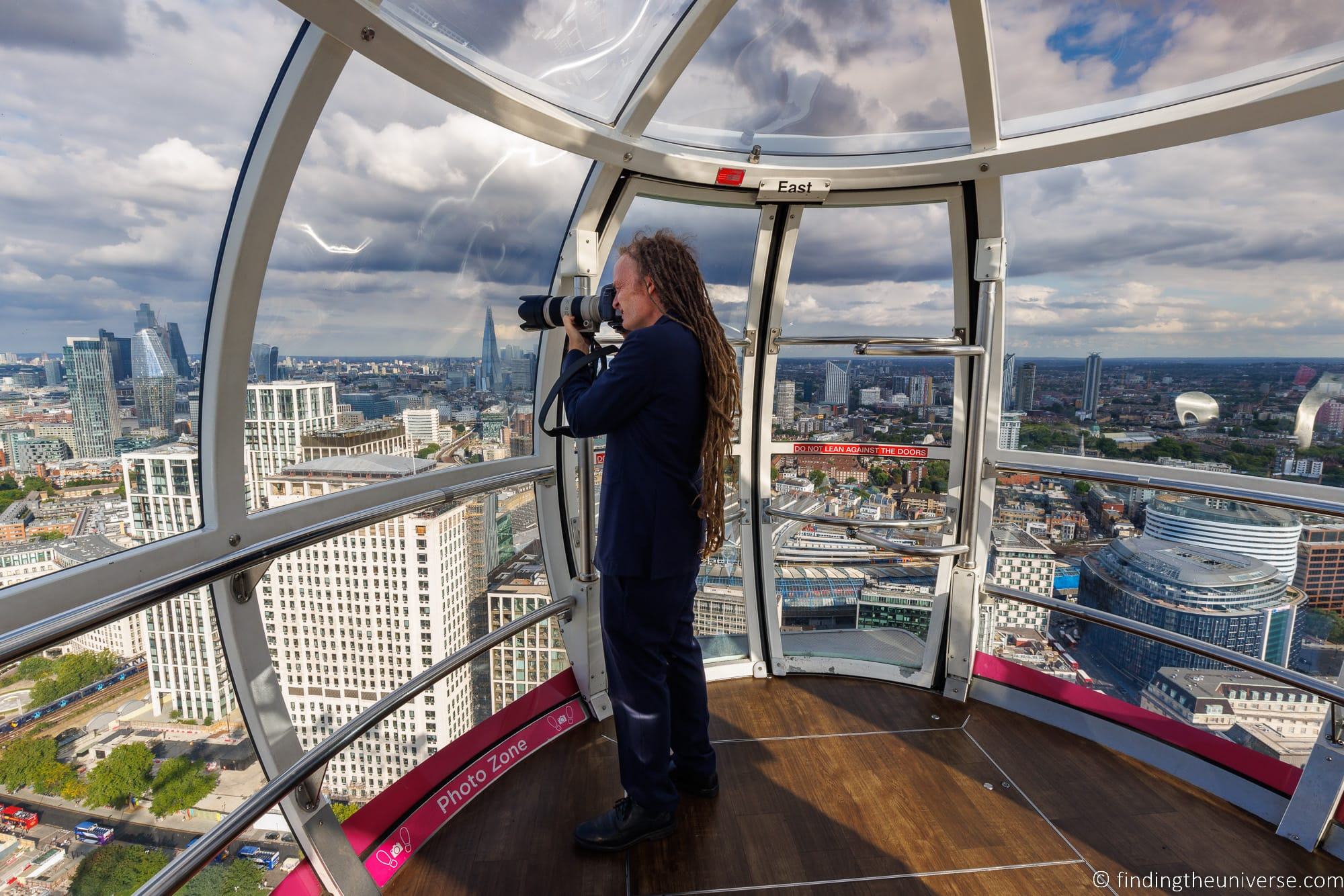 Where to Photograph the London Eye From
As well as making for a great location to take photographs from, the London Eye itself makes for a photogenic photography subject.
There are a few locations where I would recommend taking photos of the London Eye from.
First, on the bank of the River Thames directly opposite the London Eye, you can get a lovely straight-on image. This is a good location at both sunset and sunrise, as well as at night when the eye is illuminated.
This can work well with long exposure photography as the movement of the Eye can make some nice light trails.
If you want more up close photos of the London Eye, then the best place is likely right next to it. Images of the support structure are also quite interesting, with the leading lines taking your eye naturally along the support cables to the main body of the wheel.
Another good location for photography of the London Eye is Westminster Bridge. This offers a side on view of the Eye, and you can move forwards and backwards across the bridge depending on how much of an angle you want. This can also be a good opportunity to frame the London Eye with a red bus for example, another iconic London sight.
If you plan on taking a River Thames cruise, these all pass by the London Eye and offer great views.
Finally, if you happen to book a nearby hotel to the London Eye, this might also work as a good option for views. Good examples include the rooftop suites of the nearby Park Plaza County Hall and Park Plaza Westminster Bridge. Just be aware that their rooms with London Eye views are priced higher than their other rooms.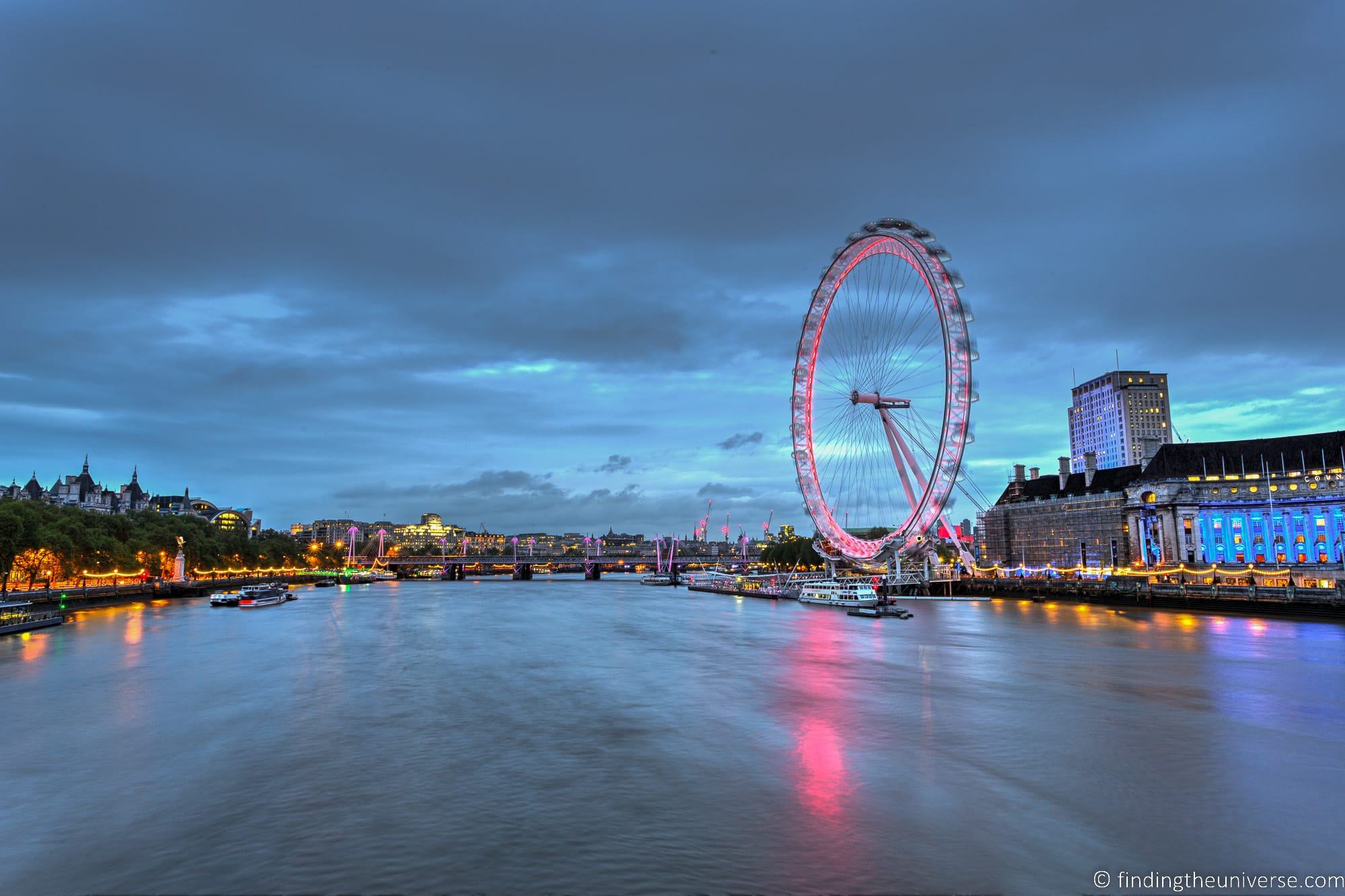 Our Experience Visiting the London Eye
Now that you should know everything you need to know to plan your visit to the London Eye, I'm going to briefly share our experiences visiting the London Eye.
We have actually visited the London Eye on a number of occasions, doing both the standard entry and the champagne experience. I will cover both, starting with our most recent standard entry.
Standard Entry Experience
We've done the standard entry at the London Eye twice. Both experiences were pretty similar. We'll share our most recent experience in 2022.
We booked online for an 11:15am timeslot on a weekday. We booked on the official site and printed out our tickets at home before our visit to London. It was not very busy and we were allowed to join the line around 11:08am.
When we arrived, there was a fairly short queue, it took us 12 minutes to get to the security point and then five more minutes to go through the photo booth. We boarded at 11:26am.
Our pod had 13 people on board. We also counted the pod after ours, and that had 18 people on board. So the number definitely varies depending on how the queues are moving as the pods don't stop moving.
The pods themselves, as you can see from the pictures, are very spacious. You never feel crowded and there is plenty of room to move around and for everyone to get a great view. There is also seating in the centre of the pod area.
The Eye rotates counter-clockwise (as you look at it when boarding), so we started rising away from the Houses of Parliament, with good views down the River Thames of landmarks including Charing Cross train station. It's also fun at this point to look up and see the other pods ascending above you.
Our pod paused a couple of times as we rotated, this normally happens when people with accessibility needs are boarding or disembarking. The pods move very slowly, and the stops are very smooth, so you never feel the need to grasp a handrail or anything!
Our favourite views are as the pod nears the top and starts to descend, as this gives lovely views of the Houses of Parliament, as well as upriver to locations such as the MI6 headquarters, home of James Bond!
We had reasonable weather, although it was fairly overcast. Still, we could easily make out all the nearby landmarks, as well as the Crystal Palace transmitting station (around 6 miles / 10km away).
We took lots of photos as you would imagine, and before you knew it our ride was coming to the end. Near the end of the ride your photo is taken by an automated camera setup.
This is announced clearly prior to it happening, and there are locations marked in the pod for where to stand if you want to be featured in the photo.
Finally, we disembarked from the pod at exactly 11:51am, so our ride was 25 minutes long from boarding to getting off.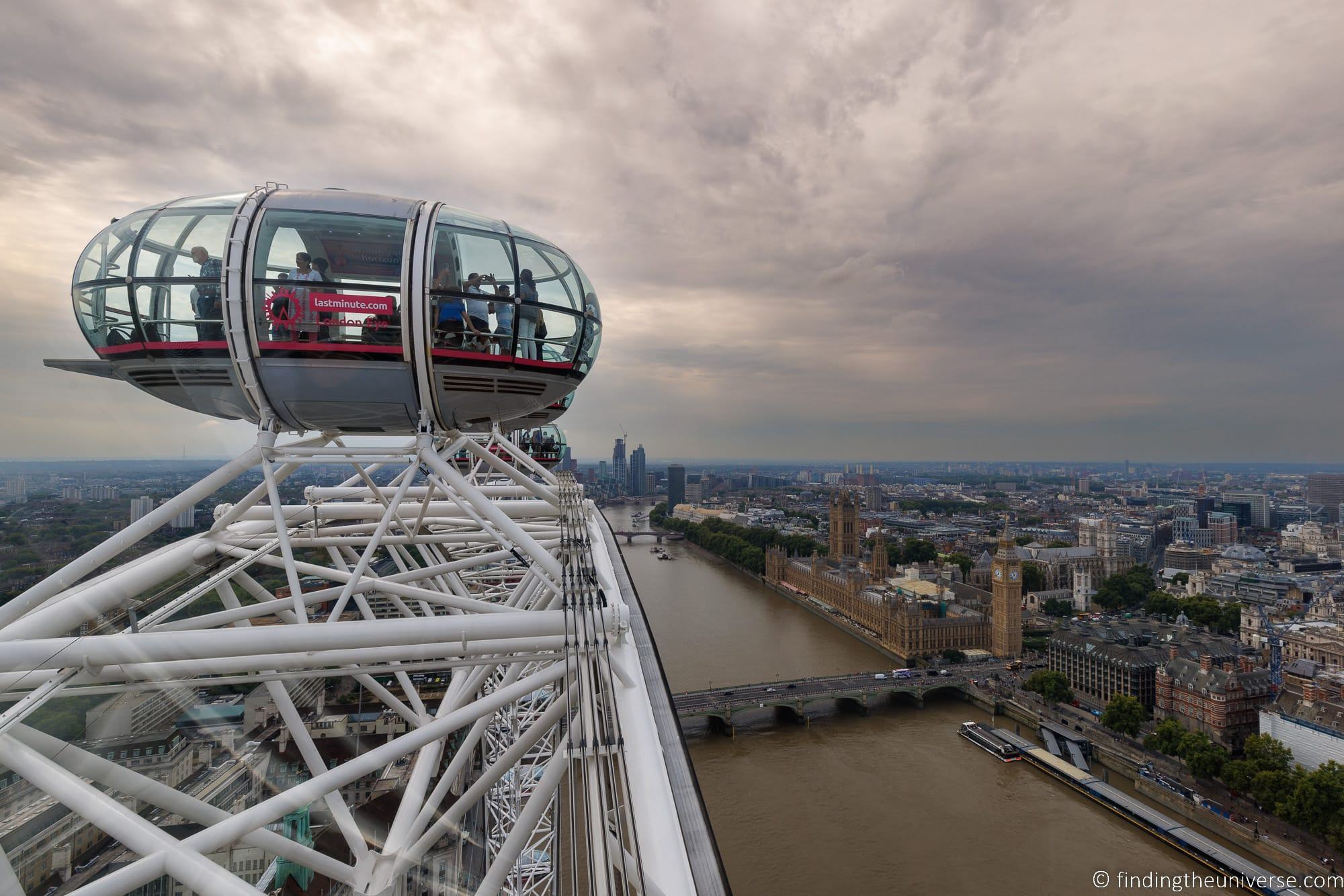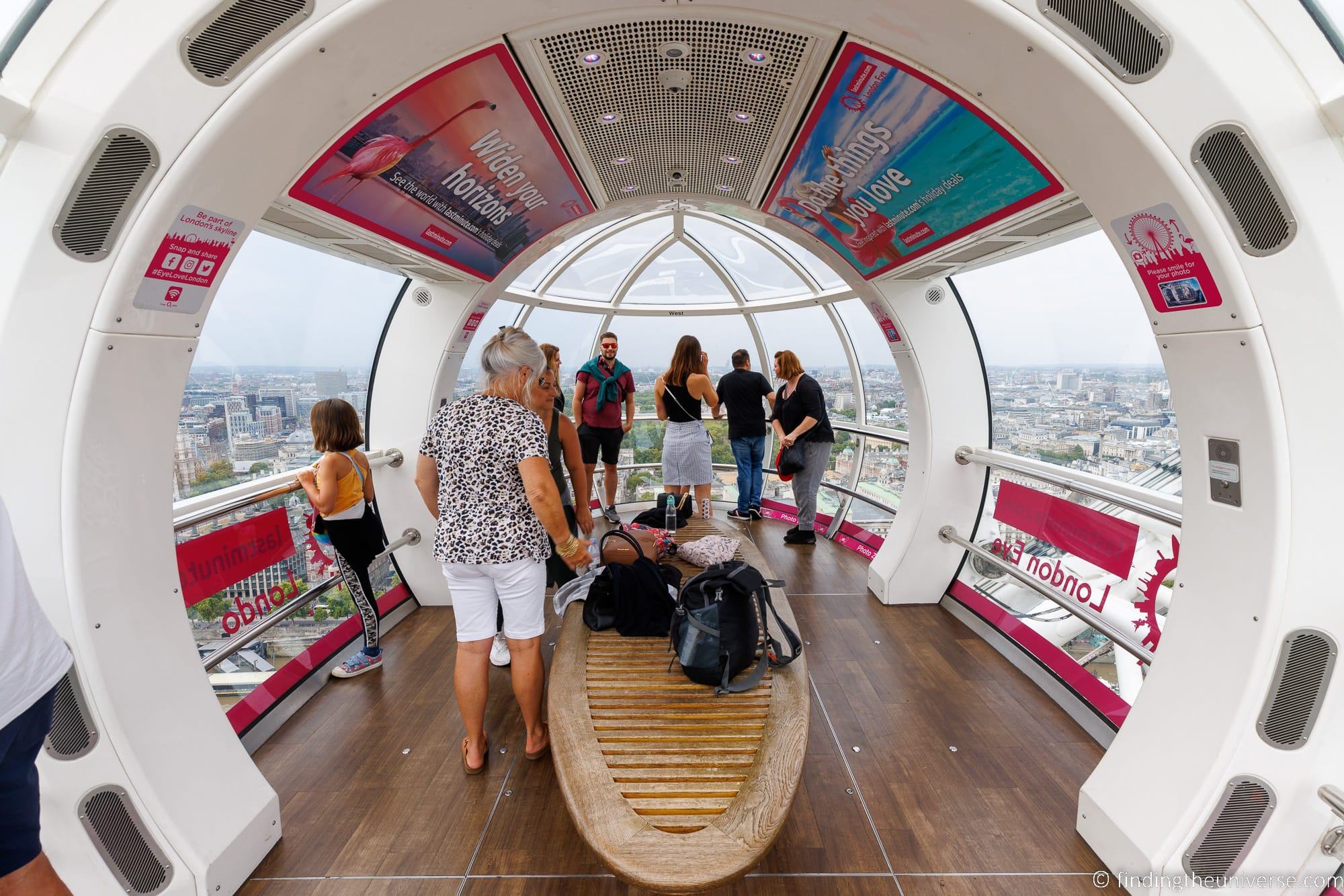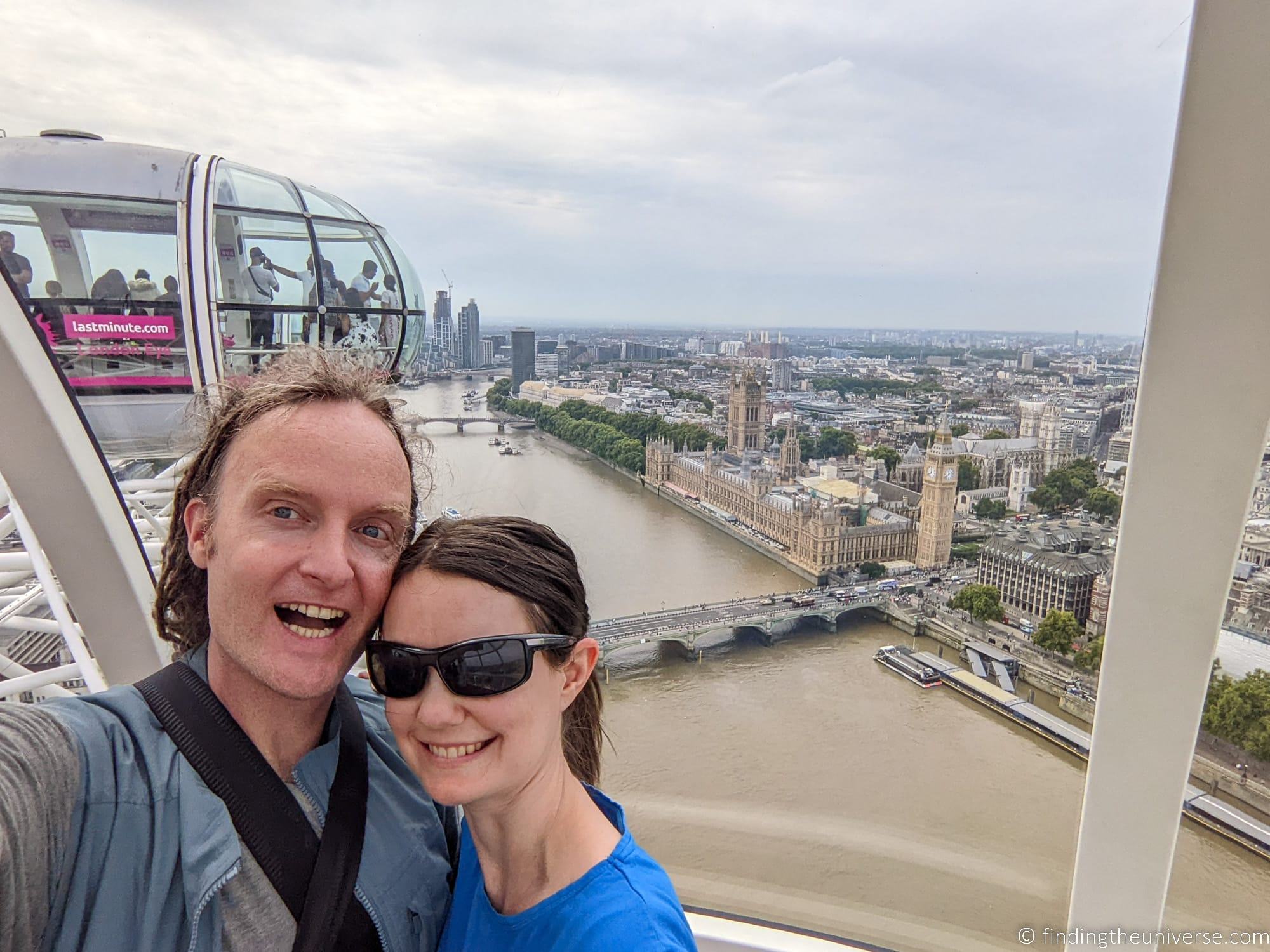 Champagne Experience
We also booked our Champagne Experience online, and printed out our tickets. For the Champagne Experience we booked our timeslot for 4:30pm.
We were a bit worried about being late as we were coming into London by train, but actually arrived quite early, at 4:00pm.
The process for the champagne experience is a little different, as you have to check-in at the special VIP experiences desk. We did this, our names were checked against a list, and we were given the opportunity to go upstairs to wait in the London Eye lounge.
We were also given a 360-degree viewing guide, which came in very handy on the London Eye ride to help us know what we were seeing, and was a nice touch. These are also available for sale in the gift shop.
The London Eye lounge is a first-floor lounge offering nice views of the London Eye as well as drinks menu consisting of soft drinks and alcoholic drinks that you can purchase while you are waiting.
In the lounge we met our host Arnie and we chatted a bit with him. We asked a few questions about the experience, and learnt that it is limited to 18 people per pod although in his experience, on average, there are normally 12 – 15 people. He also shared that he's ridden the wheel over 1,000 times so we figured he knew what he was doing!
Once the rest of our group arrived, a total of 15 people, Arnie collected his two hampers and led us across from the ticket office area to the fast-track boarding area. The London Eye was not particularly busy on the afternoon we visited, so there were not many people in front of us and we did not have to wait long.
We went through security and the photo booth, then we all boarded. The Champagne Experience is an exclusive event, so you only share the pod with people who have booked the same experience.
Arnie said that occasionally people did turn up with a mix of tickets, and the result was disappointment that they weren't able to ride together. So when booking tickets, we definitely recommend everyone books the same type of ticket.
Once on board the pod, Arnie welcomed us all on board. He was super friendly and quite funny to boot, and really helped to create a fun and relaxed environment on board. He also got to work pouring Champagne into glasses. He also offered everyone the option to have juice or soda instead if they preferred.
As the London Eye started to rise and folks started to take lots of photos, Arnie also pointed out what we were seeing, and handed out Champagne. He also offered to take photos of everyone, and really went above and beyond to ensure everyone got a great photo.
The weather was wonderful for our ride, with sunshine and beautiful blue skies. We were pleasantly surprised as it had been gray and overcast when we had arrived earlier.
The ride itself lasted just under 30 minutes, but it felt so much shorter. The weather was quite warm when we visited, but thankfully the pods climate control meant it was very comfortable.
At the end of the ride we thanked Arnie for his excellent hosting, and disembarked.
Overall we really enjoyed the Champagne Experience. We hadn't quite known what to expect, and the combination of the excellent host, relatively small group, and personal attention made it feel really special. The glass of Champagne certainly helped too!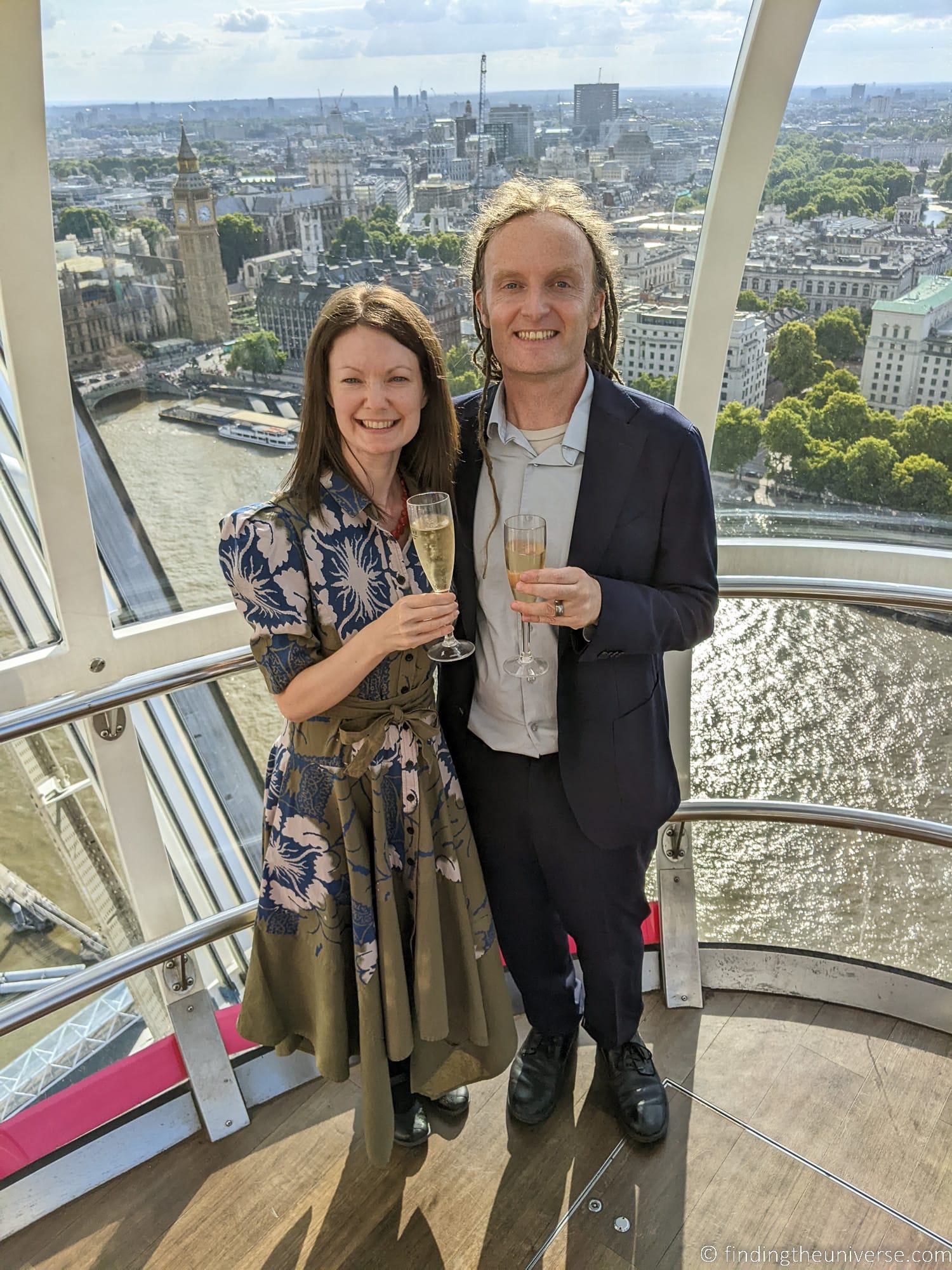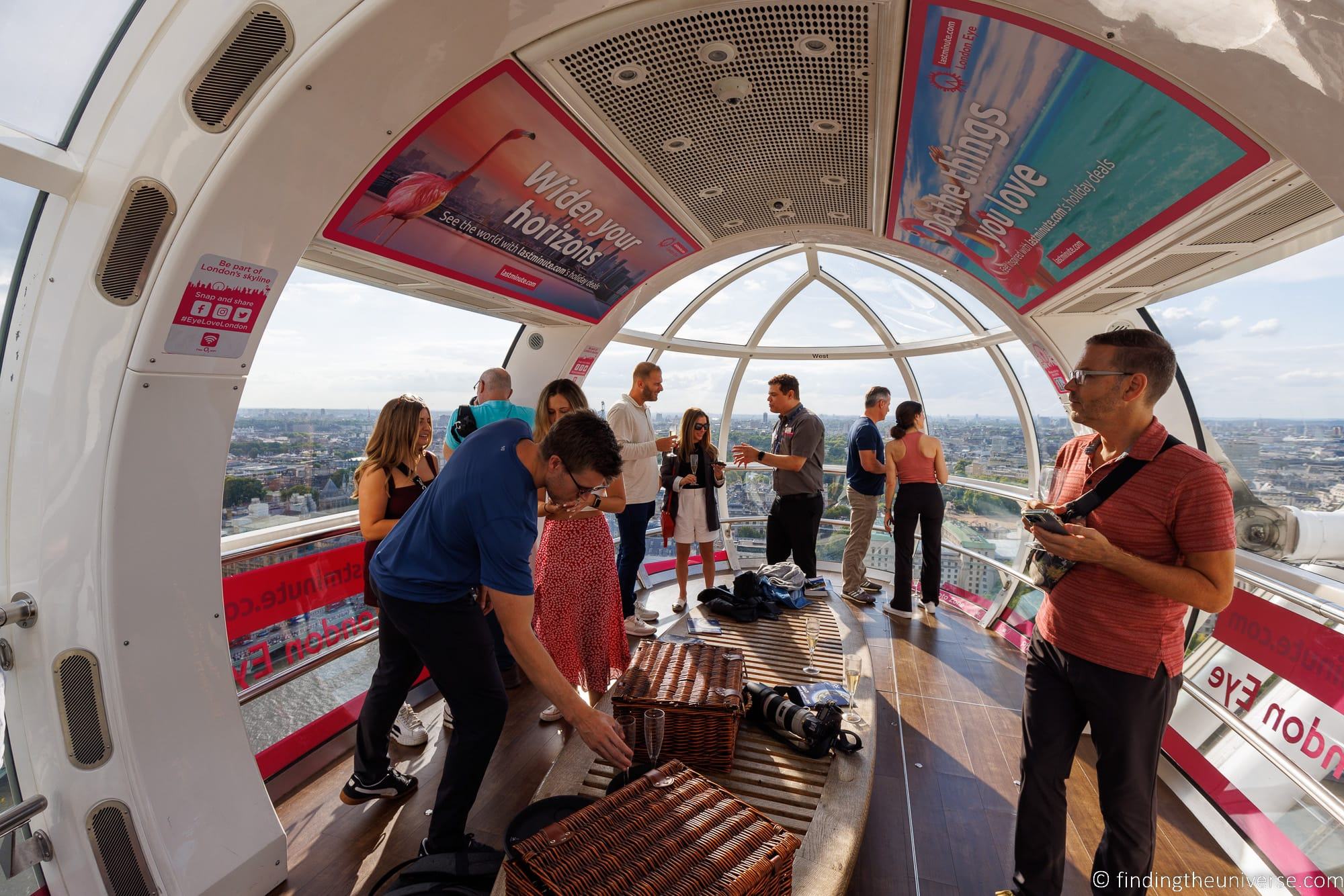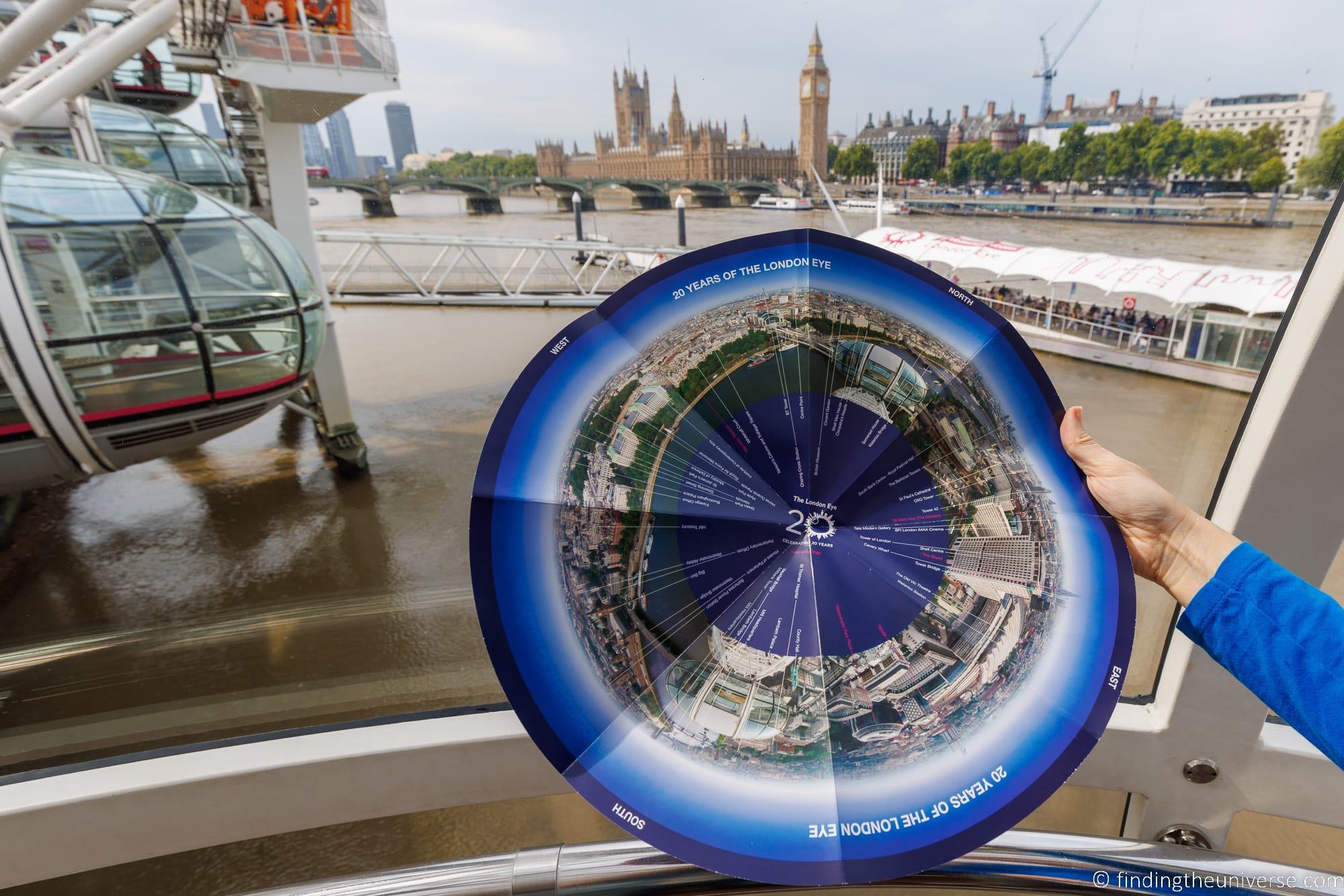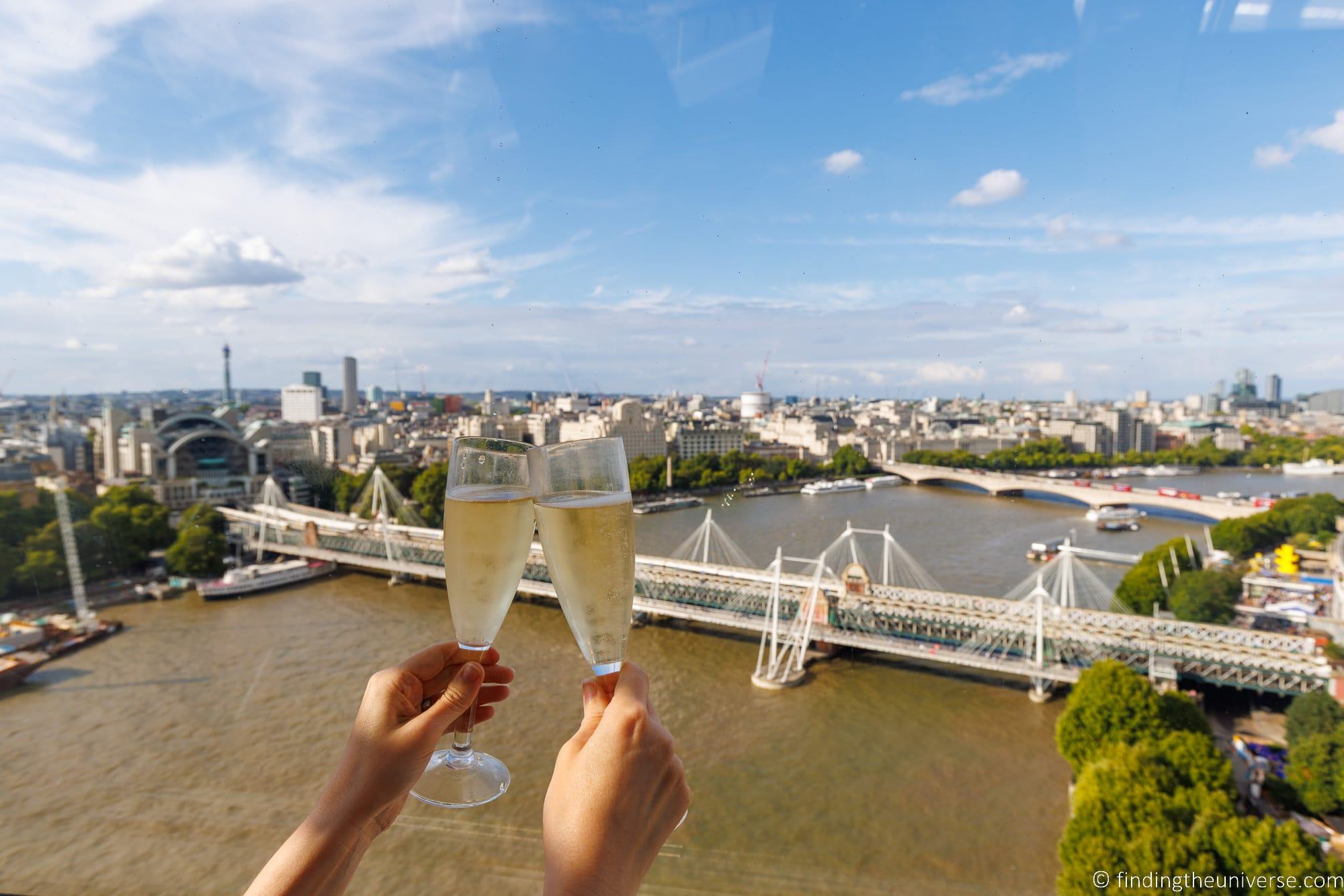 London Eye Tips for Visiting
We have noted a number of tips and pieces of advice throughout the article. I just wanted to list here some of the more important tips so that you can make the most of your visit to the London Eye.
Book in advance directly online here to save money and for the best availability
Make sure everyone in your group books the same kind of ticket to ensure you will be able to ride together in the same pod
If traveling with a child age 3 or younger, they can ride for free but you still need to book them a ticket
If you plan to visit other attractions in London such as the London Dungeon, Madame Tussauds, or the SEALIFE London Aquarium, you can save money by booking tickets/passes such as the Big City Saver pass
Remember that the time on your ticket is the time you should be there to join the line. It is NOT your boarding time. So be sure to allow enough time in your itinerary to wait in line and the 30 minutes for the ride itself.
Be sure to check the security restrictions and to leave your luggage and any restricted items at your hotel to avoid slowdowns and having items confiscated by security.
There is no commentary or signage on the pods themselves. For those wanting more information about what you are seeing during the ride, you might consider purchasing a viewing wheel from the gift shop before your ride or using a mapping app on your phone
We recommend booking on a day with a good weather forecast if possible. This will give you the best views and photos from the pods.
Enjoy yourself and take lots of photos!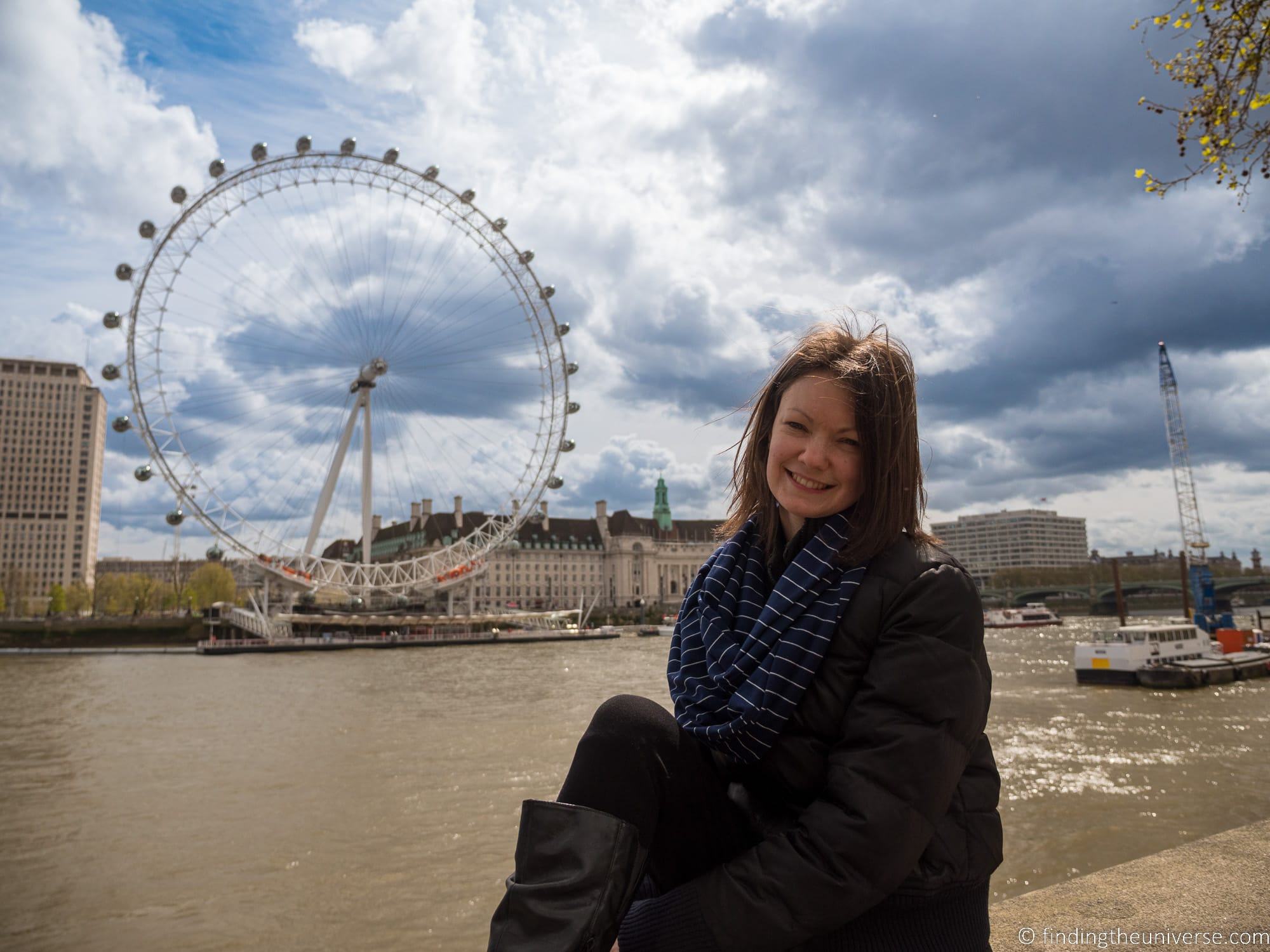 Further Reading for Visiting London
That's it for our complete guide to visiting the London Eye! We hope you found it useful.
We've also got a number of other resources to help you plan your trip to London and the UK in general which we think you'll find useful.
And that's it! We hope you found our guide to visiting the London Eye helpful, and as always, if you have any questions, just pop them in the comments and we'll answer them as soon as we can!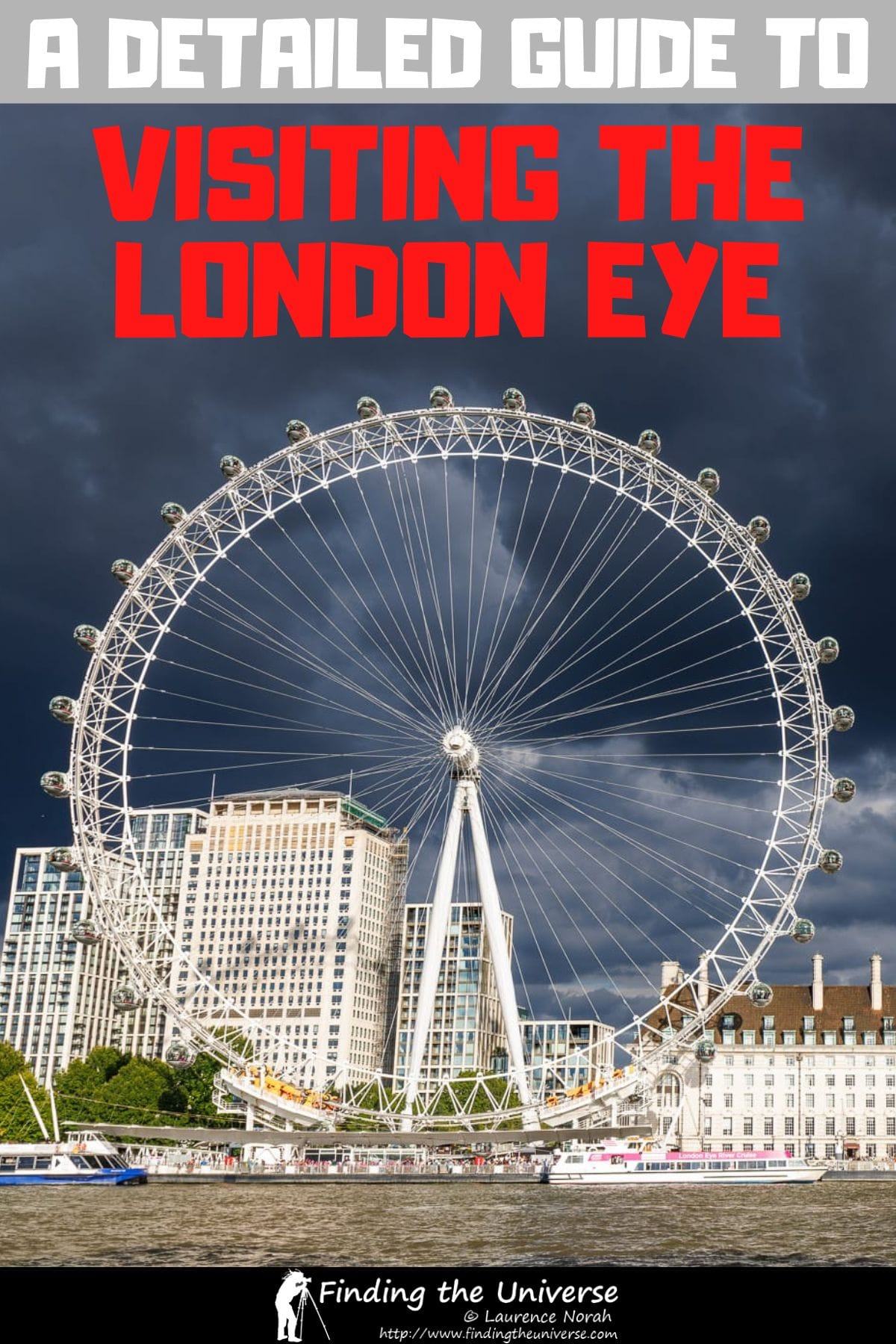 So you know: On one of our rides, the company gave us a pair of complimentary standard tickets for the London Eye to experience the standard ride as media. We paid for all of our other London Eye rides, including the Champagne Experience, as well as our transport and accommodation in London.